The bride wore white … but the guests wore Jedi robes, fur, metal and a Darth Vader mask.
Two "Star Wars" fans celebrated the opening night of "The Force Awakens" on Thursday in a very special way by tying the knot at the TCL Chinese Theatre in Hollywood, the site of Monday's star-filled premiere.
Caroline Ritter, 34, a mining company truck driver, wed fireman Andrew Porters, 29, said "I do" in front of Darth Vader, Chewbacca, R2-D2, a Stormtrooper and some Jedi Knights.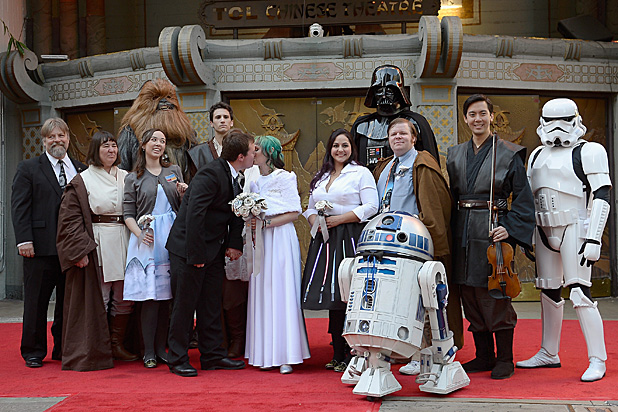 Also Read: TV News Weather Girl Crams 'Star Wars' Puns Into 40-Second Forecast (Video)
The couple flew from Australia earlier this month to join more than 130 fans who camped out on Hollywood Boulevard from Dec. 5. Their trip was planned 18 months ago, when the release for the seventh installment of the franchise was announced.
The green-haired bride wore a classic white dress with "handmade crystal X-Wing starfighters on it," paired with a white wrap. She was escorted down the aisle by Darth Vader, and the couple's friend, who goes by "Obi-Shawn," officiated.
R2-D2 kicked off the intergalactic ceremony by gliding down the red carpet aisle accompanied by a violinist playing the "Imperial March."
Also Read: 'Star Wars: The Force Awakens' Doubles Twitter Numbers of 'Jurassic World,' 'Age of Ultron' - Combined
Not surprisingly, the vows were scattered with "Star Wars" puns and even a reference to another cult classic, "The Princess Bride."
The out of this world event was sponsored by Dunkin' Donuts, who also provided the campers with donuts on the morning of the wedding, and the TCL Chinese Theatre orchestrated the nuptials.
However, the icing on the cake for the "Star Wars"-themed celebration was the actual cake, created by Baskin-Robbins featuring layers of ice cream Stormtroopers and topped with classic characters from the sci-fi franchise.
The lucky couple from Hunter Valley, New South Wales, was also treated to night in a honeymoon suite at a local boutique hotel — after watching "The Force Awakens," of course.