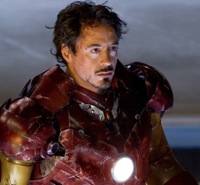 With a lack of blue-chip tentpoles, surefire sequels and fanboy fare, the 2010 summer box office is expected to suffer from franchise famine.
There are currently 10 sequels or reboots scheduled to hit screens this summer, roughly the same as previous years.
But without four-quadrant blockbusters like "Transformers 2," "Star Trek," and "Harry Potter and the Half Blood Prince," don't look for a repeat of last summer's record-shattering $4.2 billion.
While "Twilight: Eclipse," "Sex and the City 2," "Shrek Forever After" and "Toy Story 3D" may break big, each is heavily weighted toward women and children.
The key demographic being neglected: fanboys, who will have to wait another year while studios gear up for comic-book stars such as Thor and Captain America. (This summer's exception is a big one, however, as Tony Stark returns May 7 in the hotly anticipated "Iron Man 2.")
Also in that vein is Jake Gyllenhaal's "Prince of Persia," based on the hit videogame — but it's a shot in the dark on film.
"Looking across the summer, there are lots of movies that are hoping to launch something that can sequelize," said Jeff Bock, senior box office analyst with Exhibitor Relations. "These could be big — but right now there are a lot more question marks."
Also on the horizon: Fox's "The A-Team," which is banking on nostalgia for the old '80s TV series with Mr. T.
The only other big action fantasy is the graphic novel adaptation "Jonah Hex," which has been plagued by negative buzz since reports surfaced about reshoots.
The absence of a bankable wizard or masked vigilante leaves studios and exhibitors pinning their hopes on unknown quantities, such as Christopher Nolan's "Inception" and the Tom Cruise and Cameron Diaz action-comedy "Knight and Day."
"Moviegoers always say that original content is one of their number-one top priorities, and they complain that there are too many sequels and franchises," Vincent Bruzesse, president of the motion picture division for the research film OTX, told TheWrap. "Of course, at the end of the day, eight or seven of the top 10 films are always sequels or franchises."
But one company's famine, is another's feast.
Sony and Universal, for example, are betting that the customers in this case are right and that in Hollywood there's still such a thing as an original idea.
Sony points to last summer of an example that audiences still want something fresh. The studio had its biggest summer on record with a series of original movies such as "Julie & Julia," "District 9" and "The Ugly Truth."
In fact, its one big sequel, "Angels & Demons," was something of a disappointment. It took in just $133 million domestically on a $150 million budget, though it did earn its money back by grossing more than $300 million at the worldwide box office.
This summer, the studio is banking on a similar strategy, with three star-heavy newbies: "Salt," a spy thriller starring Angelina Jolie; "Grown Ups," an Adam Sandler and Kevin James comedy; and "Eat, Pray, Love," a romantic comedy with Julia Roberts. Its only franchise release — if it indeed qualifies as such — is a reboot of "The Karate Kid" with Jackie Chan and Jaden Smith transplanting the story to China.
"All of our pictures stand outside of just being formulaic," Rory Bruer, president of Sony's Worldwide Distribution, told TheWrap. "They each have their own uniqueness, but we market them in a way that makes audiences get the story. Audiences will know they're fresh, but they have stories and stars like Angelina that people can relate to."
Universal tried a similar strategy last year, but none of its big summer offerings — "Public Enemies," "Land of the Lost," "Funny People" — caught fire. This summer they're feeling more bullish, with Russell Crowe as "Robin Hood" and "Get Him to the Greek" with Russell Brand.
Bruzesse says the more original fare is most sucessful when it exploits a familiar premise.
"'Hangover' is such an amazing story, but it's basically a theme that has been seen countless times in movies like 'Bachelor Party' and 'Animal House,'" Bruzesse told TheWrap. "Taking those archetypes and hidden elements that are known and communicating them to moviegoers in a way that makes them pop is a true marketing challenge."
To be sure, some of the movies that seem to be big question marks now will prove to be "The Proposal"- or Hangover"-size breakouts by the time Labor Day rolls around.
But in Hollywood, there's nothing as comforting a hit that's a foregone conclusion.

"I'm not sure anyone wouldn't prefer launching an established franchise to a great original film," said Jeff Hartke, an analyst with Hollywood Stock Exchange. "If Warner Brothers offered another studio the opportunity to release 'Harry Potter,' would they say no?"