(This preview focuses on private, invite-only events aimed at an industry audience. For events open to the general public, scroll to the bottom)
Anyone who's anyone is heading south to Atlanta Super Bowl weekend for a party scene that is guaranteed to be hotter than last year in Minneapolis — and while we don't just mean the weather, thankfully it is going to be well above freezing this time around.
The New England Patriots (playing in the Super Bowl for the third consecutive year) and the Los Angeles Rams are set to face off in Mercedes-Benz Stadium in Atlanta on Feb. 3, with Gladys Knight singing the national anthem and Maroon 5 performing at halftime.
But long before the highly-wagered on coin toss is flipped to start the game, the Hollywood of the South will host some of the biggest names in movies, entertainment, music, and, oh yeah, sports.
Also Read: New England Patriots to Face Los Angeles Rams in Super Bowl LIII
TheWrap will be there, once again, bringing behind-the-scenes insight from the hottest parties, the most exclusive events and, of course, the Super Bowl itself, which airs live on CBS.
Check out all the sought-after invites for the weekend of Jan. 30-Feb. 3 leading up to kick off at 3:30 p.m. PT/6:30 p.m. ET on Super Bowl Sunday.
Also Read: Super Bowl LIII Preview: Will Rams-Patriots Deliver a Record TV Audience for CBS?
Damari Saville VIP Cocktail Reception, Wednesday, Jan. 30, 6 p.m.
The Shops Buckhead Atlanta, 3059 Peachtree Road, Atlanta 
Philadelphia Eagles safety Malcolm Jenkins was playing in the Super Bowl last year, but this week the reigning champion is showing off his more dapper side by hosting the Damari Saville VIP Cocktail Reception on Wednesday evening. We're sure that suit matches his Super Bowl LII ring perfectly! The stylish affair takes place at The Shops Buckhead Atlanta and is just one of a number of pop-up events including ALBA cocktail mixers (Thursday night is hosted by Adrian and Ashley Peterson), NARS VIP event and the 18th Annual Off the Field Players' Wives Association Fashion Show.
Versace & 2Chainz Launch "2 Chain Reaction," Thursday, Jan. 31, 7 p.m.
Wish Gallery, 453 Moreland Ave NE, Atlanta
Hip-hop star 2Chainz is also making his mark on the fashion scene with the launch of the Versace "2 Chain Reaction" sneaker collection on Thursday night. Guests can check the new cool shoes designed by 2 Chainz himself, while sipping on cocktails curated by Pernod Ricard.
Bootsy Bellows' Big Game Experience, Thursday, Jan. 31-Sunday, Feb. 3, 11 p.m.
RAVINE ATL, 1021 Peachtree St. NE, Atlanta
Hollywood hot spot Bootsy Bellows is partnering with Miami super club E11EVEN MIAMI for the seventh annual Big Game Experience headlined by Gucci Mane — who performed at the Patriots' post party after their Super Bowl LII loss last year — plus celebrity DJs Tiësto and Kaskade. The party extravaganza spreads over four nights this year, and is hosted by L.A. night spot gurus John Terzian and Brian Toll, with The h.wood Group. The team recently opened swanky sports bar 40 LOVE in West Hollywood, which has rapidly become a favorite among cool football fans and celebrities alike. Past guests at Bootsy's bashes include Jamie Foxx, Baker Mayfield, G-Eazy, Tyga, 21 Savage, Fergie, John Hamm, Justin Bieber and Odell Beckham Jr.
Also Read: Patriots-Chiefs Is CBS's Most-Watched AFC Championship Game in 8 Years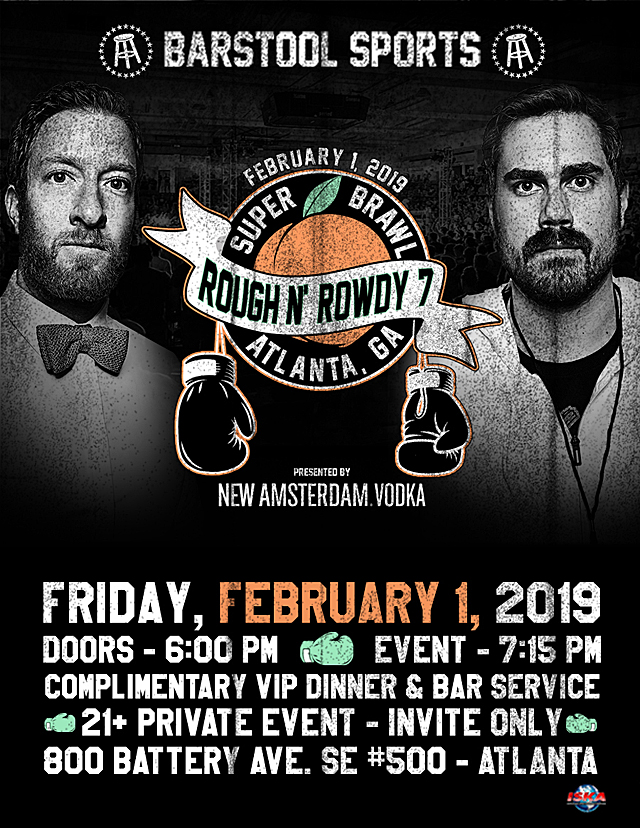 Barstool Sports, Friday, Feb. 1, 6:30 p.m. 
Coca-Cola Roxy, 800 Battery Ave. SE, Atlanta
Barstool Sports aren't pulling any punches as usual with their "Rough N' Rowdy" amateur boxing brawl on Friday night. "El Presidente" Dave Portnoy puts his money where his mouth hosting the hands-on event that's sure to be wilder than a Buffalo Bills Mafia tailgate. The decks will be manned by DJ Dante (a.k.a. Rob "Gronk" Gronkowski's favorite mix master) and cocktails come courtesy of New Amsterdam Vodka. Those not lucky enough to be there in person can pre-order the four-hour PPV fight on Roughnrowdybrawl.com.
Also Read: YouTube TV Expands Nationwide Ahead of Super Bowl
Thuzio's Big Game Weekend Party, Friday, Feb. 1, 7 p.m. 
SweetWater Brewery, 195 Ottley Drive, Atlanta 
Having co-hosted with uber-agent Drew Rosenhaus in recent years, Tiki Barber's sport entertainment company Thuzio is teaming up with David Johnson and Adrian Peterson for a Friday evening bash at the SweetWater Brewery. High profile attendees in the past (many of whom already have their own Super Bowl rings) have included Brett Favre, LeSean McCoy, Tyreek Hill, Charles Woodson, Brandon Marshall, Steve Mariucci and Terrell Davis. 
ONE37pm and VaynerSports Annual Emerging Kings Party, Friday, Feb. 1, 9 p.m.
The Fairmont, 1429 Fairmont Ave NW, Atlanta
NFL agency VaynerSports has teamed up with lifestyle brand ONE37pm for their annual Emerging Kings event on Friday night. The party features the talents of YG, Tee Grizzley, Lil Keed, Crespo and DJ E Feezy, with a special performance by rapper TI. A bunch of NFL greats represented by VaynerSports are also expected to attend, including Allen Robinson, Derrick Morgan, Kyle Allen and Josh Jackson. Look out for Hall of Famers Ed Reed, Ray Lewis, and Warren Moon as well. The hosts will also spotlight athletes honored by ONE37pm's Most Entrepreneurial Athletes, an editorial program that launched in early January.
Leather & Laces Spectacular, Friday, Feb. 1 and Saturday, Feb. 2, 10 p.m.
BELIEVE, 181 Ralph David Abernathy, Atlanta 
Currently in its 16th year, the Leather & Laces party has become a Super Bowl weekend staple and will now stretch over two nights. Rapper extraordinaire and party-rocker Flo Rida is back as the headliner on Friday, with the help of guest DJ Dallas Austin. Saturday night will see NASCAR Sprint Champion Kyle Busch partying with Victoria's Secret models … which pretty much sums up the scene at Super Bowl. Held at BELIEVE in downtown Atlanta, the 30,000 square foot space will include "International Model Night" and "The Wish Lounge," plus a floor-to-ceiling video wall, and quintessential Leather & Laces ultra-seek décor.
Luxury Experience & Co Lounge, Saturday, Feb. 2, 11 a.m.
Davidoff of Geneva at The Shops Buckhead, Atlanta
With partners such as Rolls-Royce and Bloomingdale's, and a bar stocked with champagne and Louis XIII Cognac, Luxury Experience & Co have created the ultimate Super Bowl lounge that's sure to be dripping with class. Atlanta's elite and VIP guests can enjoy specially curated cigars while witnessing the unveiling of the Rolls-Royce Cullian SUV, the brand's first SUV named after the Cullinan Diamond. Additional contributors to the lounge and red carpet event include Sail Rock Resorts, Hemp Hydrate, Tru Niagen, Two Chefs + A Pan, Tito's Vodka, the Bodies App, Universal Yacht Services, High Beauty, Nourishing Biologicals Skincare, Blue Print, Magellan Jets, Haibu, Christian Henry, Frey and GRVL.
Celebrating the Women of Football, Saturday, Feb. 2, 12-3 p.m.
American Cut Steakhouse, The Shops at Buckhead, 3035 Peachtree Road NE, Atlanta
In partnership with the upcoming Paramount Pictures  film "What Men Want" in which Taraji P. Henson plays a successful sports agent, the fourth annual Women of Football event presented by Women Rising features a Q&A with the film's producer Will Packer ("Girl's Trip," "Night School," "Think Like a Man"), special VIP guests and NFL industry influencers, plus live music from Atlanta's DJ Hourglass and 13-year-old Lauren Mckenzie. This year's event will highlight and honor women who are making a difference in the world of sports, specifically the NFL, and is sponsored by Monster Energy and Spanx.
Big Game, Big Give, Saturday, Feb. 2, 6 p.m.
Atlanta estate of philanthropists Jeff and Carrla Goldstein
While millions of dollars get dropped over Super Bowl each year, the weekend is also about giving back and one the top Super Bowl parties is also an incredible charitable event. Big Game, Big Give is a star-studded gala held at private estate in Atlanta with Hollywood royalty such as Alec Baldwin, Michael Bay, Mark Wahlberg, Hilary Swank, Ashton Kutcher, Demi Moore, Josh Brolin, Michael Phelps and David Schwimmer having topped the guest list in the past. This year's event will be hosted by Chris "Ludacris" Bridges featuring a special performance by The Black Eyed Peas, a Philanthropic Achievement Award presented to former New Orleans Saint Steve Gleason, and gourmet food by "Best Chefs America" Matt Marcus, plus an open bar with specialty craft cocktails, beer, wine and liquor (of course). And best of all, it's all for a good cause.
Michael Rubin's Fanatics Super Bowl Party, Saturday, Feb. 2, 12-4 p.m.
College Football Hall of Fame, 250 Marietta St NW, Atlanta
Appealing to fans of every NFL team, Michael Rubin and Fanatics (purveyor of authentic official licensed sports merchandise) are hosting an afternoon event featuring rapper Meek Mill. Expected guests include Patriots owner Robert Kraft (who's a big Mill fan!), Peyton Manning, Mitch Trubisky and Shaquille O'Neal.

Wheels Up 5th Annual Super Bowl Party, Saturday, Feb. 2, 1-5 p.m.
Secret location TBA on invite
Many VIP fans will no doubt be using Wheels Up's private jet service to fly to Atlanta in style for Super Bowl weekend, and the aviation company always rewards its members with one of the best daytime parties of the year. This year's hosts will see JJ Watt, Scott Van Pelt, Steve Smith, Rich Eisen, Mike Tirico, Kirk Herbstreit, Larry Fitzgerald, Sam Darnold, Ron Rivera, Russell Wilson, Mike Golic, Kevin Harvick, Mark Teixeira and Larry Fitzgerald share their football know-how with the crowd, before Kelley James performs on stage. Sponsored by BMW, Bose, Citron, Rao's, Ture Fusion, Diageo, look out for attendees wearing Wheels Up swag around Atlanta for the rest of the weekend (and possibly the whole year!).
18th Annual Off the Field Players' Wives Association Super Bowl Fashion Show
The Shops at Buckhead Atlanta, 3035 Peachtree Road, NE Atlanta
NFL wives and former players — many of whom have Super Bowl rings of their own! — such as Adrian Peterson, Rodney Harris and Jerome Bettis will hit the runway on Saturday for the 18th Annual Off the Field Players' Wives Association Super Bowl Fashion Show. Following the fashion extravaganza, Anheuser-Busch and Budweiser Clydesdales horses will prance for selfies, and then Hall of Famer Terrell Owens hosts an ALBA cocktail mixer.
Also Read: Michael C Hall to Star in Broadway Musical of Skittles Super Bowl Ad (Video)
DirecTV Super Saturday Night, Saturday, Feb. 2, 8:30 p.m.
Atlantic Station, 1371 Market St. NW, Atlanta
With past performances by Taylor Swift, Jennifer Lopez and Beyonce, the DirecTV Super Saturday Night has often brought bigger names to the stage than the actual Super Bowl halftime show. This year they please all the rock fans out there with the Foo Fighters. Supporting Dave Grohl and co. are hip-hop duo Run the Jewels. Expect anyone who is anyone to be there, with last year's VIP suite looking like an NFL Hall of Fame ceremony with the likes of Peyton and Eli Manning, Dak Prescott and Tim Tebow all hanging out together.
Sports Illustrated's Saturday Night Takeover, Saturday, Feb. 2
College Football Hall of Fame, 250 Marietta St NW, Atlanta
After being absent from the Super Bowl party circuit since 2016 in San Francisco, Sports Illustrated is back with a vengeance, teaming up with Talent Resources Sports to host a Saturday night takeover at the illustrious College Football Hall of Fame. The venue in Atlanta's hip entertainment district will be transformed by award-winning agency MGE. Snoop Dogg and Lil Wayne will headline, with DJ IRIE and Dallas Austin also performing. Guests can also bid on unique silent auction items including exclusive sports and entertainment memorabilia such as Steve Young's 49ers helmet, a Prince signed electric guitar, a Peyton Manning Super Bowl game helmet and the 1999 Rams Lombardi trophy. All proceeds will go to a charity TBA.
Also Read: Tom Brady on Why He'll Keep Playing Football: 'Once You Stop, You're Done' (Video)
Maxim Big Game Experience, Saturday, Feb. 2
Maxim always aims to impress on Super Bowl eve, and this year is no different, with Atlanta native Future headlining their marquee party. "I can't wait to show out for my city at The Maxim Big Game Experience," the multi-platinum hip-hop artist promised in the party announcement last month. "Atlanta ain't ready for the vibes we bringing!" Future will be joined by Jamie Foxx, Diplo, Yo Gotti and DJ Ruckus on stage at the 19,000 square feet of event space at The Fairmont, while Atlanta music producer Zaytoven will take the crowd through a trap music history journey. Guests should expect Maxim's usual A-list talent and unique activations, which in past years has included Justin Bieber and VIP driving experiences.
Rolling Stone's Big Game Bash, Saturday, Feb. 2, 10 p.m.
The Goat Farm, 1200 Foster St NW, Atlanta
Before the G.O.A.T. Tom Brady takes to the field against the Rams on Sunday, Rolling Stone will be hosting it's annual Super Bowl bash at The Goat Farm, which is actually a cool performance venue nestled among the ruins of an old cotton gin factory. The party presented by Mercedes-Benz and LDV Hospitality features special performances from Ludacris, Young Thug, Gunna and Lil Keed, with Questlove DJing a set. Ciara and Russell Wilson are among the stars expected to attend.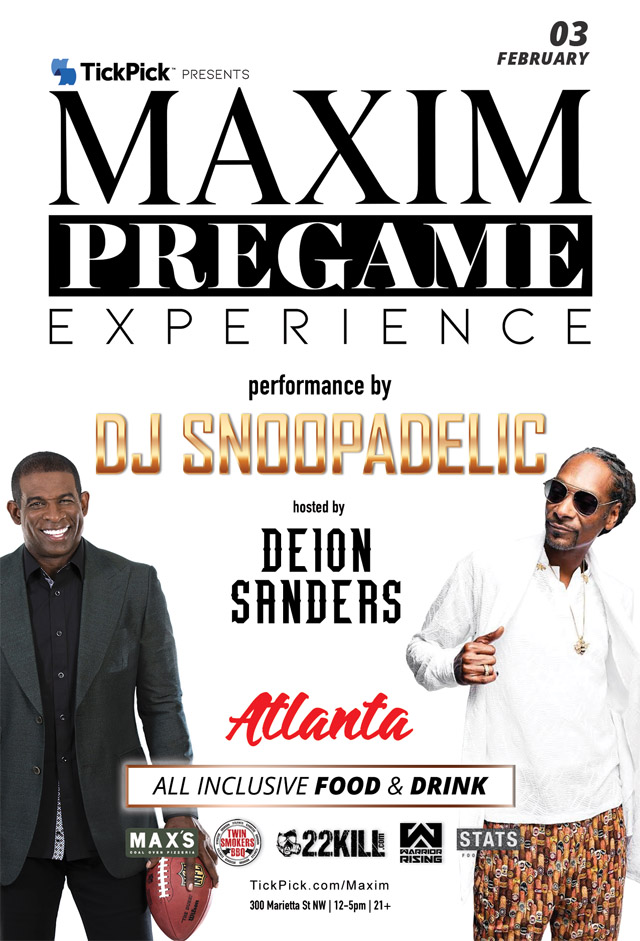 Maxim Pregame Experience, Sunday, Feb. 3, noon-5 p.m.
STATS Complex, 300 Marietta St NW, Atlanta
Maxim proves that they don't just cater to night owls by also holding a party bright and early on Sunday, too. Hosted by Pro Football Hall of Famer and NFL Network analyst Deion Sanders, the festivities will feature DJ Snoopadelic (a.k.a. Snoop Dogg) on the decks with a special DJ set and performance. Partnering with secondary ticket marketplace TickPick, and produced by Lagardère Sports & Entertainment/Rooftop2 Productions, the daytime bash will take over the STATS Complex, a 30,000 square foot-space filled with flat-screen TVs, tables, dance floors and a rooftop deck that's located half-a-mile from Mercedes-Benz Stadium so that those lucky enough to have a game ticket can just walk on over. "Certainly, Deion Sanders and Snoop know how to host a party," TickPick co-founder and co-CEO Brett Goldberg said. Well, duh.
Also Read: Tom Brady, LeBron James Lead 2018 ESPYS Nominations
Ticketed/Open to the Public
Bud Light Super Bowl Music Fest, Thursday, Jan. 31-Saturday, Feb. 2
State Farm Arena, 1 State Farm Dr, Atlanta
As always Anheuser-Busch are bringing the party atmosphere all weekend with the Bud Light Super Bowl Music Fest hosted at State Farm Arena by On Location Experiences and Bud Light. The festivities kick off Thursday night with the EA Sports Bowl featuring Lil Jon, Ludacris, Quality Control?'s, Migos, Lil Yachty & Lil Baby and Metro Boomin. Next up is Super Friday with Aerosmith and Post Malone, and then Saturday closes out with the Bud Light Super Bowl Eve featuring Bruno Mars & Cardi B. Tickets and info on all the events can be found here.
TAO Group's Big Game Takeover, Thursday, Jan. 31-Sunday, Feb. 3, 
Tongue & Groove, 565 Main St NE, Atlanta
Hot off blowing up the Sundance party scene, the Tao Group is taking over Atlanta with four nights of events at night club Tongue & Groove. From Thursday to Saturday, a trifecta of parties feature sets by DJ Irie, DJ Vice, Chantel Jeffries and DJ Spade throughout the weekend, and a special performance by Sheck Wes (Friday) and Rae Sremmurd (Saturday). Owen's Craft Mixers and TAO Group will host two, pre-game cocktail parties on Friday Tongue & Groove ahead of the official parties serving up large-batch, shareable cocktails such as the Water Boy and the Big Game Cooler.
On Sunday, following the Super Bowl between the Patriots and the Rams, MADE presents Greystone Sundays straight from Los Angeles, teaming up with TAO Group to take over Tongue & Groove with sounds by DJ Drama and surprise guest performers. TAO Group's Big Game Takeover is sponsored by Element Electronics, Tequila Avión, Remy Martin, Cintron and Zen. Click here for tickets to all the events.
Shaq's Fun House, Friday, Feb. 1, 9 p.m.
The Battery, 825 Battery Ave SE #600, Atlanta
The gentle giant of the NBA is hosting his own party zone when Shaq's Fun House takes over the Battery on Friday night with with presenting sponsor JBL. Diplo, Tiesto, Mijos and T-Pain are all helping the big fella celebrate. Sadly, don't expect to see a repeat of Gronk dancing on top of Shaq's shoulders like at Miami's Ultra Festival, as the Patriots tight end will be having a quiet night in preparing for Sunday's game. The mayhem will feature a full carnival midway, performance from Mystère by Cirque Du Soleil and interactive circus acts. A pop-up Waffle House diner will be serving Shaq-sized snacks on-site, along with food activations from Hakkasan, STK Steakhouse, Krispy Kreme, High Road Craft Ice Cream and Papa Johns. Tickets and VIP packages can be purchased on StubHub.
As for the big fella himself. "I am so pumped to be taking my Fun House to Atlanta as part of the largest sporting event in the country," O'Neal said. "With the ultimate mix of festival, carnival, and circus elements, I guarantee this will be the most fun and exciting party of the year. Now can you dig it?" Yep, we dig it.
1st & Goal Comedy Bowl, Friday, Feb. 1, 9 p.m.
College Football Hall of Fame, Atlanta
For those who need some good laughs before the stress of the big game, the 1st & Goal Comedy Bowl special sees Cedric the Entertainer leading an all-star lineup featuring the biggest names in comedy, including Atlanta local DC Young Fly (MTV's "Wild 'N Out," "Armed"), Deon Cole ("Black-ish") and Michael Blackson ("Got My Hu$tle Up"). The evening will include high-energy comedy, interactive elements, an athlete and star-filled red carpet, and over-the-top party after-party. Tickets are on sale here.
StubHub Annual Game-Day Fan Event: ATL Tailgate, Sunday, Feb. 3
State Farm Arena, 1 State Farm Dr, Atlanta
As thousands of fans clamor to get a last minute ticket Sunday morning, the world's biggest ticket reseller, StubHub, hosts it's annual game-day fan event at State Farm Arena adjacent to Mercedes-Benz Stadium. The tailgate will serve up on-theme food and drink; oversized games including cornhole and beer pong; face painting and team merchandise to get game-ready, meet-and-greets and football toss with NFL legends. Emmanuel Sanders, Dan Fouts, Ryan Shazier, Kordell Stewart and Mark Brunell are all expected to be on hand to toss a pigskin around or sign autographs.  On Jan. 20, StubHub launched the industry's first 3D-immersive ticket-buying experience for the Big Game in the StubHub iOS mobile app, letting buyers can get a real-life look at a view of the entire stadium, including the seat view from any row,  so they can "try before they buy."
Also Read: Turner Sports Signs Multi-Year Deal With Alliance of American Football
Carolina Panthers' QB Cam Newton is hosting a weekend of events at Fellaship, a restaurant and cigar establishment in the Castleberry Hill neighborhood. Events will continue through Saturday night and conclude Sunday with a viewing party hosted by Newton and other high-profile celebrities in town for Big Game festivities.
"The Art of Smoking"- featuring some of the finest artwork from Cam's private collection, guests will be the first to indulge in Fellaship's exquisite culinary offerings, spirits and hand-rolled cigars. Event hours are 6:30 p.m.-2 a.m. 110 Centennial Olympic Park Dr.
Saturday, Feb. 2 – "Welcome to the 404"- celebrating an evening of sports, culture, fashion, food and music. The evening will feature the global introduction of 404 Vodka, backed by MLB Hall of Famer and Georgia native, Frank "The Big Hurt" Thomas. 6:30 p.m.-2 a.m. 110 Centennial Olympic Park Dr.
Sunday, Feb. 3 – "Best Seat in the House"- Cap off the weekend with an intimate viewing party of the Big Game in the shadow of the Mercedes- Benz Stadium. 2 p.m. 110 Centennial Olympic Park Dr. Click here for tickets.