EXCLUSIVE:
Tim and Eric have started shooting their billion-dollar movie.
And it has a lot more going for it than Funny or Die and Adult Swim stars Tim Heidecker and Eric Wareheim.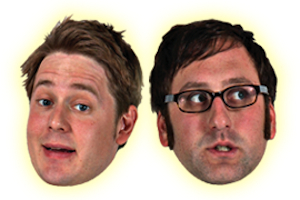 Zach Galifianakis, Will Ferrell, John C. Reilly, Robert Loggia, Jeff Goldblum, Will Forte and William Atherton are starring in the comedy, writer/directors Heidecker and Wareheim told TheWrap Wednesday.
The two said rumors that Harrison Ford will appear in the movie are false.
"Tim and Eric's Billion Dollar Movie" is being produced by Funny or Die, Gary Sanchez Productions and Heidecker and Wareheim's Abso Lutely Productions, started principal photography on Friday.
What's on tap for that shooting day? All the producers would say was that Galifianakis was in the scene and "we got a little wet."
It is Heidecker and Wareheim's first feature film, which has distribution through Magnolia Pictures.
The budget? The producers gave the kind of not-so-straight answer you'd expect: $1 billion.
Most of the cast members have appeared on Heidecker and Wareheim's television program.
Heidecker said that because Funny or Die and Sanchez are producing, the companies were "there at the beginning, shaping the idea, encouraging us to write, sort of giving us a little lesson in how to make movies because we're so used to the short format."
He said that when they sent a first draft to Funny or Die, "we got word from them, 'Well, you make sure there's a part for Will in this.'"
His reaction: "Well OK."
The movie is about the comedians' characters, Tim and Eric, who, Wareheim said, "literally get a billion dollars to make a movie, and we make it, and things go awry, and Tim and I just decide to get out of Hollywood and become businessmen in an abandoned mall.
Heidecker interrupted: "Semi-abandoned mall," he said. "About 10 percent occupancy."
For Heidecker and Wareheim, who are best known for their "Funny or Die Presents" and "Tim and Eric Awesome Show, Great Job!" making a movie is a huge challenge.
"It's definitely the biggest thing we've ever done in terms of scope of the size of the production," Heidecker said. "Relative to other films, it's tiny, but to us, it's the biggest thing we've ever done, the biggest crew we've ever worked with and the most professional thing we've ever done. And the challenge is to fight against the professionalism and keep things loose."
He said that movie directors face responsibilities and questions that he's not used to from his television work.
"It's the little things that start piling up," he said. "People asking you what color you want those shoes to be."
The comedians are predicting giant things for the film.
"It really is a benchmark in the timeline of American film comedies," Wareheim said. "The start of this production is going to be looked on as a day to remember. As principal shooting begins on a film that will change American comedy … I just hope that the Academy is watching and they get on this boat early, because it's been a while since the Academy awarded the best picture Oscar to a comedy."
He paused.
"It's long past due, but this film offers the Academy the perfect opportunity to award a best picture film to a comedy and maybe even preemptively. I don't know how that works, but we could be looking at a situation where the Oscar is awarded before the film is released."
Back to seriousness, the directors said they're not sure when the movie will be released.