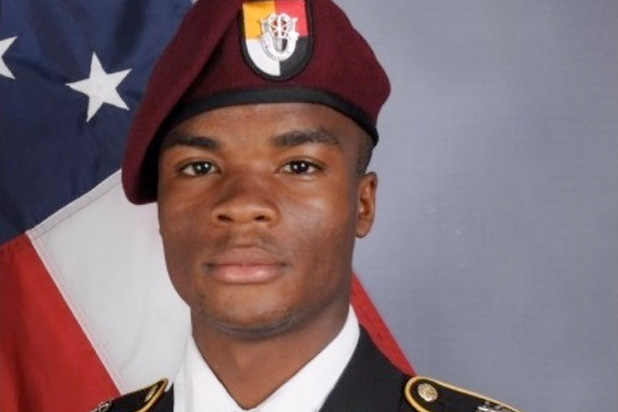 President Donald Trump sharply denounced as "totally fabricated" a Florida congresswoman's claim that he "sarcastically" told the widow of a U.S. soldier killed this month in Niger that he "must've known what he signed up for."
"Sad!" Trump tweeted Wednesday morning of U.S. Rep. Frederica Wilson (D-Fla.), who said Tuesday that she overheard the president's call to the widow of Sgt. La David Johnson on speakerphone.
"And I have proof," Trump added, without further detail.
Democrat Congresswoman totally fabricated what I said to the wife of a soldier who died in action (and I have proof). Sad!

— Donald J. Trump (@realDonaldTrump) October 18, 2017
Also Read: Gretchen Carlson Says She Showed Trump's 'Access Hollywood' Tape to Her Children (Video)
Wilson told Miami's NBC6 she overheard Trump's remarks on speakerphone while riding with Johnson's pregnant widow, Myeshia Johnson. He was one of four U.S. special forces members killed in action on October 4 by Islamic militants in the African nation.
"Sarcastically, he said: 'But, you know, he must've known what he signed up for,'" Wilson told the station. "How could you say that to a grieving widow? … I couldn't believe, and he said it more than once. This man has no feelings for anyone. This is a young woman with child."
Wilson added, "Everyone knows when you go to war, you could possibly not come back alive, but you don't remind a grieving widow of that. That's so insensitive," Wilson added.
Johnson's mother, Cowanda Jones-Johnson, told The Washington Post on Wednesday that she also also heard the speakerphone conversation and confirmed Wilson's account of it.
"President Trump did disrespect my son and my daughter and also me and my husband," Jones-Johnson told the paper.
Also Read: 'SNL' Alum Taran Killam Blasts Show's 'Hypocrisy' for Skewering Former Host Donald Trump
A White House official told NBC News: "The President's conversations with the families of American heroes who have made the ultimate sacrifice are private."
But Trump's Wednesday tweet raises the prospect that he might be recording his conversations in the White House — something he had hinted at in a dispute earlier this year over then-FBI Director James Comey.
Also Read: 'Morning Joe' Slams Trump as 'Antithesis' of 'Every Single Thing' Jesus Christ Said (Video)
In addition to the tweet about his call to Sgt. Johnson's widow, Trump also tweeted criticism on Wednesday morning of other familiar targets, including congressional Democrats, the NFL, "Crooked Hillary" and Comey himself .
He again criticized Comey, whom he fired in the spring following reports that he had written an early draft of his July 2016 statement exonerating Hillary Clinton's use of a private email server months before he made it.
Wow, FBI confirms report that James Comey drafted letter exonerating Crooked Hillary Clinton long before investigation was complete. Many..

— Donald J. Trump (@realDonaldTrump) October 18, 2017
…people not interviewed, including Clinton herself. Comey stated under oath that he didn't do this-obviously a fix? Where is Justice Dept?

— Donald J. Trump (@realDonaldTrump) October 18, 2017
As it has turned out, James Comey lied and leaked and totally protected Hillary Clinton. He was the best thing that ever happened to her!

— Donald J. Trump (@realDonaldTrump) October 18, 2017