Whether you were a "Twi-hard" fan or hardcore hater of Stephenie Meyer's supernatural love-triangle saga, you can't argue that "Twilight" brought a whole lot of people together online. From memes about questionable plot holes to jokes about Kristen Stewart's toneless acting (their words not ours!), here are the best "Twilight" memes to celebrate — and mock — the film series all over again as it turns 10: 
1. Stalker or Lover?
Bella Swan (Kristen Stewart) and Edward Cullen (Robert Pattinson) have a… special kind of relationship. While scenes of Edward saving Bella from stalkers and enemy vampires could have left us swooning, fans were quick to notice that Edward's unflinching obsession with his girl was nothing short of disturbing. 
Also Read: 13 Movies That Had Absolutely Awful CGI (Photos)
2. Cold as Ice… Cream
When Bella finally starts to suspect Edward could be a vampire in the beginning of the Saga's first installment, she confronts him. Among her other findings fans found painfully vague, she tells Edward: "Your skin is pale white and ice cold," which can also characterize anything from Frosty the Snowman to the iceberg that sank the Titanic. Meme makers from multiple fandoms, like "Pokemon," didn't hesitate to put their own twists on the iconic "Twilight" lines.
Also Read: Kristen Stewart and Chloe Sevigny's 'Lizzie' Creeps to Solid Start at Indie Box Office
3. Freeze Frame
With her performances in "Personal Shopper" and "Lizzie," Kristen Stewart has continued to prove her skeptics wrong about her acting chops. However, whether Bella was on the brink of death or overjoyed with Edward's love, some things remained the same: her stone cold facial expressions. 
Also Read: 11 Male Stars Who've Been Body Shamed, From Vin Diesel to Leonardo DiCaprio (Photos)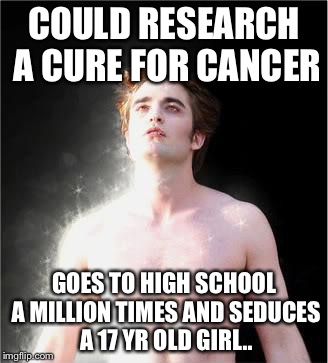 4. Eternal High School of the Spotless Mind
By graduating from high school more than a hundred times and putting Bella's life before his, Edward had his own special set of  priorities. Fans and skeptics alike mocked the odd Cullen family tradition of going to high school over and over again and pointed out Edward's selfish use of immortal powers — that could be applied more meaningfully in the medical field, rather than in high school biology.
5. Girl Un-Power
Following strong female characters like Hermione Granger from the "Harry Potter" series and Eowyn from "Lord of the Rings," it was pretty easy to say that Bella Swan wasn't a shining beacon of girl power. However, we have to hand it to her for trying to battle enemy vampire James in 2008's"Twilight," even though that was one of the only times we saw Bella take matters into her own hands.
6. Six Pack Attack
While a shirtless Jacob was enough to send many Team Jacob fans over the top, his seemingly constant undressing also became the butt of online jokes. Though Meyer wrote that werewolves had higher body temperatures during transformation, the gimmick wreaked of being a studio-ordained ploy for Lautner to expose his chiseled abs. 
Also Read: 11 Male Stars Who've Been Body Shamed, From Vin Diesel to Leonardo DiCaprio (Photos)
7. A Green-Screen Scream
Wolves typically howl but Taylor Lautner's CGI werewolf gave more of a hoot. Whether it's Lautner's tight motion capture suit or Kristen Stewart rubbing his head, this behind-the-scenes look elicited more mocking laughs than most of the jokes throughout the five films.
Also Read: 15 Hollywood Actors Who Had Epic Fails as Music Stars (Photos)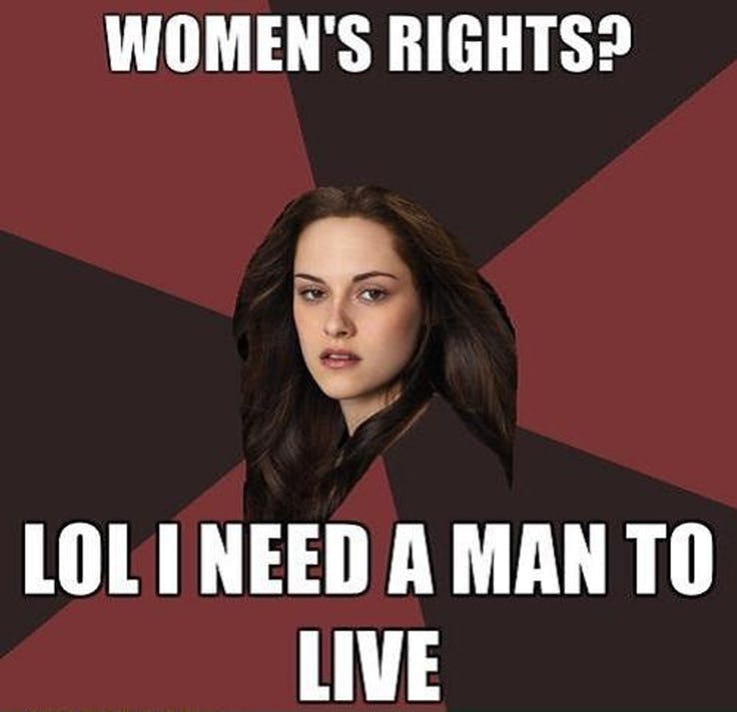 8. Jump for Your Love
Bella Swan just brings Mariah Carey's "Without You" to extreme levels throughout the film saga. Not only did Bella require Edward's protection to keep her out of harm's way, but in 2009's "The Twilight Saga: New Moon" she literally needed to jump off a cliff just to hear her boyfriend's voice. But you do you, Bella. 
9. Space Invader
Jacob's devotion to Bella Swan may have been romantic to some and overbearing to others. But despite Bella's obvious preference for Edward, Jacob just couldn't take "no" for an answer, and that might be even scarier than his werewolf abilities.
10. For the Love of Baby!
Imprinting might take the cake for the most bizarre subplots of the entire "Twilight" Saga. In 2010's "Eclipse," Jacob explains the process of imprinting, saying that that members from his werewolf clan identify their soulmate and dedicate all they do to that being. Flash to Jacob, a full grown man, who swears total dedication to Bella and Edward's newborn daughter, Renesmee. Don't worry Bella, we feel the same way, too. 
Also Read: Sanaa Lathan Boards Jordan Peele's 'Twilight Zone' for CBS All Access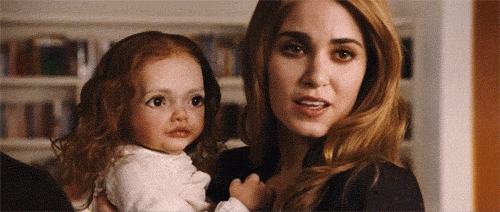 11. Robot Infant
As if Jacob imprinting on Renesmee wasn't weird enough, the "Twilight" crew put together a creepy animatronic baby, aptly nicknamed Chuckesmee by fans and detractors alike. It creeped out "Breaking Dawn" cast and crew, too. In the film, Renesmee went through a total transformation from that robotic thing of nightmares to a full-blown computerized infant. Maybe Renesmee and Jacob are truly a match made in CGI heaven. 
12. Blah Ending
For a film series that was at the cultural zeitgeist for nearly four years, you'd expect a dramatic and climactic close to the "Twilight" saga. Both "Breaking Dawn" films build up to an epic battle of vampires and werewolves versus the almighty Italian Vampire coven, known as the Volturi… that never happens. Both sides essentially pack their bags and leave, leaving the audience with an ending as benign and cheesy as the series itself.