Paul Wesley is going from being a vampire on CW to a federal agent in Louisiana.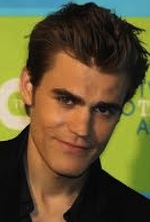 The actor who plays Stefan Salvatore on CW's "The Vampire Diaries" has joined the cast of "The Baytown Disco," which also stars Eva Longoria and Billy Bob Thornton.
Also read: Billy Bob Thornton and Eva Longoria Join Cast of 'The Baytown Disco'
"Disco" was on the 2009 "Black List" of Hollywood's best unproduced movie projects. William Perkins's LLeju Productions came on to produce the movie, which is now shooting in Louisiana.
Barry Battles is directing the movie, which he wrote with Griffin Hood.
Wesley plays Anthony Reese, a federal agent who comes into a small Southern town to investigate the Oodies — three redneck brothers who get more than they bargained for after agreeing to help a woman get her son back from his seemingly abusive father.