Jason Baldwin, one of the West Memphis Three — young men convicted of killing three boys in West Memphis, Ark. in 1993 — has signed on as executive producer of "Devil's Knot," a movie about the case starring Colin Firth and Reese Witherspoon, TheWrap has learned.
Baldwin's longtime supporter and now girlfriend, Holly Ballard, also is executive producing.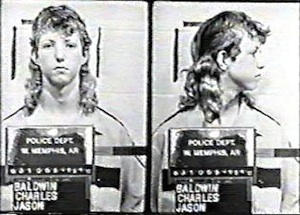 "Devil's Knot" tells the story of Ron Lax, a successful private detective who worked for the defense for no pay. He found DNA evidence linking the stepfather of one of the murdered boys to material that was used to bind one of the victims. That evidence helped convince a judge to release Baldwin, Damien Echols and Jessie Misskelley, Jr., in 2011.
Also read: Out of Prison, West Memphis 3 Ex-Con Seeks Justice
Baldwin spent 18 years of a life sentence in prison. Early in the case, when he was 16, he turned down a plea deal that prosecutors offered because it would have required him to testify against Echols, whom he maintained was innocent.
Echols ultimately was sentenced to death, and Misskelley was sentenced to life plus 20 years.
Eighteen years later, with questions about the mens' guilt being raised, the state approached all three with another plea deal, called an Alford Plea, which allowed them to plead guilty in exchange for release from prison for time served.
Baldwin initially resisted accepting the deal because he wanted a new trial and complete exoneration. But he ultimately accepted the plea because it guaranteed that Echols would get off death row.
"We are extremely honored that Jason and Holly are working with us," Elizabeth Fowler, one of the movie's producers, told TheWrap Sunday. "Their experience and insight are invaluable to Devil's Knot."
She said Baldwin has read the script and will consult throughout the filmmaking.
The movie is based on the book "Devil's Knot," by journalist Mara Leveritt. Atom Egoyan is directing the movie, which begins shooting this summer.
Fowler, Clark Peterson, Richard Saperstein and Paul Harris Boardman are producing the movie, which Boardman and Scott Derrickson are writing.
Echols, who had been sentenced to death, is one of the producers of "West of Memphis," a documentary about the case. Peter Jackson, Fran Walsh and Lorri Davis produced that documentary, which Sony Pictures Classics is distributing that movie.