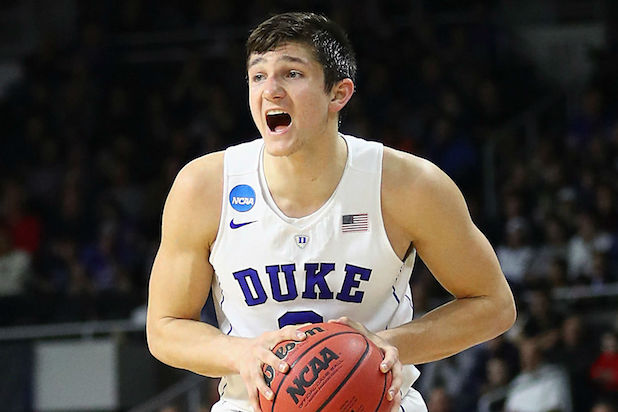 TheWrap has partnered with Canvs, a language analytics company that measures emotions around content, for a weekly look at some of the characters and personalities that have TV viewers the most worked up on social media. The data below covers March 15-21 and is drawn from the most emotionally reacted-to television shows, including broadcast, cable, streaming and PPV.
A South Carolina basketball star, a member of Fifth Harmony and an unfaithful reality star had viewers talking passionately on social media over the past week.
It was no surprise — given the time of year — that the most emotionally-reacted to program on TV was one of the NCAA Basketball Tournament games: The matchup in which South Carolina upset Duke, which generated 152,837 Emotional Reactions (ERs). Duke guard Grayson Allen was the most-mentioned player of the game, but viewers were split on their opinions of him. While some professed outright love, more than a few others were… not so kind.
I love Grayson Allen ❤️

— Mitchell Mailloux (@m_mailloux44) March 20, 2017
Gonna miss Grayson Allen

— Charlie Johnson (@Charliej07) March 20, 2017
Grayson Allen's face bothers me.

— Patches O'Houlihan (@piscofj) March 20, 2017
I'm just happy Grayson Allen lost

— Monica Lubinski (@RyanLubinski) March 20, 2017
Also Read: Cable Ratings: Fox News Beats NCAA Tournament-Heavy TBS, TNT
Excluding sports, the most emotionally-reacted to show (with 80,231 ERs) was the season 24 premiere of "Dancing with the Stars" on ABC, with Normani Kordei, a member of the popular music group Fifth Harmony, being the most-mentioned character. Kordei did a quickstep with partner Val Chmerkovskiy to "Good Time Good Life" by Erin Bowman, a performance that viewers absolutely adored, as witnessed by the abundant use of caps lock. Unsurprisingly as it is with shows like "DWTS," fans were also quick to chime in about her appearance.
Normani yess honey slay #DWTS

— Daralee ???? (@MendesArmyAngel) March 21, 2017
OMG NORMANI LOOKS AMAZING ???? #DWTS

— ♦♠♥♣LunarSkye♣♥♠♦ (@LunarSkye) March 21, 2017
#DWTS MY GIRL NORMANI DESERVED 11's

— mads ²∕₂₄ (@shalomjauregui) March 21, 2017
WHY IS NORMANI SO GORGEOUS #dwts

— ♕jake (@dinahmentia) March 21, 2017
Also Read: William Shatner Wages Vicious Twitter War on 'DWTS' Contestant Nick Viall
The most recent episode of VH1's "Love & Hip Hop: Atlanta" had viewers talking to the tune of 70,352 ERs, with many discussing Kirk and his admission to Rasheeda that he's been unfaithful. Viewers took to Twitter to express outrage at his actions and support for Rasheeda.
LHHATL got me dying ???? tf kirk

— ♡… (@Dpf___) March 21, 2017
i really hate kirk now

— issa meal???? (@nijaaaah_) March 21, 2017
Yasss Rasheeda Kick That Man Out

— kill. (@neverwaresout) March 21, 2017
Kirk is trash ????

— ???? (@fvbul0us) March 21, 2017
Damn my heart hurts for rasheeda ????

— fineass_mya???????????????? (@omgitsjimmya) March 21, 2017