In a sea of Renee Zellweger, Katie Holmes, Julianne Moore, Julie Andrews and other leading ladies at Elle magazine's 16th annual "Women in Hollywood" tribute last Monday, the few lucky men in the room tend to stand out. Two pillars of NBC's Thursday night — Alec Baldwin ("30 Rock") and John Krasinski ("The Office") — buddied up (pictured at right; Getty Images), and producer-director Adam Shankman was all smiles the night before he was announced as Oscar's new boss.
The night before "Saw VI" opened, the No. 1 horror franchise of all time (according to the filmmakers) also celebrated. (Despite losing this weekend's slash-off to "Paranormal Activity," this weekend's receipts bring the worldwide lifetime haul to $679 million.) Exec Producer Oren Koules (also an EP of "Two and a Half Men") hosted the after-party for guests like Bill Bellamy, Tobin Bell and 300 more at wife/restaurateur Shereen Arazm's new space, Wonderland. Staying true to the franchise's torturous spirit — all the tray passed bites were served "murdered": on spears, pierced by swords or stabbed by wood.
As he waited to find out if his show is coming back from the dead, "Southland" lead
Ben McKenzie
deflected attention away from the show's fuzzy future at a fashion-meets-charity event on Thursday night. Instead, McKenzie steered the conversation toward the event's target, Invisible Children, provider of educational alternatives for child soldiers in Uganda. Guess and Vanity Fair unveiled a 100 percent proceeds to the cause T-shirt line at the Guess outpost on Rodeo, drawing
Kristen Bell
,
Rachel Bilson
and
Jeff Probst
for the clothes and/or to sneak the boutique performance from
Pete Wentz
. And where did the stars first learn about this far-flung charity cause? The same place everyone else learns everything:
Oprah
.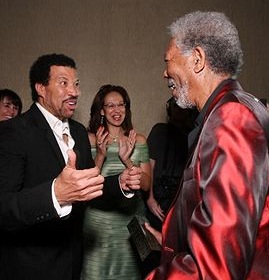 Meanwhile, rather than a broadcasting monarch, there was actual royalty further up Rodeo.
Prince Albert II
of Monaco, accepted the Rodeo Drive Walk of Style Award awarded to his late mother,
Princess Grace (Kelly)
also on Thursday night (
pictured above left,
flanked
by Angie Harmon and Debra Messing; Getty Images).
Previous Walk of Style winners include fashion royalty
Giorgio Armani
,
Tom Ford
and
Manolo Blahnik
.
Since no endeavor within the 310, 424 or 323 area codes should be without an awards show, the inaugural Noble Awards honored star-friendly charities and the famous faces that help put them on the map. (For the avoidance of doubt — the Noble Award is not what President Obama won.) Oscar winner Morgan Freeman has some new hardware for his mantle as the first lifetime achievement award winner. (Lionel Richie showed his approval, above right; Getty Images.) Nick Cannon awarded Brett Ratner for his volunteer-oriented DoSomething, while David Foster, Laila Ali, Dennis Haysbert and "Access Hollywood's" his-and-her team of Billy Bush and Nancy O'Dell hit the Beverly Hilton last Sunday night.