In case you missed it, alongside yesterday's spectacular trailer for "Wonder Woman 1984," Warner Bros. also released four spectacular new character posters for the film's main characters. See them below right now.
The new images, done up in the same eye-popping, w-suggesting visual style as the one released a few months back, feature Diana Prince/Wonder Woman (Gal Gadot), Steve Trevor (Chris Pine), Cheetah (Kristen Wiig) and Maxwell Lord (Pedro Pascal) accented by angular lines and bright colors that, presumably, suggest something as-yet unknown about what's in store for them. Also, somehow, the Steve Trevor photo makes fanny packs seem extremely cool, which shouldn't be possible in this or any other universe.
It all dropped Sunday during the "Wonder Woman 1984" panel at Comic Con Experience Brazil, attended by both director Patty Jenkins and Gadot. Read more about that here.
Also Read: Patty Jenkins on How 'Wonder Woman 84' Uses the '80s as 'Great Metaphor'
First up, here's a green-red-and-gold-accented Wonder Woman giving us another look at her slick new armor. The fact that her giant '80s shoulder pads look intimidating and awesome would be shocking — if we weren't already shocked that Steve Trevor's fanny pack also looks awesome: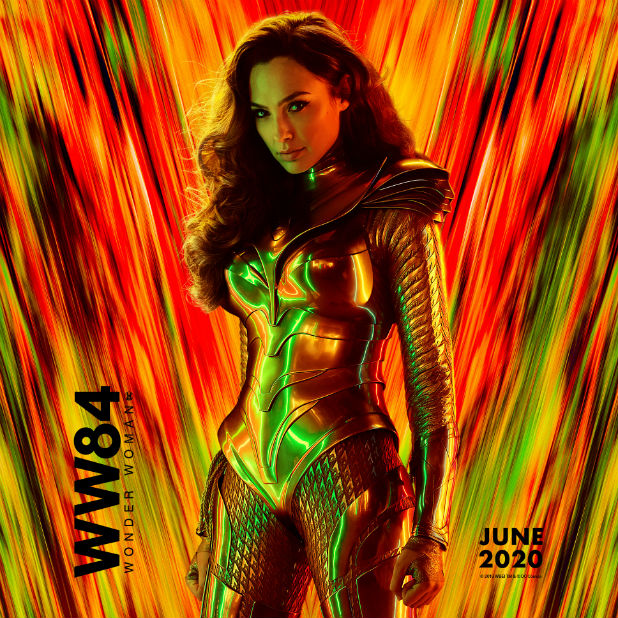 Next up, a very blue-green Steve Trevor looks pretty confused about something — we're guessing it's that the fanny pack he's wearing makes him look dope instead of the "hopelessly dorky and, if we're being honest, kind of creepy" vibe fanny packs normally emit. That should be less possible than bringing Steve back from the dead.
Also Read: Watch the First 'Wonder Woman 1984' Trailer Here (Video)
Here's one of the film's villains, Barbara Minerva, AKA Cheetah, whose smug smirk suggests she's hiding a secret. Is her secret the answer to how on earth the Steve Trevor poster made a fanny pack (vomit) look awesome? Hopefully! Also, that cheetah-themed miniskirt and leather jacket combo rules.
Finally, here's the film's other villain, Maxwell Lord, accented by the color of money. (Green. We mean the color green.) We're not saying he reminds us of any IRL 1980s business bros who might be really untrustworthy, but we can confidently predict he has a chain of hotels named after himself, and may or may not also be responsible for making fanny packs cool.
Jenkins co-wrote the script with Geoff Johns and David Callaham. Also appearing in the film are Connie Nielsen as Hippolyta, queen of Themyscira and Diana's mother, and Robin Wright as Antiope.
"Wonder Woman 1984" is slated to open June 5, 2020.