The biggest, brashest and most entertaining WWE Superstars are in Los Angeles this week for "Monday Night Raw."
Featuring Dr. Phil as a special celebrity guest delivering a very special kind of family therapy to Women's Champion Charlotte, the show brought plenty of energy and surprises to the Staples Center downtown.
The L.A. outing oozed with glamour and glitz as the big guns came to town, complete with hammy acting and over-the-top costumes. While "Monday Night Raw" airs live on USA Network, TheWrap was on the scene amidst the rampant fans, and here's what you didn't see on TV.
Also Read: Dr Phil Delivers WWE-Style Therapy at 'Monday Night Raw' (Video)
Packed house
Even though the event started at 4:30 p.m PT, long before the sun even went down, thousands of fans battled rush hour traffic to fill Staples Center (which has a capacity of over 20,000 for WWE events). Fans exploded in roars of excitement when Dolph Ziggler stole a victory in the first match before the telecast even began.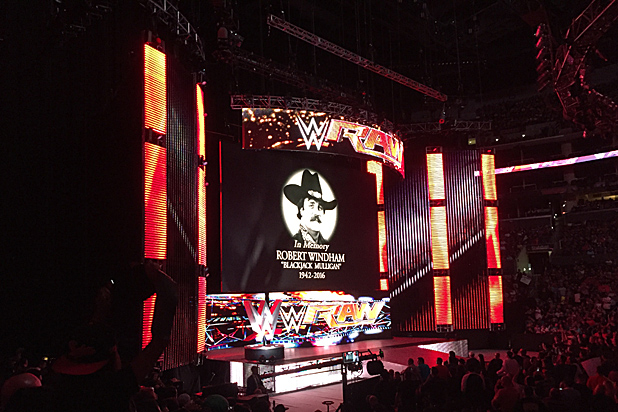 Blackjack Mulligan Tribute
The WWE honored one of their own Monday with a moving tribute Robert "Blackjack Mulligan" Windham,  who died on April 7. The show was dedicated to his memory, and later featured his grandson, WWE Superstar Bray Wyatt.
Shane McMahon is back — but not jumping off any more cages!
Appearing to have recovered from his 20-foot fall at WrestleMania 32 on April 3 during his "Hell in a Cell"  showdown with The Undertaker, Shane McMahon was back in the ring to thank his fans and deliver the promise of "new superstars, new matchups and new rivalries."
Kevin Owens makes "demands," Cesaro makes new friends
McMahon also announced the upcoming world championship card of Sami Zayn and Roman Reigns, which didn't go over well with Kevin Owens. He burst out declaring that he had been screwed over. "I was robbed by Sami Zayn," he claimed. "I demand my rematch for the intercontinental title."
But that's not how things are run, he was told. "You have to earn it," McMahon said, and that meant taking on – and taking down — Swiss Superstar Cesaro, who sparked cheers from the women in the audience when he ripped off his suit to reveal his rock-hard pecs. After the pair bounced back and forth off the ropes to roars from the crowd, Owens flung his opponent out of the ring and grabbed a cowboy hat in the process. The hard-fought bout was eventually won by Cesaro, who proceeded to high-five half the kids in the crowd in jubilation on his way out.
Also Read: WWE's Kevin Owens Describes His Unlikely, 15-Year Struggle to Reach WrestleMania 32
Dr. Phil delivers family therapy
Dr. Phil made his first appearance of the night via a video showing him trying to counsel Women's World Champion Charlotte and her father, WWE Hall of Famer Ric Flair. "He is holding you back, he is corrupting you. He's taught you all these dirty tricks and you're cheating every time you get out there," he told her about dad.
"Stand on your own two feet!" he said.
New Day are a big hit
It was hip-hop trio New Day who got the crowd on their feet, however, with their energetic entrance and colorful animations, which included them riding on a rainbow unicorn and "promoting" their new Booty-O cereal. They introduced the tag team challenge of the Lucha Dragons from Mexico City and the Dudley Boyz, prompting the chant "we want tables," with the Dudleys ultimately taking down their rivals from south of the border.
Enzo next got the entire stadium to erupt in cheers as he brought out seven-foot tall Big Cass and asked the crowd, "how ya doing?"
#SisterAbigail!!! @WWEBrayWyatt and @WWERomanReigns are victorious in #RAW's Main Event!! #RAW pic.twitter.com/uDR1zuAsGC

— WWE (@WWE) April 12, 2016
Also Read: Dwayne 'The Rock' Johnson Returns to WWE Ring at WrestleMania 32
Roman Reigns is still disliked
Roman Reigns' victory at WrestleMania 32 to take the title of World Heavyweight Championship disgruntled many hardcore fans, and his appearance Monday prompted boos from the audience as he strutted around with his belt. "I'm not a good guy, I'm not a bad guy, I'm the guy," he bragged. "My plan is to stay the champ for a really long time." But that was before the League of Nations came out, led by the mouthy Irishman with a Mohawk, Sheamus.
McMahon announced that two members of the League of Nations would take on a tag team of Reigns and Bray Wyatt, prompting one fan to be overheard saying "all my dreams have come true." (Spoiler alert: Reigns and Wyatt went on to win the main event, no doubt making Roman even more unpopular.)
ZERO TRUST given between @WWERomanReigns and @WWEBrayWyatt #RAW pic.twitter.com/Q4SBXXqvwu

— WWE (@WWE) April 12, 2016
Move over Donald Trump: "Dr. Phil for President"
Dr. Phil made a respectable entrance to the commentators' table before the women's match, with one admirer waving a sign that read "Dr. Phil for President."
Natalya then challenged Charlotte for her belt, as Dr. Phil studiously looked on. As most fans seemed to be hoping for an upset win by Nattie, the beautiful blondes turned into brutal bitches in the ring while Flair interfered once again outside the ropes.
Even @DrPhil doesn't have enough answers for the #GoldenTruth! @Goldust @RonKillings #RAW pic.twitter.com/limQ33CU2g

— WWE (@WWE) April 12, 2016
Seth Green channels his inner fan boy 
"Austin Powers" actor and "Robot Chicken" voice star Seth Green was spotted screaming from the stands during the main bout. Green is no stranger to WWE, having actually competed in a six-man tag team match on "Raw" before. (His team won by disqualification.) He was also in attendance for WWE's biggest event of the year, WrestleMania XXVI in 2010.
Welcome @SethGreen to @WWE #RAW!! pic.twitter.com/MOZFOsGL9P

— WWE (@WWE) April 12, 2016
See video of Dr. Phil below.