WrestleMania 34 took over New Orleans this weekend and, as expected, the result was epic mayhem in the Big Easy as thousands of WWE fans flooded Bourbon Street.
While the celebrations lasted all weekend, the main event was Sunday night, as the Super Bowl of professional wrestling returned to the Mercedes-Benz Superdome, which is normally home to the New Orleans Saints.
With an A-list lineup of veteran stars for the live pay-per-view, fans were most excited to watch former UFC fighter Ronda Rousey in her first major event since signing with the WWE, and the return of Daniel Bryan after being medically cleared following a series of concussions two years ago.
Also Read: Daniel Bryan Medically Cleared by WWE to Wrestle Again - Just in Time for WrestleMania 34
The packed roster included a mass of superstars in high profile match-ups, such as Roman Reigns vs. Brock Lesnar, AJ Styles vs. Shinsuke Nakamura, and Charlotte Flair vs. Asuka.
While millions of viewers forked out cash for pay-per-view, TheWrap had a seat inside the Superdome in New Orleans. For those of you who didn't buy the flagship WWE, here's what you didn't see on TV.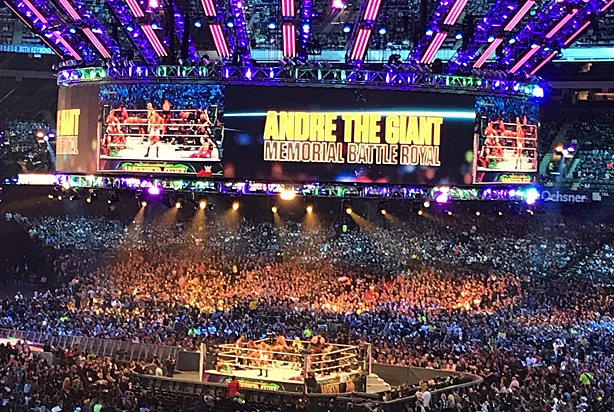 Also Read: WrestleMania 33: NFL Star Rob Gronkowski Jumps Into the Ring With Mojo Rawley in WWE Debut
Andre the Giant remembered 
Two days before the "Andre the Giant" documentary premieres on HBO, Mojo Rawley was in the ring defending his Andre the Giant Memorial Battle Royal title to kick off the WrestleMania pre-show. Former Hype Bros. turned heel Rawley got the first huge cheer of the night as he flung his ex-tag team partner Zack Ryder out of the ring. But after Gronk took over the show last year with a surprise entrance, fans have learned to expect the unexpected at the battle royal, and this year's shake up was the arrival of Bray Wyatt to join forces with former foe Matt Hardy. The pair then shook up last men standing by ejecting Mojo and Baron Corbin to allow Matt Hardy to win. Was this setting up a storyline for a Mojo vs. Bray Wyatt rivalry? We'll have to wait and find out.
I may have lost my trophy. I may have gotten cheated. I may have gotten eliminated. But at least this happened. #ByeByeRyder #BooHooHoo @WWE @WrestleMania pic.twitter.com/brPbBhBCW8

— Mojo Rawley (@MojoRawleyWWE) April 8, 2018
Also Read: Here's Everything WWE Superstar John Cena Does in a Day (Video)
John Cena is a regular fan — no, really 
WWE Superstar and "Blockers" actor John Cena promised that he'd sit in the audience as a fan if The Undertaker didn't accept his WrestleMania challenge. Cena was true to his word, mixing with the regular folks and cheering like a crazy person during the Andre the Giant Memorial (he had great seats, of course). Whether he'd stay in the audience all night and not become a part of the show itself remained to be seen … but he proved to be a pretty good crowd warmer as chants of "Let's go, Cena" and "Cena sucks" vibrated around the stadium.
EXCLUSIVE: @JohnCena stays true to his word as he takes his seat AS A FAN at #WrestleMania 34! pic.twitter.com/oYd3euEoU6

– WWE (@WWE) April 8, 2018
Countdown clock
WWE fans had been waiting a whole year for WrestleMania to return after last year's sellout show in Orlando, Florida. A handy clock hanging high in the stadium rafters counted down to tell them exactly how long they had to wait.
And after it hit zero, things went off with a bang — literally! Have you ever heard fireworks explode in a covered stadium? It's terrifying, take our word for it.
Also Read: WWE's Paul Heyman Talks Post-WrestleMania Plans, Ronda Rousey
The year of The Miz?
There's no one more arrogant than The Miz, and stadium commentators further amped up the former "Real World" star by claiming it was "his year." The WWE Intercontinental Triple Threat match saw him battle Finn Balor and Seth Rollins, as he desperately tried to hold on to his title. Spoiler alert: He failed. It turns out that not even the favor of the commentators can help you win a match, and Rollins sprang off the ropes to put an end to his parade.
Also Read: WWE Superstar Charlotte Flair Marvels at How Dad Ric Is '69 and Cooler Than Me!' (Video)
Queen Charlotte
Charlotte Flair is as close to WWE royalty as it gets — and the reigning SmackDown Women's Champion made the entrance of the night as she took center stage to face off against Asuka. Ric Flair's daughter glittered with gold walking into the ring dressed like a queen (Cersei or Cleopatra?) to take on her Japanese nemesis — sparking a hush from the enamored crowd. They really lost it, however, when Empress Asuka wedged Charlotte in a headlock that got her fuming … and ruined her hair. "I am the queen!" Charlotte could be heard screaming. But action speaks louder than words, and Flair had a brutal battle on her hands that left both women battered and bruised.
Also Read: Charlotte Flair Says Ronda Rousey Signing With WWE Raises 'Everyone's Game' (Video)
The passion and fire erupting from the crowd proved that the women's revolution really is here, with even one professional-looking reporter screaming "YES!" when Flair regained her title in a nail-biting finish that left fans aghast.
Mad dash backstage
Everyone knew that Cena wasn't going to sit on his ass all night, but did anyone guess he could run so fast? Cena got whispered a secret message from an official an hour into the show and sprinted backstage to get ready for his match … to the surprise of no one.
After being told something by a @WWE official, @JohnCena just ran out of here! #WrestleMania pic.twitter.com/okwOvSbmPb

— WWE WrestleMania (@WrestleMania) April 9, 2018
He was soon back decked in a neon green shirt that was not long for this world, and after a bit of a teasing and a very dark, dramatic introduction, Cena vs. The Undertaker was officially on. It turns out that Cena can't actually do everything, as he was forced scurrying out of the ring by the walking Deadman.
Good vs. Evil
The buildup for the Stephanie McMahon and Triple H vs. Ronda Rousey and Kurt Angle showdown was more drawn out than many matches, but it lived up to the anticipation. From the moment McMahon and Triple H made a Mad Max-style entrance on motorbikes proclaiming "Tyrannus et Imperium" to a death metal soundtrack, you knew this was gonna get serious.
In a sharp contrast, Rousey looked like an innocent school girl in her new "Rowdy!" shirt next to her tag team partner. As always, the crowd was on the side of the underdog as it chanted for the former UFC champ, who proved she has plenty of fight left in her, while everyone rose to their feet for a better view of the mayhem.
Also Read: Ronda Rousey to Sign WWE Contract at 'Elimination Chamber' Pay-Per-View Event
Rousey then went on to beat Triple H like he was a little girl … I swear you could hear his yelps from the press box. But never get in between an angry woman and her guy, as McMahon crawled back into the melee. The audience blew the roof off the Superdome when McMahon tapped out to give Rousey and Angle the victory. See, sometimes the good guys do finish on top.
This look though.#WrestleMania @RondaRousey pic.twitter.com/1FpdAbg8Zl

— WWE (@WWE) April 9, 2018
Operation Yes
Are diehard WWE fans happy that Daniel Bryan is back in action? YES. His name rang out through the 76,000-capacity stadium, as he partnered with the other McMahon kid, Shane, to take on Sami Zayn and Kevin Owens. McMahon called foul when Bryan appeared to be unfairly hurt early on, but he soon bounced back with the determination of someone who's been sidelined too long. It ended up being McMahon that everyone was worried about as he struggled his way through the match, but it was clear they were both hurting. It'll be ice baths all around on Monday morning but at least it was worth it.
YES YES YES YES YES YES YES YES YES YES YES YES YES YES YES YES YES YES YES YES YES YES YES YES YES YES YES YES YES YES YES YES YES YES YES YES YES YES YES YES YES YES YES YES YES YES YES YES YES YES YES YES YES YES YES YES YES YES YES YES#WrestleMania @WWEDanielBryan pic.twitter.com/N5FfpPeEDA

— WWE (@WWE) April 9, 2018
Short Stacks
New Day set a very low bar, as the colorful tag team came out flanked by little people dressed in pancake costumes. We know that New Orleans is the home of Fat Tuesday, which traditionally marks the time to eat pancakes before Lent, but the move seemed morally questionable and had many people on Twitter scratching their heads.
I've just seen a midget dressed as a pancake do the worm. I can die happy now. Thanks New Day…#Wrestlemania pic.twitter.com/KDf93fX2tY

— BenchWarmers (@BeWarmers) April 9, 2018
Katy Perry's Super Bowl Sharks have nothing on New Day's Shortstacks. #WrestleMania pic.twitter.com/lxVr5Ic3qX

— Ricci Vaughn (@RicciVaughn) April 9, 2018