Buyers will be out in full force this week in Park City but with so many options to choose from, it helps to have a cheat sheet to prioritize the must-see acquisition titles at Sundance. After talking to buyers and sellers alike, here are the 10 most promising titles with the loudest buzz heading into this year's festival.
The Bronze (WME)
What's the Deal?: The highlight of Sundance's opening night lineup is this raunchy comedy from director Bryan Buckley featuring co-writer Melissa Rauch in what could prove to be a star-making performance. The "Big Bang Theory" actress plays a washed-up Olympic gymnast whose local celebrity is threatened by the arrival of a promising young gymnast seeking a mentor. Sundance describes the foul-mouthed protagonist as "a lovably loathsome character who makes Tonya Harding look like Grace Kelly," so perhaps this will be the next "Bad Words?"
First Screening: Thursday, Jan. 22, 9:30 p.m. – Eccles
Also Read: Sundance Parties 2015: The 10 Hottest Invites (Updating)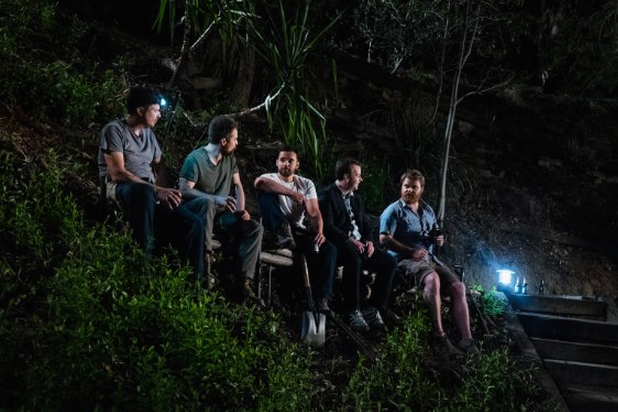 Digging for Fire (producers Alicia Van Couvering, Joe Swanberg and Jake Johnson)
What's the Deal?: Jake Johnson and Rosemarie DeWitt play East L.A. parents on the verge of a nervous breakdown as they juggle marital and parenting duties. Things get weird when she enjoys a night on the town with her girls and he takes the opportunity to invite his buddies over for smoking, drinking and carousing. Joe Swanberg's latest may be his most commercial film yet, and it certainly features his most high-profile cast. Between Anna Kendrick, Orlando Bloom, Brie Larson, Sam Rockwell, Chris Messina, Jenny Slate, Melanie Lynskey, Timothy Simons, Ron Livington, comedian Mike Birbiglia and veterans Sam Elliott and Judith Light, there's someone for everyone.
First Screening: Monday, Jan. 26, 9:45 p.m. – Eccles
Also Read: Sundance: Teenage Hackers, Grindr, 'Nightcrawler' Star's 'Daytimer' Highlight Short Film Lineup
The D Train (WME/UTA)
What's the Deal?: Jack Black plays a laughingstock who sacrifices his dignity while trying to convince his most famous former classmate to go to their high school reunion in order to boost attendance. James Marsden co-stars as the manipulative commercial actor in question. Respected comedy writers Andrew Mogel and Jarrad Paul make their directorial debut with this exploration of friendship and the dangerous lengths people will go to in order to fit in and be accepted.
First Screening:  Friday, Jan. 23, 8:45 p.m. – The Library
The End of the Tour (UTA/WME)
What's the Deal?: James Ponsoldt is another indie filmmaker returning to Sundance with this look at David Foster Wallace (Jason Segel) and his five-day, never-published interview with Rolling Stone reporter David Lipsky (Jesse Eisenberg) on the heels of "Infinite Jest's" publication. The duo developed a bond despite never seeing each other again, and the film is based on the memoir Lipsky wrote after Wallace committed suicide in 2008. Wallace is one of the most beloved voices in modern American literature and this movie is expected to get the literati talking.
First Screening: Friday, Jan. 23, 6:15 p.m. – Eccles
Also Read: Margot Robbie's 'Z For Zachariah' to Be Released by Lionsgate, Roadside Attractions (Exclusive)
Knock Knock (CAA)
What's the Deal?: Eli Roth's latest stars Keanu Reeves as a happily married man who finds himself alone and in over his head when two beautiful strangers knock on his door harboring cruel intentions. Genre fans have been jonesing for a new Roth movie for eight years since his most recent film, "The Green Inferno," has been indefinitely delayed for legal reasons, and this nasty psychological thriller should provide the fix they've been waiting for.
First Screening:  Friday, Jan. 23, 11:45 p.m. – The Library
Also Read: James Franco, Jennifer Lopez, Kurt Cobain Movies Highlight Sundance Premieres
Lila & Eve (CAA)
What's the Deal?: After her teenage son is killed in a drive-by shooting, Lila (Viola Davis) joins a support group for women who have lost children to violent crimes and meets Eve (Jennifer Lopez), with whom she forms a close friendship. When the authorities fail to help both women get justice for their kids, the duo team up to take down a group of drug dealers. Charles Stone III directed this vigilante thriller that shows just how far a mother would go for her child — dead or alive. Lifetime Films financed the film and produced it in conjunction with A+E Studios but domestic theatrical rights are still available, and this pairing may prove irresistible to an upstart distributor looking to make a splash.
First Screening: Friday, Jan. 30, 9:45 p.m. – Eccles
Mississippi Grind (WME)
What's the Deal?: "Half Nelson" filmmakers Ryan Fleck and Anna Boden return with this gripping tale of a poker player (Ben Mendelsohn) whose gambling habit is getting the best of him. After he meets a charismatic young traveler (Ryan Reynolds) who becomes his lucky charm, the duo hit the road together and gamble their way down South toward a legendary high-stakes poker game in New Orleans. Australian scene-stealer Mendelsohn finally gets a lead role to call his own here and rumor has it that he shines as a desperate sad-sack praying his luck hasn't run out.
First Screening: Saturday, Jan. 24, 3:30 p.m. – Eccles
Sleeping With Other People (CAA)
What's the Deal?: Leslye Headland's follow-up to "Bachelorette" stars Jason Sudeikis and Alison Brie as sex addicts and former lovers who agree to a platonic friendship to support their recovery. The barbs may cut deep but they come from a place of love in this dark romantic comedy from the Gary Sanchez trio of Will Ferrell, Adam McKay and Jessica Elbaum. The impressive supporting cast includes Adam Scott, Natasha Lyonne, Amanda Peet and Jason Mantzoukas.
First Screening: Saturday, Jan. 24, 9:45 pm. – Eccles
The Stanford Prison Experiment (UTA)
What's the Deal?: "C.O.G." director Kyle Patrick Alvarez returns to Sundance with this intense period drama based on Dr. Philip Zimbardo's infamous 1971 study on the psychology of imprisonment, in which a group of young men were randomly assigned to be either a guard or a prisoner in a simulated jail. Once the participants embraced their roles, things quickly spiraled out of control. Billy Crudup stars as Zimbardo but the film's selling point will no doubt be its top-notch ensemble of up-and-coming actors, including Ezra Miller, Tye Sheridan, Jack Kilmer, Michael Angarano, Thomas Mann, James Wolk, Johnny Simmons, James Frecheville, Moises Arias, Callan McAuliffe and Nicholas Braun. One insider called it a cross between "Compliance" and "Whiplash," which has us more than a little intrigued.
First Screening: Monday, Jan. 26, 3:15 p.m. – Eccles
Also Read: Sundance: Teenage Hackers, Grindr, 'Nightcrawler' Star's 'Daytimer' Highlight Short Film Lineup
A Walk in the Woods (WME)
What's the Deal?: The Godfather of Sundance himself –Robert Redford — stars as an aging travel writer who sets out to hike the 2,100-mile-long Appalachian Trail with a long-estranged high school buddy, played by Nick Nolte. While the duo cross paths with Emma Thompson, Mary Steenburgen and Nick Offerman, they soon learn that some roads are better left untraveled. This mature comedy could be a crowd-pleaser that proves popular with older audiences who may be looking for an alternative to "Star Wars" and "Avengers" this year.
First Screening: Friday, Jan. 23, 11:30 a.m. – The MARC
BONUS MOVIE: Unfortunately, I'm not able to cover the Slamdance Film Festival like I should, but there are plenty of good movies that debut there each year and 2015 is no different. The acquisition title that buyers should have on their radars is this year's Opening Night selection, the horror comedy "Bloodsucking Bastards," which stars Fran Kranz ("Cabin in the Woods") and Pedro Pascal ("Game of Thrones"). The movie hails from LA-based comedy troupe Dr. God, whose members co-wrote the script and co-star as office workers who are targeted by corporate vampires. The Movie Package Company is handling sales for the film, which premieres on Friday, Jan. 23 at 8 p.m. at the Slamdance Ballroom. Watch the red-band trailer below.