1. A couple weeks ago I mocked the idea of a David Fincher Facebook movie. I stand corrected with the revelations that Ben Mezrich's book "The Accidental Billionaires", on which the script is based, is a wall-to-wall chronicle of New Media/New Money vulgarian excess and bitter betrayal. But there's one Caligula-style outrage that, as an Australian, leaves an incredibly sour taste in my mouth — Facebook CEO Mark Zuckerberg went aboard the yacht of a Sun Microsystems executive to dine on koala!
You heard me.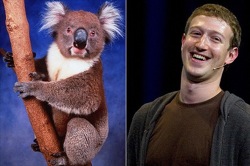 Australia's harmless little marsupial was eaten by dot.com douchebags keen for an extreme cuisine thrill.
The koala, in case you don't know, is cuddly, lovable and harmlessly spaced-out due its eucalyptus-leaf diet. But, most importantly, it's an endangered species. To put it in context, it'd be like Russell Crowe celebrating an Oscar victory by sitting down to a dish of baked Liza Minelli.
I wonder how this little guy feels about it.
2. One kid from the Harry Potter series of films comes down with swine flu. A hundred headline writers give thanks for a "Hog-warts" joke. Another Harry Potter supporting actor gets busted for growing marijuana, setting up any number of "Pothead" gags.
Is Warner Bros. orchestrating these kids' punny dilemmas for PR purposes?
This just in: Emma Watson shows her underpants at premiere! Brace yourself for innumerable variations on: "What's On, Not Much!"
Amusing how this never once happened to Emma before she was legal. Also funny that she demurely told David Letterman "I'm still learning this stuff" – that's because if there's one thing this girl is good at it, it's learning. She's one of the smartest young women in Britain.
3. Speaking of smart women, if I could be any place right now, it'd be in Florida, watching Paris Hilton defend herself in the $8.5m lawsuit alleging she didn't fulfill her promotional duties for the 2006 movie "National Lampoon's Pledge This!"
I'm one of the eight people on the planet who've sat through this stinker start to finish and it'd be fantastic to see Paris testify about it in court. This is a film in which she observes her little pooch watching a bathroom threesome and remarks "My dog is such a perv, I love it – now I'm craving sushi" and refers to her on-screen boyfriend Simon Rex as "babydick".
4. Still on court cases, the one between Pauly Shore and Sacha Baron Cohen over whether the latter's "Bruno" ripped off the former's "Adopted" with the whole African-baby adoption satire.
I reckon this trial could be a nailbiter and end with gasps from the public gallery as Brangelina enters to deal with them all! At the very least, it might inspire Shore to make that "Jury Duty" sequel we've been clamouring for.
5. Aren't the paparazzi supposed to make money using their, um, eyes? Well, Rachel Weisz apparently gets mistaken on a regular basis for… Tom Cruise.
Oh, actually no she doesn't. What she said was: "Sometimes the paparazzi, on the lookout for Tom Cruise who lives nearby, trickle onto my street, take a few pictures of me, and disappear."
Aren't headline writers and caption writers supposed to make their living actually reading their own stories?
6. Microsoft, American Express… and Newcastle Greater Building Society. What do they have in common? They're the only three companies for which Jerry Seinfeld has ever done ads. In what must be one of the marketing coups of 2009, the relatively tiny Australian financial concern got the funnyman to do a series of TV commercials. They mocked up Aussie streets in Cedarhurst, Long Island, and let Seinfeld rip. Newcastle's CEO Don Magin declined to say how much he paid for the A-lister's services but said it was considerably less than the $10m Amex were rumored to have splashed out. Seinfeld filmed enough material for the initial three ads and a further 15-25. How'd they get him? "We were bold enough to ask," Magin told local radio. Never stop dreaming, you brash young bank CEOs!
7. "Creature From The Black Lagoon" is going to be a musical at Universal's theme park in order to get people excited about the upcoming movie remake? Awesome –except, won't the kids be disappointed when they rock up to Breck Eisner's "reimagining" only to find their favorite song — "Gills Just Want To Have Fun" — is missing? Even harder to replicate, the "Amazon jungle odors" offered to the live audience. We kid you not.
8. Still down in the bubbly depths of needless remakes: McG's "20000 Leagues Under The Sea: Captain Nemo" is picking up steam with a rewrite from Randall Wallace, who did "Braveheart" and "Pearl Harbor". Wallace's first job? Changing that title. Even the schlockmeisters at The Asylum were savvy enough to call their version — starring Lorenzo Lamas — "30,000 Leagues Under The Sea".
That's 50 percent better right away. McG has said he wants to take the 139-year-old story "into today's culture". My suggestion – make it about virtual submarines and call it, oh, "999,000 Megabytes Under the Sea". Granted, it makes no sense but are kids gonna get "Leagues"?
On the upside, at least McG can save a few mill by recycling the lame-o submarine footage from "Terminator: Salvation".
9. "Jennifer's Body" looks great — a combination of B-movie horror and A-list talent. We finally get to see if Megan Fox can act, it seems another terrific role for the wonderful Amanda Seyfried and, while they ain't featured in the promo, the movie also features J.K. Simmons and the brilliant Amy Sedaris. The mildly NSFW trailer is here:
What I can't quite fathom is the amazing fanboy backlash against its writer Diablo Cody. Yes, "Juno" leaned a little heavy on hipster quips, but it was a funny and sweet movie with well-developed characters and a lot of heart. Guess it proves three things are alive and well in the sub-basements of nerd-dom: a) jealousy at anyone who gets a script made; b) insane jealousy should that movie make money and net the writer an Oscar; and c) apoplectic levels of hatred should that writer be a young woman.
But the very same crowd who hate Diablo won't be able to stay away, thanks to this poster.
10. I'm not sure what sort of gut-dripping dreams this might give kids, but ThinkGeek's Tauntaun Sleeping Bag has my vote for immediate placement in the pantheon of Best Things Ever. Slumber in the belly of the beast, little ones!
[With thanks to Luke for Zuckerberg zombiefication!]