The Toronto International Film Festival always yields a fresh crop of exciting new talent and this year is no exception.
We've combed through the lineup and singled out eight young actors, one director and the ensemble cast of one of this year's Midnight Madness movies for having major breakout potential.
While we haven't seen many of these titles, we've polled several industry insiders and always have our ear to the ground when it comes to up-and-coming talent, but let us know if we missed anyone in the comments section below.
Also Read: Toronto Preview: Oscar Contender Overload, But Drought of Hot Sales Titles
Abraham Attah, "Beasts of No Nation"
Are we looking at the next Quvenzhane Wallis, who also rose to fame in a film with "Beasts" in its title? The newcomer is said to carry Cary Fukunaga's latest film on his slender shoulders, playing a child soldier named Agu who falls under the sadistic command of a warlord played by Idris Elba. It's unclear whether Attah wants to pursue acting beyond "Beasts," but he's certainly soaking up the moment and enjoying excellent reviews out of Venice.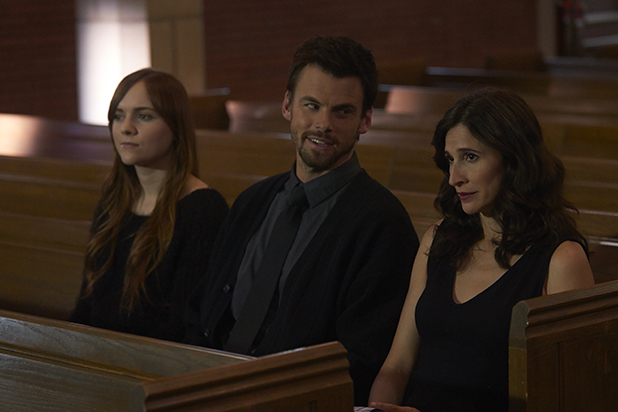 Tara Lynne Barr, "Casual"
Barr (left in photo) anchors Jason Reitman's new Hulu series, whose first two episodes are getting a special screening at TIFF. The young actress made a name for herself with Bobcat Goldthwait's "God Bless America" and she recently starred on NBC's "Aquarius," as well as in Rose McGowan's short film "Dawn." Up next is Greg McLean's thriller "6 Miranda Drive," which pairs her with Kevin Bacon and Radha Mitchell.
Jonny Beauchamp, "Stonewall"
After playing Angelique on Showtime's "Penny Dreadful," Beauchamp (left in photo) rises to a new challenge as Ray, aka Ramona, in Roland Emmerich's drama about the start of the gay rights movement. Jeremy Irvine plays the film's lead but insiders suggest its Beauchamp who will break your heart. The young actor recently wrapped the Emma Roberts-Dave Franco thriller "Nerve," which hails from the directors of "Catfish."
Also Read: Toronto's Top 10 Sales Titles: From Michael Moore and Jason Bateman to Jonas Cuaron
Emory Cohen, "Brooklyn"
Those who attended TIFF in 2012 will recognize Cohen as the young actor who played Bradley Cooper's son in "The Place Beyond the Pines." Others might remember him as one of Mark Wahlberg's students in "The Gambler." Cohen comes into his own in John Crowley's "Brooklyn," which made waves at Sundance. He plays one of two love interests vying for the affection of Saoirse Ronan's Irish immigrant, and we wouldn't dare reveal whether he gets the girl in the end. In addition to "Brooklyn," Cohen has a bright future ahead of him with upcoming turns in Ric Roman Waugh's "Shot Caller," Kieran Darcy-Smith's "By Way of Helena" and the indie movie "Detour," which pairs him with fellow up-and-comers Tye Sheridan and Bel Powley.
Devin Druid, "Louder Than Bombs"
Druid has been steadily building up his resume, playing Frances McDormand's son on HBO's "Olive Kitteridge" and a young Louis C.K. on "Louie." He earned strong reviews out of Cannes for his turn as Jesse Eisenberg's withdrawn younger brother in Joachim Trier's drama about a grieving family. If you're looking to compare him to one of his peers, imagine an edgier version of "Me and Earl and the Dying Girl" star Thomas Mann.
The Female Cast of "The Girl in the Photographs"
Call it a hunch, but we've got a good feeling about Nick Simon's Midnight Madness entry, which was executive produced by horror maestro Wes Craven. This genre movie stars Claudia Lee ("Hart of Dixie"), Katharine Isabelle (Margot Verger on NBC's "Hannibal"), Christy Carlson Romano ("Kim Possible") and Miranda Rae Mayo, the latter of whom will soon be seen on the new ABC series "Blood & Oil." We haven't seen "The Girl in the Photographs" yet but advanced word has the genre community buzzing, and these young ladies are responsible for the early Toronto hype.
Also Read: Toronto Film Festival Cancels Screening of Aretha Franklin Documentary 'Amazing Grace'
Jack Kilmer, "Len and Company"
Val Kilmer's son appears ready to step out of his father's shadow. He recently appeared in Gia Coppola's "Palo Alto" and the acclaimed Sundance thriller "The Stanford Prison Experiment," as well as IFC and Funny or Die's comedic miniseries "The Spoils of Babylon." In "Len and Company," Kilmer plays an aspiring rock musician seeking the approval of his record producer father, played by Rhys Ifans. Throw Juno Temple into the mix as a young pop star and this under-the-radar title could surprise TIFF audiences. Up next for Kilmer is a supporting role alongside Russell Crowe and Ryan Gosling in Shane Black's crime flick "The Nice Guys."
Judah Lewis, "Demolition"
When you're rumored to steal scenes you're sharing with Jake Gyllenhaal and Naomi Watts, you've gotta be doing something right, and that appears to be the case for Lewis. He plays Watts' son in Jean-Marc Vallee's dramedy, which led to him being a finalist to play Peter Parker in Sony's latest "Spider-Man" reboot. Ultimately, Lewis didn't get the role, but he will soon be seen as a young Johnny Utah in the "Point Break" remake, which is pretty cool too. Our spies think Lewis will have a very bright future so long as he keeps taking advantage of opportunities to shine.
Ilya Naishuller, director, "Hardcore"
Naishuller directed the viral sensation "Bad Motherfucker," which served as the inspiration for this feature-length version, shot from the point of view of a cybernetic super-soldier bent on saving his wife from a psychotic paramilitary psychic. The Russian filmmaker has an eye for stylized violence and energy to spare, which could lead to a long feature career. He should definitely be considered a director to watch.
Jacob Tremblay, "Room"
This 8-year-old actor (right in photo) has been getting rave reviews that would make his co-star Brie Larson blush. He carries Lenny Abrahamson's adaptation of Emma Donoghue's book, in which he plays a young boy who has lived his entire life in a single room, which comprises his whole world. You won't believe what happens when he actually gets out. Tremblay's performance already caught the eye of "Jurassic World" director Colin Trevorrow, who cast him as one of the two young leads in his next film "The Book of Henry," which will reunite him with his "Shut In" co-star Naomi Watts.