San Diego Comic-Con is a sacred pilgrimage for fans of all things nerdy, but as the event grows bigger and more chaotic every year, the act of actually attending can be daunting. But don't worry if you're a first time or even a veteran feeling overwhelmed.
TheWrap spoke with directors, showrunners and stars behind such projects as "American Gods," "Star Trek Beyond" and "Vikings" to find out what they're looking forward to this year — not just as panelists, but as fans and attendees themselves — and their tips for fellow attendees.
Also Read: 'American Gods,' 'Ash vs Evil Dead' Headed to Comic-Con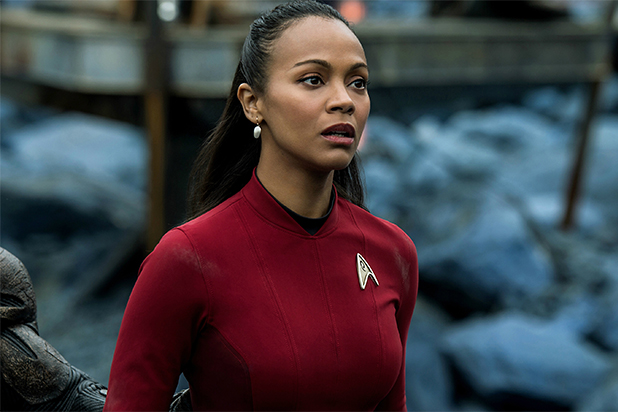 Zoe Saldana, "Star Trek Beyond"
"I love Comic-Con and always wish I had more time to go into the convention and walk around to see everything!" said Saldana, an actor with serious geek cred, having previously attended the convention for projects including "Avatar" and "Guardians of the Galaxy." "I am usually in and out quickly after press and our panels but I think an important inside tip is to wear comfortable shoes. You want to be able to see as much as you can and there is a lot of walking to all the different events, panels, and inside the convention."
Also Read: 'Game of Thrones' Sets Comic-Con Panel
"I also love the energy at Comic-Con and all of the costumes that some of the die hard fans wear so don't forget a camera, and make sure to get some great photos on your phone," she added. "There are some pretty amazing moments and sights that you wouldn't want to miss."
Bruce Campbell, "Ash vs Evil Dead"
Campbell's fondest Comic-Con memory is one that takes a different angle on an iconic moment of the convention from 2015: "Leaving the convention center and parting the 'Red Sea' of fans, trying to get to get to the Star Wars impromptu concert. I had to get out of our van and go 'Moses' on them so our vehicles would be able to leave the area. We survived."
The Ash Williams actor also has solid advice for first-time Con-goers: "Comfortable shoes! Go to the Comic-Con website and learn the rules! Stay hydrated!"
Also Read: Comic-Con 2016 Schedule: All the TV Shows Heading to San Diego (Updating)
See Campbell and the "Ash vs Evil Dead" gang at their panel at 6:45 p.m. on Friday, July 22 in Room 6A.
Katheryn Winnick, "Vikings"
"I'm most excited about the autograph signing, that's what Comic Con's all about – getting up close and personal with the people who matter most, the fans," Winnick said. "Last year was the first time I got the chance to walk around the San Diego convention center. I went incognito in an owl mask and bumped into so many Vikings along the way. It was a hoot!"
Winnick will be on the "Vikings" panel, which takes place at 5:45 p.m. on Friday, July 22, in Room 6BCF.
Bryan Fuller, Executive Producer, "American Gods"
The writer and producer, who cites Kristin Chenoweth singing at the "Pushing Daisies" panel in 2008 as his favorite memory of the experience, has very specific tips for Con-goers this year: "Secure me an Aliens Warrior prototype figure at the Super 7 booth before they sell out and the weekend will go much better for you."
Also Read: Warner Bros. to Bring 'Supergirl,' 'The 100,' 'Riverdale' to Comic-Con
Michael Green, Executive Producer, "American Gods"
Fuller's partner in showrunning advises getting back to the roots of what Comic-Con is all about: "Save time to walk the indie comics aisles.  Tons of inspiring talent there hiding in plain sight!"
Fuller and the cast of "American Gods" will preview the new series at their panel, starting at 3:45 p.m. on Friday, July 22, in Room 6BCF.
Lili Reinhart, "Riverdale"
"This is my first time going to Comic-Con! Everyone keeps telling me how crazy it is, so I'm bracing myself a little bit," The CW's new Betty Cooper told us. "But I'm actually really looking forward to it– our show hasn't premiered yet so I don't expect it to be too insane for me and the rest of the 'Riverdale' cast.
I'm also a huge 'Game of Thrones' fan, so if I just so happen to bump into any of the cast I'll have a slight fangirl moment. I met Natalie Dormer a few weeks ago and was so happy to tell everyone that I met 'Queen Margaery.'"
Also Read: 15 Stars Who Went to Comic-Con in Disguise, From Justin Timberlake to Jared Leto (Photos)
The "Riverdale" panel will take place at 6:30 p.m. on Saturday, July 23 in Room 6BCF.
The cast and crew of"Archer"
Having been doing panels at SDCC since 2010, these guys are old pros at surviving Comic-Con. Take this advice to heart, newbies.
Adam Ree, Creator: "Don't let Larry Murphy talk you into getting on the disco bus."
Aisha Tyler: "Don't try to do too much. Pick one or two really cool panels to attend and spend the rest of the time cruising around town impressing others with your devastatingly elaborate cosplay. What did you spend all that time hot-gluing for, anyway, if not to crush the dreams of others?"
Jessica Walter: "Wear comfortable shoes."
Also Read: What's With the 13-Foot Bronze Captain America Statue Coming to Comic-Con?
Chris Parnell: "Be prepared to encounter approximately 10 million people on the convention floor. Always be kind to your fellow humans and inhumans, and most of all, have fun!."
Lucky Yates: "Don't spend all of your time waiting in line for Hall H. Explore everything in town and at the convention center, there's SO much cool stuff. All the panel content will end up online in a matter of days anyway, so why not wander around and make new friends? And don't forget to visit the comic book artists and writers! They're the reason this con began in the first place."
The 2016 San Diego Comic-Con runs from Thursday, July 21 – Sunday, July 24. Preview Night will take place on Wednesday, July 20.