Upon arrival in Los Angeles in the mid '70's, the first thing I bought from King's Western store in Van Nuys was a brown Stetson cowboy hat.
Why, I don't know, but having an extra large head and putting on a hat that fit nicely was so rare to me that I had to have it, even though $75 in 1976 was a small fortune to me.
Several years later it would come into very good use.
Mark Itkin, a newly-hatched agent replacing the departed syndication agent in that burgeoning area, asked me to meet with three "producers" named Briggle, Hennesy and Carrothers. It turned out the only thing they actually produced other than business cards, was dinner theater, and Briggle, the jovial spokesman for the group, had directed one episode of "Alice" and a lot of musical theatre in Ohio and such.
At this time in television there were a half dozen actual producers coming from features and series who wanted to jump into movies for TV. Those were the producers I was usually pursuing. Anyway, I was doing this as a favor for the hardworking and charismatic young agent Itkin.
They pitched a number of ideas that were either recently done or so "thin" as to make you wretch. I was unimpressed.
A few days later, Briggle sent over a book by his college professor at Southern Methodist in Dallas. "13 Days to Glory" was the true story of the Alamo, not the fiction of the Duke's movie but the real people, and their real ages, not the 50-plus actors.
With encouragement from the NBC TV Movie chief, I put on my chocolate brown suit and the brown Stetson and drove over to NBC. Wearing that Stetson got me a special parking place and new respect from the guard at the gate and the one at the desk.
Once in the office, there was a buzz. " Is that Arthur? I didn't know he was "country."
Country, sure if you consider Ashtabat, Turkmenistan "country" — the origins of the Axelmans until 1905 and Ellis Island.
Steve White, that same NBC movie chief, who I liked a lot, had said to talk to him further about "13 Days to Glory." I pitched. "This was our chance to do the real Alamo, not what we've been lied to about."

"We are revolutionaries," I proclaimed to White, "who could change the face of our misspent high school history classes. The guys at the Alamo were young, we can cast it with the famous and young."
We spoke of Bruce Willis and Don Johnson, Alec Baldwin and Raul Julia (although Steve enjoyed the vision of Ricardo Montalban in the elaborate Mexican general's uniform.)

As I was leaving with what sounded very much like a four hour deal, he called out, "Arthur, you can tell me now, you made up the name Stockton Briggle. There really is no Stockton Briggle, is there? Who is really going to produce this?

Once I assured him that Briggle did in fact exist, we started to discuss writers.
I sent over two hours of a four-hour "Young Jack London" mini that Clyde Ware had written for CBS. Ware was a writer-director, who had spent the last decade making small independent movies that no one saw. But he was also the writer of hundreds of the best episodes of "Gunsmoke" and beloved by Jim Arness and the Western film community.
Contrary to his West Virginia country roots, he studied at the Actors' Studio in Manhattan with Marty Sheen, Newman and Brando and wrote two provocative novels. Spencer Tracy and Katharine Hepburn were his early sponsors. Steve called and approved Clyde to write.
Steve so believed that Montalban was important as Santa Ana, that he almost made him "of the essence" meaning, if we didn't cast him, the miniseries could be in danger. So I asked Ricardo to lunch.
A childhood friend of agent Hal Ross, Montalban was the sweetest man, dazzled as an actor by the chance to play an iconic figure in his culture, but also concerned about the possible repercussions. Afterall, Montalban had founded Nosotros, campaigning for Hispanic rights before it became fashionable. While he was able to portray diverse ethnic characters in film and TV (and a very famous alien in Star Trek), he did not want to offend his brothers and sisters by portraying the despised Mexian general. After several expensive lunches, he passed.
It didn't help that his agent and friend Hal kept calling me and saying "This Alamo isn't real, is it? Jerry says it isn't real." Anything I ever did at NBC was not real to the agent covering that network, which was his way of wishing it away. I was even more motivated to make it happen.
With the failure of regular series programming, the volume of TV movies and miniseries at NBC increased rapidly making Steve White very busy. He assigned two former east coast executives who had never seen a horse up close, to oversee the development of the four hours.
Clyde Ware strived to portray what professor Lon Tinkle had documented in his scholarly thesis. The producers did not like Ware's approach and brought in another writer who altered scenes, characters, dialogue, and, in doing so, historical accuracy. Then he fought to get Ware's name off the script, a battle more important to him than the Alamo. Ultimately the hybrid was ordered to production.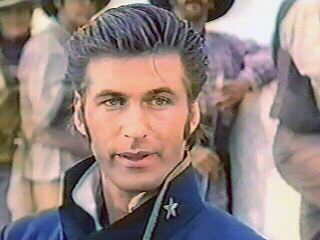 James Arness had been away from television for many years and created a mysterious "get," as did young Alec Baldwin, just building an industry buzz, with Brian Keith and Lorne Greene rounding out the film.
Not exactly the promised miniseries vision of "youth" by any means.
Corporate NBC would not approve the producing team doing it on their own and I found myself with a firm four-hour commitment without a production company to be "at risk." Dick Clark, Gil Cates, Taft, EMI, the Kellers, ITC, Chuck Fries and four others met and either passed or were turned down by Briggle. Finally we met with Bill Finnegan's company in Studio City and made a deal.
Fortunitous for Briggle was that Finnegan was so busy with two other minis that neither he nor his producing partner and wife Pat ever showed up at the Del Rio, Texas location This allowed Briggle to put it all together himself with a low key, veteran western director Burt Kennedy.
It was Burt Kennedy who, during a break from shooting, joined me at Sam's Boot Corral in downtown Del Rio where I fell in love with a pair of Tony Lama crocodile boots. The price was outrageous, almost $400, but I sprung for them. Kennedy also picked up a nice pair.
Before we could make our purchases, a stranger came into the shop and announced that he had a horse for sale. Burt's eyes opened wide and he said "Let's take a look." Outside the store, tied to a wooden railing like in all the old westerns, was the most beautiful horse I had ever seen.
Burt asked "His age? Watcha lookin' to get?"
The seller replied "He's four years old and I need $1200."
Burt came back at $500. The seller came down to $900. Burt said "$800 is all I got." The seller agreed and Burt was the new owner of a spotted Appaloosa.
I was so jealous. I didn't realize that a beautiful creature like this could be had so cheaply. I expressed my regret to the veteran cowboy director.
"Arthur, my boy. I just saved you a mint. You have any idea what it takes to keep a horse in food and shelter, exercised and groomed? About $40 grand a year. Your wife will be very grateful I got this pretty boy rather than you. Trust me."
He then told me that Los Angeles-based wranglers had trucked 40 horses from California to Texas for the shoot. And they would add another, Burt's new addition, for their journey home.
I got to know Jim Arness as we shared a plane trip back to L.A. after "13 Days" wrapped. Our flight was canceled and we found ourselves with a four-hour layover. We spoke about the business, our families, California real estate he knew well, and I found Arness, much like Bill Holden, to be a normal, quiet, unasuming and truly nice guy. Unlike director Kennedy, he was not fond of horses. Acting was not especially a passion, it was a job you do the best you can for this Minneapolis-born WWII combat veteran with a strong work ethic.
Passengers would walk by us and not notice the iconic star, which surprised me since Jim was 6'7" — but he was scrunched into a bench, wearing jeans, a tee shirt, a baseball cap and sneakers. It was the Beverly Hills agent in Del Rio crocodile cowboy boots and that Stetson. An image so bizarre that Arness laughed "What is wrong with this picture?"
In an industry filled with malcontents and monsters, Jim Arness was a truly good man.
"13 Days to Glory" did very well for NBC, got tremendous publicty in the entertainment Sunday supplements throughout the country and gave enormous credibility to Itkin's new producing clients.