It has been one year since a devastating cyber attack left Sony Pictures licking its wounds and apologizing for an embarrassing trove of leaked emails that gave film fans around the world a taste of how the Hollywood sausage really gets made.
The movie world moves so fast. One year ago, Sony was developing "Sinister Six" and "Venom" spin-offs of the Spider-Man universe, while everyone was excited about a new "Steve Jobs" movie and felt that Jennifer Lawrence was well-compensated. My, how the times have changed.
No one values their privacy more than Hollywood movie studios and Sony's home in Culver City didn't just have its window curtains opened, it was practically leased by the producers of "Big Brother." Nothing was secret anymore, and stars, filmmakers and executives finally learned what the rest of the industry was saying behind their backs.
Also Read: Inside Sony Pictures 1 Year After Hack: 'It Takes a While to Turn a Ship This Big'
Below are a handful of the people and projects who were caught in the crosshairs of the Sony attack. Let's take a walk down memory lane, shall we?
"The Interview"
The little $44 million comedy that begat big problems for Sony, "The Interview" did receive a theatrical release, and there were no reports of any incidents at theaters that dared to show the movie. However, the film's release was severely impacted by the hack (a worldwide gross of $11 million) and it ended up doing most of its business on VOD and iTunes. The climactic shot depicting the assassination of North Korean leader Kim Jong-un also shed a few frames in the name of good taste, according to the leaked emails. In the end, was it worth it? Probably not, but the film struck a blow for good old-fashioned American values like the freedom to make fun of foreign dictators.
"Steve Jobs"
Once conceived as a David Fincher film starring Leonardo DiCaprio as the Apple whiz, this project bore the brunt of the venom unleashed during the Sony hack. When DiCaprio didn't work out, Christian Bale became Fincher's first choice before the director bailed. Danny Boyle took over the project at Sony and Bale was in talks when he suddenly reversed course, leaving the studio scrambling to find a replacement.
At one point, Sorkin lobbied for Tom Cruise to don the black turtleneck, but when Boyle picked Michael Fassbender, the studio balked and Amy Pascal allowed producer Scott Rudin to take the project to Universal. The film has earned mixed-positive reviews, with Fassbender and screenwriter Aaron Sorkin singled out for their strong work, but that hasn't made a difference at the box office.
Opening in limited release, "Steve Jobs" scored the year's highest per-theater average but proved underwhelming upon going wide, taking in only $7.1 million in its first weekend in wide release. Unless "Steve Jobs" wins Oscars, which is looking increasingly unlikely, Sony may have dodged a bullet with this one. Oh, and did we mention that Pascal called Sorkin's fee "insane" and said it was likely because he's "broke" and "just wants to get paid." Yeah, it was that kind of an exchange.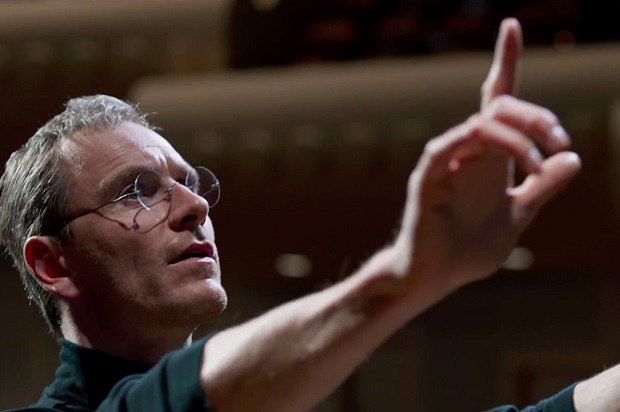 Also Read: The Sony Hack's Key Players: Where Are They Now? (Photos)
Spider-Man Universe
Sony scrapped its plans for "Sinister Six" and "Venom" spinoffs and that female-driven Spider-Man movie sure seems like a lot of lip service, as the studio has been focused on a straight-forward reboot with the participation of Marvel Studios.
Tom Rothman moved decisively, casting the young British actor Tom Holland ("The Impossible") following a worldwide search, and hiring Jon Watts to direct on the heels of Sundance's warm reception for his "Cop Car." The new Spidey (and Marisa Tomei's Aunt May) will make his debut in Disney/Marvel's "Captain America: Civil War" before swinging into a new live-action adventure in 2017. Phil Lord and Chris Miller are also developing an animated "Spider-Man" movie, though details remain slimmer than Gwen Stacy.
"American Hustle"
A few leaked emails about the profit participation pool involving the film's cast don't tell the whole story, but they did jump-start a conversation about equal pay in the industry. The public was incensed that Jennifer Lawrence and Amy Adams were making less than their male co-stars — 7 percent of the profit participation pool compared to 9 percent for Christian Bale, Bradley Cooper, Jeremy Renner and director David O. Russell. Of course, Lawrence didn't work nearly as many days as her co-stars, but try explaining that to those outside of Hollywood.
The Sony hack also revealed that of the studio's 17 U.S. employees earning $1 million or more, nearly all were white and only one was a woman. Perhaps some good may have come from the Sony hack after all, as Jennifer Lawrence is now being paid more than her red-hot "Passengers" co-star Chris Pratt.
Also Read: Sony Hack Settlement Includes $4.5 Million in Compensation
"Ghostbusters"
Leaked emails suggest that Paul Feig wanted to cast Jennifer Lawrence, Emma Stone, Lizzy Caplan and Melissa McCarthy in a reboot of Ivan Reitman's beloved blockbuster comedy. In the end, Feig cast McCarthy alongside Kristen Wiig, Kate McKinnon and Leslie Jones. Some plot points were revealed but Sony should still have plenty of surprises in store for audiences next summer.
"Spectre"
The early draft of the script may have leaked, but the movie's secrets haven't. The latest James Bond adventure, which one leaked email suggested would cost more than $300 million, opens Nov. 6 and no one is talking about the hack or any plot points it may have revealed.
Looking to the future of the franchise, then-Sony chief Pascal told a former colleague she thought Idris Elba should be the next James Bond. The idea gained traction with some fans, but not Anthony Horowitz, author of one of the recent authorized Bond novel sequels. He opined that Elba was "too street" to play Bond, which he later apologized for. European bookmakers have Tom Hardy and Damian Lewis among the favorites to replace Daniel Craig, but 007 could be in for a radical reinvention in today's increasingly diverse Hollywood.
"Cleopatra"
This project remains in deep development. It played like a footnote below the larger "Steve Jobs" story, but the gist of it was this: Angelina Jolie wanted Fincher to direct an historical epic about the Egyptian ruler in spite of his reputation for being "difficult," which Rudin called an understatement before comparing the director to Hitler. Or at least that's how we remember it. But there hasn't really been any movement on this, as Fincher spent much of the last year focusing on his HBO shows "Videosynchrazy" and "Utopia."
"Aloha"
Shots fired! Pascal basically trashed her own movie and its director, Cameron Crowe, in the leaked Sony emails, which couldn't have helped the film's box office performance. "Cameron never changed anything [about the script]. People don't like people in movies who flirt with married people, or married people who flirt," wrote Pascal.
Despite stars such as Bradley Cooper, Emma Stone, Rachel McAdams and Bill Murray, the film grossed only $26 million worldwide. Sometimes, audiences can smell a stinker — but in the case of "Aloha," they didn't even have to take a whiff, since the verdict was already in months before it hit theaters.
"Pixels"
Leaked emails suggested that Sony rank-and-file executives had lost confidence in Adam Sandler's movies, which one employee called "mundane" and "formulaic." This big-budget Sandler comedy failed to crack the $100 million mark in the U.S. and led to a spate of embarrassing articles questioning his star power, but the film grossed $237 million worldwide — not too shabby.
Sandler signed a four-picture deal with Netflix prior to the hack, but he's still part of the Sony family — even if leaked emails revealed financial drama on the set of "Hotel Transylvania 2" and a $200 million pitch for "Candyland" as a Sandler vehicle.
The Sony hack also revealed an email in which Judd Apatow scolds Pascal for scheduling "Pixels" on the same date as his Amy Schumer comedy "Trainwreck," which moved up a few weeks and did very well. "Why did you move your movie into my date? I never put my movies on Sandler's dates. Never. He hadn't either. We all respect each other. We don't try to hurt each other," wrote Apatow. Frankly, we don't blame him for being angry, but the decision wasn't personal for Pascal, just business.
"Concussion"
The New York Times made front page news out of Sony's football drama starring Will Smith, touting leaked emails show that director Peter Landesman, Sony executives and Smith's reps discussed how to avoid antagonizing the NFL. "Will is not anti football (nor is the movie) and isn't planning to be a spokesman for what football should be or shouldn't be but rather is an actor taking on an exciting challenge. We'll develop messaging with the help of N.F.L. consultant to ensure that we are telling a dramatic story and not kicking the hornet's nest," wrote Dwight Caines, Sony's domestic marketing chief.
Landesman did make some creative decisions for legal reasons, including cutting a scene featuring Luke Wilson as NFL commissioner Roger Goodell that was set behind closed doors (making it difficult for the filmmakers to know what really went on). But there is no evidence the NFL asked for any cuts, or that Landesman deliberately toned down the script to avoid giving offense. The leaked emails simply revealed a glimpse behind the creative process.
Also Read: TheGrill 2015: Box CEO on Sony Hack Lessons, Evolution of Media (Video)
"Ruthless People"
The Sony hack revealed that executives were kicking around the idea of a remake of Danny DeVito's 1986 comedy with Will Ferrell as a Donald Sterling-type NFL owner who is kidnapped a week before the Super Bowl. This is an idea that never became a real project, as far as we know.
"Battle Creek"
The pilot script for Vince Gilligan's follow-up to "Breaking Bad" leaked as part of the hack, but guess what? No one cared. The pilot wasn't very good and the show was canceled after only nine episodes.
"Pyongyang"
It wasn't just Sony movies that were affected. Studios became skittish about any movie set in or involving North Korea. As TheWrap first reported, New Regency put Gore Verbinski's Steve Carell political thriller "Pyongyang" on the back-burner as it waited for the situation to cool down. Wise move. Why antagonize a group of hackers who have never been caught?
"Fury" / "Annie" / "Mr. Turner" / "Still Alice" / "To Write Love on Her Arms"
These five films reportedly popped up on movie piracy sites following the Sony hack, but it's unlikely that any of them were severely affected. This wasn't like when "Wolverine" leaked online prior to its theatrical release.
"Fury" had already been in theaters for several weeks, though the Brad Pitt drama was downloaded more than 1 million times one day after the leaks. Still, how many of those people had already paid to see it?
Meanwhile, movie pirates don't exactly rush to download art-house movies like the Sony Pictures Classics dramas "Mr. Turner" or "Still Alice." If any movie suffered, it was probably Sony's musical reboot "Annie," but again, there's not much evidence that the hack made a difference — though it provides a solid excuse for the film's modest $86 million domestic gross.