The Emmy red carpet is set for Sunday's show. Now let the parties begin.W
What are the hot tickets between now and the wee hours of Monday? Who will be attending? Who should you blame for leaving you off the invite list?
And where can you can get free hamburgers for a year?
FRIDAY NIGHT
Academy of Television Arts & Sciences Performers' Nominee Reception
Direct Your Car to: Spectra (Wolfgang Puck's restaurant at the Pacific Design Center), beginning at 7 p.m.
Logline: Academy brass mingle with the talent after their votes have been counted, while everyone's still a winner.
Guest List: 250-300.
Expect to See: Academy voters who picked the acting nominees. Sophia Vergara, Glenn Close, Jon Cryer, Julie Bowen, Jesse Tyler Ferguson, Connie Britton, Kyle Chandler and more.
Gift Bag: Sorry, no gift bag.
*****
Entertainment Weekly and Women in Film Pre-Emmy Party
Direct Your Car to: "Restaurant" at the Sunset Marquis hotel (the one in the back behind the pool), from 9 p.m.
Logline: The eighth annual EW party has developed the reputation as the Oscar-like "Vanity Fair party" of Emmy weekend. This is the second year joining forces with Women in Film's TV and Media Committee to co-host the soiree and feature female nominees on both sides of the camera.
Guest List: 300, nearly all talent.
Expect to See: Piers Morgan, Emilie de Ravin, Anne Heche, Bill Maher, Mindy Kaling, Padma Lakshmi, Sarah Silverman, Rainn Wilson, more.
Gift Bag: Everything you need for the rest of the night – sponsor L'Oreal Paris' products to touch up immediately, and an EW magazine and Vitamin Water for the drive home.

*****
SATURDAY
HBO's "Luxury Lounge"
Direct Your Car to: The Four Seasons Hotel, from 10 a.m. (continues Sunday)
Logline: This is not the HBO party (see below). As the only suite affiliated with a multi-nominated network, the vibe here is more Robb Report than Us Weekly. What started in 2003 as a one-time hospitality room in the hotel for the network's out-of-town talent has unexpectedly persisted and grown.
Guest List: Small. Only 125 total gusts over two days. Usually restricted to HBO's own talent and only 10 hand-picked executives, except…
Surreal Moment: Before "Mad Men", one-time "Sopranos" writer Matt Weiner wrote an episode of "The Sopranos" called "Luxury Lounge." It scored him his first invite. Years later, he's still a regular.
Expect to See: HBO's 2010 Generation of billboard faces. Past years brought out James Gandolfini, Sarah Jessica Parker, Edie Falco, Adrian Grenier, Kevin Dillon, Kim Cattrall, Kristin Davis, Cynthia Nixon, Tina Fey, Debra Messing and others.
Gift Bag: Free Johnny Rockets for a year for the talent and three guests. Then, memberships to the pricey Sports Club/LA to work it all off. Plus, whatever the stars didn't get from L'Oreal on Friday night at EW, they will likely get here as the beauty company goes wall-to-wall on Emmy weekend. "Camera-ready" prep will be available until the limos depart on Sunday afternoon.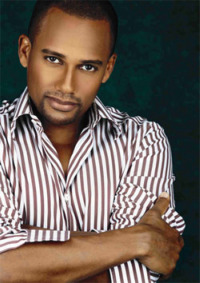 *****
BAFTA's Garden Tea Party with BBC America
Direct Your Car to: Hyatt Century Plaza at 2:30 p.m.
Logline: It's not Claridge's or the Dorchester in London, but BAFTA/LA welcomes nominees from both the British and American TV Academies for outdoor high tea in Century City.
Guest List: If you don't have a cranberry cover on your passport, don't know who Cheryl Cole is, and have never seen an actual episode of "X-Factor," then it is no mistake that your party shoes are stored until Saturday night.
Expect to See: Returning "American Idol" executive producer Nigel Lythgoe, Stephen Merchant, Ashley Jensen, Melanie Brown, and yanks like Garcelle Beauvais-Nylon, Hill Harper, Phyllis (from "The Office") Smith, and "The Simpsons'" Al Jean.
Gift Bag: No gift bag.
*****
Showtime Pre-Emmy Reception
Direct Your Car to: Poolside at the Mondrian
Guest List: An intimate gathering of 150 "friends and family" hosted by chairman/CEO Matt Blank and entertainment president David Nevins.
Expect to See: Nominees Edie Falco, Toni Collette, and Julia Ormond (who had an arc on "Nurse Jackie" but was nominated for HBO's "Temple Grandin.") Also, "Dexter" players Julia Stiles and David Zayas.


Eat and Drink: Asia de Cuba with Skyy cocktails.
*****
NBC Universal Primetime Emmy Party
Direct Your Car to: Spago, kicking off at 8:30 p.m.
Logline: It's not just the Peacock. This bash extends across their entire TV universe – from Bravo, USA and Syfy to the Universal Media Studios and Telemundo.
Guest List: The size of the guest list mirrors the size of the corporate behemoth – nearly 800 guests. With no one committee in charge of picking and choosing and 13 different TV brands ushering their talent and showrunners in to one restaurant, it's easy to fall through the cracks.
What It's Known For: Unlike HBO, which has an arrivals "boulevard," the NBC Uni bash is a press-free zone. There's not even a red carpet. In fact, they encourage guests to come casual, but with the busy Saturday night circuit, most are sporting cocktail garb.
Expect to See: In addition to executive brass like Jeff Gaspin, Angela Bromstad, Bonnie Hammer, and Lauren Zalznick, the party draws a far–reaching cross section of talent from every corner of the company. Expect to see familiar faces from "The Office" mingling with new talent on upcoming fall shows, and reality stars from the cable channels meeting musicians. In some years, even some Dodgers have made the cut.
Bottom Line: If the social leadership shown by the Bravo table at last weekend's Creative Arts Emmys is any indicator (anchored by director of development Christy Dees), Spago will have social gravitas on Saturday night.
*****
The "Evening Before" Fundraiser
Direct Your Car to: The plaza in Century City behind CAA.
Logline: Industry heavyweights gather the TV industry together for this counterpart to the Oscars' "Night Before" party. Benefits the Motion Picture Television Fund.
Expect to See: The host committee alone includes Jeffrey Katzenberg, Christina Applegate, Ellen DeGeneres and Portia De Rossi, Neil Patrick Harris, Jennifer Westfeldt and Jon Hamm, Rita Wilson and Tom Hanks, Lea Michele, Matthew Morrison, J.J. Abrams, Anne Sweeney, Ben Silverman, and more.
What to Expect: An outdoor event big on bold face names and small on cliché party glitz: There's no red carpet, no fashion reports on designer dresses, and no over-the-top gift bag. But don't be fooled, this is a big party.
Best Perk for Talent: Although it's a hyper-secure "press-free" zone (uniformed security block off an entire block of Century City), expect to see a few photos end up in the pages of the presenting sponsor — People magazine. Other top sponsors are Target and Revlon.
*****
Reality Cares Giving Lounge and Achievement Awards
Direct Your Car to: The Luxe Hotel in Beverly Hills
Logline: No longer crashing the Emmys, a reality TV-based charity carves out its own niche gifting suite and mini awards show. Big-time sponsors latch on. A "Giving" lounge draws reality stars on Friday and Saturday during the day.
Expect to See: On Saturday night, the undefeated champions of the Reality Competition Emmy category, Bertram van Munster and Elise Doganieri ("The Amazing Race"), will accept an achievement award. Carrie Ann Inaba ("Dancing with the Stars") and Whitney Port ("The City") will also pick up some hardware.
List Masters: Todd Krim, Director of "Reality Cares" and Live Loyal PR.
Best Swag: Jet Blue pet carrier giveaways. Charlie Lapson is gifting handbags. Coca-Cola is on board as a sponsor.
*****
SUNDAY — DURING THE SHOW
Stay at: The Nokia Theatre Lobby
Logline: The greatest TV cocktail bar of the year begins around 4 p.m. and ends when the last award is handed out inside the theater. There's a brief intermission as the incongruous stadium style bars close and everyone dutifully files in to the theater for the first act of the show. By the second commercial break, the lobby scene is back in full swing.
*****
SUNDAY — AFTER THE SHOW
The Governor's Ball
No Car Needed: Walk 50 yards from the Nokia Theatre
Logline: Everyone's first stop after long limo lines, a long show, and a long hot day. After starving for weeks to fit in to gowns and tuxes, guests don't have to wait long to chow down at the seated dinner: Duncan Hines turtle brownies and toffee will be waiting on every one of the 3,600 seats.
Guest List: If their face or name appeared on-screen at any point in the telecast, they are here. Also studio executives, TV agents, and Academy luminaries check in. Contrary to popular belief, not everyone who attends the show goes to the Ball. Even if you're in the universe of invited guests, it's still $700 a ticket. One Academy governor told TheWrap that he personally spent $4,000 on tickets last year.
Best Perk: Efficiency. There are 45 bartenders and never a wait for a drink. Limitless Moet Champagne and Grey Goose that is cued to begin flowing from the telecast's own control room during the closing credits. Organizers say "there is no end time."
*****
14th Annual Entertainment Tonight Emmy Party
Direct Your Car to: The Vibiana (Downtown)
Logline: The hot ticket on Emmy night returns to the converted church with varsity star-power. Unlike a network celebrating its own nominees, this guest list plays broad.

Star Power: After rescuing the Emmys ratings last year, host Neil Patrick Harris made this his first stop. Think Toni Collette, Joel McHale, Patricia Arquette, and January Jones. General pop-culture interlopers like the Kardashians, and Kellan Lutz keep the carpet stacked with household names all night.
Top Perks: In addition to all the elbow rubbing, Grammy winner and recent "Celebrity Apprentice" contestant Cyndi Lauper carries on a tradition of big name performers in the past – Prince, Mary J. Blige, and Duran Duran. Before and after, celebrity DJ Samantha Ronson spins the tunes. A Neutrogena and "Dr. School's for Her" lounge will help ail hurting feet.

Gift Bag: All guests go home with a Cole Haan gift bag.
List Master: "Entertainment Tonight" and "The Insider" executive producer Linda Bell Blue.
Now That Lindsay Lohan Is Out Of Rehab, Will She Be Here?: Beyond the actress's personal history with the DJ, Lohan (and her increasingly encroaching mother Dina) gave exclusives to the long-running entertainment magazine show last month before heading to jail. It should not be ruled out.
*****
The Fox Party
Direct Your Car to: Cicada (on Olive St.)
Logline: For the second year in a row, Fox, FX, and 20th Television band together at the Italian eatery downtown. If the limo line is too long, guests could conceivably walk to the restaurant that is less than a mile away from the Nokia … but nobody will.
Guest List: Nearly 500. The networks democratically include all of their nominees, including the trade award nominees who already lost in their categories last weekend.
Expect to See: The cast of "Glee" and "Modern Family," showrunners like Ryan Murphy, Steven Levitan, and bon vivant Seth Macfarlane. As of posting, there were no new "American Idol" judges to add to the guest-list, though Ryan Seacrest and Simon Cowell have attended in the past.
List Masters: Peter Rice, Gary Newman, Dana Walden, Kevin Reilly, and John Landgraf.
Performances: Despite wishful thinking, there will be no live performance by the "Glee" cast.
Gift Bag: No.
*****
HBO Emmy Party
Direct Your Car to: The Pacific Design Center (Fountain Plaza)
Logline: With 101 Emmy nominations, there will be a lot to celebrate in West Hollywood. With the Emmys moving up to August, those who have scored the perennially sought after and highly cherished invites will enjoy a Summer Safari described as "Tarzan and Jane meet Palm Beach."
Guest List: Over the course of a long night, between 1,400-1,500 total.
Expect to See: Think Al Pacino, Tom Hanks, Larry David, Cheryl Hines, newlyweds Anna Paquin and Stephen Moyer (who are also presenting on the telecast), and every agent, manager, and publicist who could RSVP themselves along with their talent.
Entertainment: Six tribal drummers will perform from three different "treehouse" stages.
List Masters: chairman/CEO Bill Nelson, co-presidents Eric Kessler and Richard Plepler, programming president Michael Lombardo, HBO Films' Len Amato, and entertainment president Sue Naegle.
Gift Bag: Beauty products from Laura Mercier and Oscar Blandi. Sorry gents.

*****
AMC Post-Emmys Party
Direct Your Car to: Soho House West Hollywood
Backstory: It's pitch-perfect that one of the most secretive events picks the private members club where memberships start at $1,800. Rumor has it that AMC moved the party from their previous home at the Chateau Marmont to preclude well-connected industry crashers from gaining access through existing relationships with the hotel.
Expect to See: Emmy statues being hauled upstairs by wheelbarrows. Also, an increase in the nightly paparazzi patrol that is stationed outside the Boa/Soho House building.
*****

Untitled Private Late Night Event
The late-night secret house parties that Madonna, Demi Moore, and Diddy have hosted in the past have usually been a hallmark of Oscar night. On Sunday, there's at least one event so hush-hush that barely any news has leaked out, except that perennial power player Brent Bolthouse is consulting on the guest list.
And if you don't want to socialize …
… but still want to swim in the perks,there's a flood of suites offering everything from facial acupuncture to IPads:
THURSDAY
DPA Gifting Lounge
Direct Your Car to: The Argyle Salon and Spa at the Sunset Tower Hotel
Logline: The company that is exporting the "swag suite" concept abroad as an official partner of film festivals in Venice, Hong Kong, and Dubai touches down on Sunset Blvd. with international gift givers. (Continues through Saturday)
Star Swag: Note to talent publicists: The biggest name to visit will get a trip to a Pearl Resort in Bora Bora and/or Punta Mita in Mexico.
Expect to See: Because of their film-festival affiliation outside L.A., they have drawn talent who might be suite-shy at home: Execs like Paula Wagner and Sherry Lansing; talent like Charlize Theron, Simon Baker, and even Richard Gere. Expect to see talent from AMC, which lists this event on its talent itineraries for the weekend.
Who You Won't See: There is a strict "no reality stars" rule.
List Master Who Didn't Invite You or Your Talent: Nathalie DuBois
*****
The Kari Feinstein Style Lounge with the Creative Coalition
Direct Your Car to: The Montage Beverly Hills
Logline: The perennial awards show warm-up suite draws a consistent mix from across the spectrum, sometimes in odd combinations. At the last outing, Oscar winner Adrien Brody rolled in sporting bed head and former MTV comic Andy Milonakis in tow. (Continues Friday)

Star Power: Rachel Bilson, Kim Kardashian, and the Hilton sisters have been regulars.
Surreal Moment: The "Entourage" showrunners are big fans and have shown up with their cast in tow.
Top Swag: Trips to the Capella Pedragal resort in Cabo San Lucas and Tacori jewelry will make some visitors' hauls top out over $10,000. For immediate use, there's football gear from Retro Sport to help launch the NFL season and Tres White Teeth Whitening to get ready for the flashbulbs.
List Masters Who Didn't Invite You or Your Talent: Publicists Kari Feinstein and Mike McGuiness with celebrity wrangler Jennifer Goldman.
Disclosure: I have worked with the above on previous events in the past.
*****
"Eco-Emmys" Celebrity Chateau
Direct Your Car to: Private Estate in Hollywood Hills
Logline: This suite with a conscience is long on eco-education and shorter on over-the-top high-dollar hand-outs. If the IRS ever gets serious about regulating award show swag, this would be the industry's choice test-case. (Continues on Friday)

Star Power: 2009 Emmy winner Michael Emerson, "Mad Men's" Rich Sommer, and Sam Trammell have attended in the past.
Star Swag: Facial acupuncture from Dr. Stephen Tsai; Heller Estates Organic Wines, eco-cosmetics, an eco-nail salon, eco-shoes, eco-hats and lots of eco-experts to push eco-medicine, art, and even eco-bedding.
List Masters Who Didn't Invite You or Your Talent: Eco-event planner Debbie Durkin and MPRM Public Relations.
*****
FRIDAY
GBK Gifting Suite
Direct Your Car to: The SLS Hotel
Logline: Marketer Gavin Keilly lands his increasingly popular hotel-hopping suite on La Cienega. As the first to debut live musical performances in this forum to break up the swag-a-palooza, the upcoming MTV awards marketing events are now starting to follow this trend. (Continues on Saturday)
Best Swag: Nominees and presenters will get IPads. There's also a Caribbean vacation up for grabs.
Most Memorable Feature: The press wall is being made out of Tic-Tacs. (Yes, the tiny supermarket checkout mint.)
Expect to See: Sharon Osbourne (likely promoting her new CBS daytime talkshow), Seth Green, and many more.

List Masters Who Didn't Invite You or Your Talent: Keilly and It-Girl Public Relations.