Emmy parties have already begun in anticipation of Sunday night's ceremony and the revelry will continue well after the last trophy is awarded.
A group of Emmy nominated actors – Elisabeth Moss, Julie Bowen, Melissa McCarthy, Ty Burrell and Walton Goggins – buddied up to host an awards week kick-off bash with Audi at West Hollywood's Cecconi's last Sunday night.
Even Emmy host Jane Lynch, who academy officials say "has been at every meeting," made it out on Sunday, hanging with "Mad Men" showrunner Matthew Weiner all night.
Last year, Weiner and fellow AMC cohorts Bryan Cranston and Aaron Paul of "Breaking Bad," right, had much to celebrate at the network's party after the ceremony.
To find out who'll be rocking with Stevie Nicks, which waiters will have face tattoos, and where you're most likely to cross paths with Charlie Sheen, check out our complete guide to 2011 Emmy Awards parties.
FRIDAY
Television Academy's Performers' Nominee Reception
Direct the Car to: Spectra by Wolfgang Puck at the Pacific Design Center
Logline: After category-by-category receptions for each set of nominees over the last month, this is the varsity team gathering, the one not to miss.
Insider Tip: If you didn't make it off the waiting list for the $700 tickets to the Governor's Ball, this is a cool surrogate. Cheryl Cecchetto and her team from Sequoia Productions (Emmys and Oscars Governor's Balls) also produce this Friday-before-the-Emmys kickoff, with nearly all the same providers as Sunday's ball at the Convention Center. All the action's on the patio, so stake out ground early. (Last year, the nominees all sang to winner-in-waiting Aaron Paul.) If you're stuck inside, the Grey Goose table is the hot corner.
Who to Expect: Acting Nominees Jon Cryer, Melissa McCarthy, Connie Britton, Matt LeBlanc, Eric Stonestreet, Ty Burrell, Alan Cumming, and many more.
Gets the Emmy for: Handing out actual Emmy awards (certificates for nominees). What do 80 percent of the nominees who lose do with them after? The Frame Store had "no comment."

2011 Entertainment Weekly and Women in Film Pre-Emmy Party
Direct the Car to: Boa on Sunset
Logline: Last year, they required a double-sided press line to fit in everyone at the 80-20 bash (80 percent talent, 20 percent well connected industryites). This year, it moves west down Sunset from the Sunset Marquis to BOA, which makes it convenient for most to continue the party upstairs at the Soho House afterwards. L'Oreal returns as a chief sponsor, so expect a beauty bar.
Gets the Emmy for: Best Creative Diversity. Partnering with Women in Film's TV and Media Committee, the event honors women working in front of and behind the television camera.
Insider Tip: Don't lose your giftbag ticket. In the past, they've been very strict. No giftbag ticket, no giftbag.
Friday Night Is Also Agency Night
CAA hosts a private party at French bistro Bouchon in Beverly Hills as William Morris Endeavor goes from 8-11 PM at Milk Studios. A few doors down from EW/WIF event at Boa, ICM and its 600 guests take over the London rooftop. UTA celebrates its nominees on Wednesday night.
SATURDAY
9th Annual BAFTA Los Angeles TV Tea Party
Direct the Car to: L'Ermitage Beverly Hills, Saturday afternoon
Logline: Everyone comes to BAFTA events. Do you remember a certain dinner party back in July with J-Lo, Tom Hanks, Nicole Kidman, and half of Hollywood at a gala hosted by a very popular newlywed couple from England?
Who to Expect: Nigel Lythgoe, chair of BAFTA LA, and a huge red carpet to welcome the union of the British and U.S. television communities. I hope this includes the team from "Episodes," whose British point of view to the series (it opened at the British BAFTAs) makes it easy to forget it's an American show from the creator of "Friends". (Photo by WireImage.)
Insider Tip: In addition to teas, gin, and crumpets, there are scones, chilled white wine, and everything else you'd need for an afternoon picnic on Henman Hill.
Giftbag Loot: "Please, sir, I want some more giftbags." No. No giftbag.
Motion Picture & Television Fund's Evening Before Party
Direct the Car to: Century Park East
Logline: 800 bosses, buyers, and bigwigs gather under the stars press-free for the annual fundraiser to "take care of their own." Executive Host Committee includes: Jeffrey and Marilyn Katzenberg, J.J. Abrams, Leslie Moonves, Bonnie Hammer, Ryan Seacrest, Michael Lombardo, Richard Plepler, Ben Silverman, and Linda and Jerry Bruckheimer.
Wins the Emmy for: Cross-industry talent. This party is a headspinner. Saturday's hosts include Ellen DeGeneres & Portia De Rossi, Neil Patrick Harris, Amy Poehler, Jon Hamm, Rita Wilson & Tom Hanks, Timothy Olyphant, Maria Bello, Jim Parsons and many more.
Sponsors include: HP, Target, Revlon, and People Magazine, one of the only places you'll see photos and details from this leak-free awards season staple. The security usually rings the entire block surrounding the CAA building.
Insider Tip: One of the most exclusive events, a few ticket packages at the $15,000 and $25,000 are still available. Get on the phone.
NBC Universal's 8th Annual Pre-Emmy Party
Direct the Car to: Spago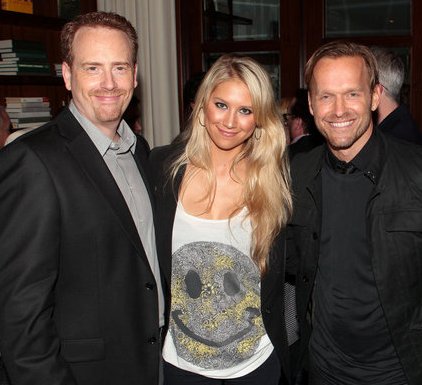 Logline: Casual dress, no red carpet, and executives and talent from across the cable empire. It's not just the peacock. Like last year, this bash extends from Bravo's Housewives and Matchmakers, to USA's "characters," E!'s red carpet, and even to Telemundo. New Entertainment Chairman Bob Greenblatt hosts. (Photo by Chris Haston/NBC.)
Insider Tip: Come early. It's always packed. Last year there were 300 people inside 15 minutes before the doors even opened.
Wins the Emmy for: Best Cross Promotion. Because NBC's fall season launches 48 hours later, this party always mingles the freshmen — Whitney Cummings ("Whitney"), Kathryn Hahn ("Free Agents"), Eddie Cibiran ("The Playboy Club") — with the returning upperclassmen like Joel McHale, Mindy Kaling and Adam Levine. Lorne Michaels and the "SNL" family usually toast their nominations (16 this year) privately off site earlier in the night.
Showtime's Pre-Emmy Party
Direct the Car to: SkyBar at the Mondrian

Logline: Chairman CEO Matt Blank and Entertainment President David Nevins host a very intimate happy-hour slot "reception" for their nominees poolside at the timeless Sunset Boulevard hotspot.
Expect to See: Showtime's acting nominees include Laura Linney, Edie Falco, Joan Cusack, Julia Stiles, Matt LeBlanc, and Michael C. Hall.
Sunday at the Nokia
The 63rd Primetime Emmys telecast airs live coast-to-coast at 5 p.m. PT.
Unlike last year when the bars closed for good at 4:30 p.m. and never reopened, two Academy officials told TheWrap that the bars should reopen after the first act of the show. Maybe the lively atmosphere in the Nokia lobby will return. If not, there's plenty more after the credits roll.
Sunday After the Show
The Governor's Ball
Walk Out the Side Door of the Nokia and Across the Street

What People Will Be Talking About: The Mike Tyson-esque face tattoos applied to the wait staff. (Photo from a preview event.)
The Logline: As the credits roll, the champagne pops for the largest sit-down dinner in the U.S. Thousands of suits (and stars in suits) will make a 3 minute walk out the back door of the Nokia Theater and across the street to the convention center.
Insider Tip: Expect guests to hang around the Governor's Ball longer than usual, but get there quick. While sponsor Heineken is wheeling in 4,080 green bottles, their Hollywood math may be off as only 96 of them are non-alcoholic.
Star Power: Everyone.
Suit Power: In a space the size of two football fields side by side, look for the Fox tables on the right side, where the host broadcast network usually takes over a corner. The outside smoking patio is where loose lips dissect the show that was.
Gets the Emmy for: Best Food. After dieting for weeks for the camera pit on the red carpet, and starving through the ceremony, Duncan Hines pre-sets chocolate for the sweet taste of victory at every place. It's the first thing most will eat after a long day. If you can hang out long enough for the eats, it will be worth it. Patina Restaurant chefs (Patina, Café Pinot) are serving up filet mignon. Grey Goose has multiple bars, and when you have to dash, there will be Vitaminwater by the limo valet. Hydrate.
15th Annual "Entertainment Tonight" Emmy Party
Direct Your Car to: The Vibiana (Downtown)
Logline: "E.T." is the only party to bring "entertainment" to Emmy night: Stevie Nicks. The event has become synonymous with and dominant on Emmy night. "E.T." host Nancy O'Dell has been taking the RSVP's herself on the private phone line. (Photo of Neil Patrick Harris at the 2010 "E.T" Emmy party courtesy of "E.T.")
Insider Tip: Following in the footsteps of Cyndi Lauper and Prince, Nicks will take the stage at 10 p.m. While big, there's not enough room for all 8.8 million viewers who tuned in to "Glee's" May sweeps "Rumours" episode. So make sure you're inside by then.

Wins the Emmy for: Helping the local economy. "E.T." and "The Insider" Executive Producer Linda Bell Blue chose a California theme for this year's event partnering with "Visit California," the state's Travel and Tourism Commission campaign. Expect lots of local wines (Diageo Chateau and Estate), the Sprinklesmobile truck outside for a sweet finish, and local A-list party tunesmith Zen Freeman (Weinstein/Relativity's Golden Globes Party, Esquire House, Paul Oakenfold's opener) behind the turntables.
Giftbag Loot: A free weekend stay at La Costa Resort down in Carlsbad, a gift certificate for a private jet travel from EAS Jet Charter, and Must Haves jewelry line from "Entertainment Tonight's" own in-house style expert, Anya Sarre.
Disclaimer: My twitter account (@CelebSightings) is adapted as a celebrity sightings column for "E.T's" corporate sibling "TheInsider."
HBO's Post Emmy Party
Direct Your Car to: Pacific Design Center, Fountain Plaza

Logline: The channel with the most Emmy nominations (104) has to shut down San Vicente Boulevard just for arrivals. The biggest off-site party has more than 1,500 guests inside at any given time, and goes late into the evening, just like the bashes on "Boardwalk Empire." Always top tier, never with sponsors, its reputation precedes it.
Insider Tip: Climb to the top of the elevated cylindrical lounges throughout the party for a bird's eye view of the festivities.
Insider Tip 2: Since most arrive after hitting a few other parties, there will be hair (Oscar Blandi) and makeup (Stila) touch-ups available on site.
Wins the Emmy for: Best Meeting Place. This is where everyone ends up. Where else might you see Larry David, Lady Gaga, and Kate Winslet breaking bread?
Comedy Central Emmy Party
Direct Your Car to: Colony, in Hollywood.
Logline: "They're giving out weird gold angels, we're giving out free drinks." (From the invitation.)
Insider Tip: "The Roast of Charlie Sheen," taped on Saturday night and airing next Monday should contend for Outstanding Variety, Music, or Comedy Special at the 2012 Emmys. Jon Stewart has eight Emmy wins in a row but he may not be the only "winner" at this party, as the warlock is now in the Comedy Central Family.
Wins the Emmy for: Best September.
Giftbag Loot: Did you not see the invitation? Free drinks.
AMC's Emmy After Party
Direct Your Car To: Mr. C Beverly Hills
Logline: No, that's not Mr. Chow's, it's the new hotel by Cirpirani, where 450-500 guests will assemble for a theme-free party. AMC likes to celebrate discretely. In past years it has moved from the Chateau to Soho House and now Mr. C's to keep the parties intimate.
Wins the Emmy for: BYOG: When you win as much as they do, the theme is usually gold. The guests usually bring their own décor — trophies.
EARLIER IN THE WEEK
THURSDAY
Los Angeles Confidential's Pre-Emmy Party benefitting The Art of Elysium
Direct the Car Service to: London West Hollywood, Rooftop
Logline: William H. Macy and Emmy Rossum's award snubs for "Shameless" — ironic considering the actress' namesake — comes with a consolation prize. The two Showtime stars host Niche Media's Awards weekend kick off while covering the magazine's September issue.
Insider Tip: In lieu of their annual Saturday night "Genesis" gala event, the celeb-friendly artistic charity The Art of Elysium is getting behind this event, so expect the usual high star power attendant to both AOE and Niche events. Elijah Wood, Jessica Lowndes, and Krysten Ritter are expected.
Gets the Emmy for: Scheduling –at 7 p.m. on Thursday, everyone's still fresh.
Giftbag Loot: Beauty products from wall-to-wall weekend sponsor L'Oreal Professional, Kim Crawford Wines, and Fiji Water.
Don't Forget the Suites
Gifting suites spread out from Thursday until Sunday morning, with staples like the Kari Feinstein Style Lounge (Mondrian), GBK (W Hollywood), and On3 Productions, donating and gifting HP TouchSmart PC's backstage during rehearsals at the Nokia. All of these events are by invitation only, so check the inbox for your confirmation before heading out.