The Bunny turns 50 this week.
But it's not multiplying anymore.
In fact, exactly five decades after Hugh Hefner brought the skin trade into the mainstream with the introduction of the iconic rabbit and the opening of the first Playboy clubs in Chicago, the industry is in deep trouble.
Yes, it's more more acceptable, and seen by more people that ever. The problem is, not many of them are paying for it.
(See accompanying slideshow: "Playboy's Celebrity Cover Girls.")
Thanks mostly to the tsunami of free porn online, DVD sales and rentals are in freefall, Playboy itself has been suffering through a lagging circulation and corporate shakeups — it's so bad that Hustler founder and First Amendment defender Larry Flynt has suggested a government bailout.
So in honor of the Bunny's 50th, we respectfully and chastely provide a few suggestions to help the adult entertainment business find its mojo again.
1. IN YOUR FACE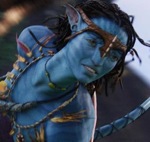 If you're looking for success in the entertainment industry, living by the rule of "Where Goes James Cameron, I Follow" isn't the worst idea one could have. The industry has until the last few years always been on the cutting edge of technology — from on-demand to VHS and DVD. It's time for it to take another defining leap and embrace some real in-your-face flesh on film.
"I think that if they can get the 3D mixed with the interactive, they've got a shot," porn star April O'Neil told TheWrap. "Eventually porn stars will be replaced by robots anyway, so why not start the process now?" As you read April's remarks, you're already thinking of the possibilities, aren't you?
2. ANOTHER JENNA JAMESON
Let's be honest, there are working actors and character actors, and then there are superstars. Like Eminem with hip-hop, Andy Warhol with painting and Angelina Jolie with child care and everything else, the industry need a new superstar.
Jameson, the now-retired mother of twins, was actually able to wrap her legs around pop-culture consciousness with real name recognition that brought attention to herself and the industry. Just check out her clothed credits: mainstream movie roles, TV shows, a three-story billboard in Times Square, major advertising campaigns, late-night TV appearances, action figures and a bestselling memoir. The lady got around.
Not that there aren't a few potential contenders. Savvy stars like Jesse Jane and Tera Patrick might be well positioned to be the next Jenna. Jane, who starred in the high-end and profitable "Pirates" porn series, has her own branded sex toys and hosts various online and TV shows, including Playboy TV's "Night Calls." She also writes sex advice columns and has appeared as herself on HBO's "Entourage."
Patrick has turned heads with cameos on VH1's "Supergroup," which starred her former husband, Biohazard bassist Evan Seinfeld. A former Ford Agency model, she's appeared in numerous videogames as well as on the cover of FHM and in rock videos; she also runs a talent agency, a subscriber-based website and her feature-making Teravision production company.
Some in the industry at least know where they're going and how they want to get there.
3. AN INDUSTRY THAT LOOKS & LOVES LIKE AMERICA
The industry might want to consider a bit of real diversity to capture the many desires of America. In fact, what it might want to do is follow the lead of Vivid Entertainment, one of the most profitable adult film companies in the market. Formed in 1984 by David James and Steven Hirsh, Vivid acts like a major Hollywood studio of both the past and the present. (See accompanying article, "A Porn King Tells How to Turn Porn Around.")
But it's not just high production values. Vivid also pioneered forays into a wide variety of genres. Along with the blond bombshells we expect, the company has Vivid Man's Gay Porn as well as Alt-Porn, a division dedicated to the tattooed hipster crowd.
Grabbing headlines as well as big bucks and the zeitgeist, the company's lucrative Vivid-Celeb imprint specializes in celebrity sex tapes. It distributed Kim Kardashian's romp with R&B singer Ray J and, striking while the iron is hot, recently acquired controversial former Miss California Carrie Prejean's sex tape. Holding on to the "very graphic" Prejean material, as the company called the tape in a press release, Vivid has offered the beauty queen "several options where she could certainly earn millions of dollars."
For the time being, Prejean has declined the offer, but being that times are hard, Vivid's base-covering approach is one that others in the industry would do well to fluff themselves up to emulate.
4. Wii SEX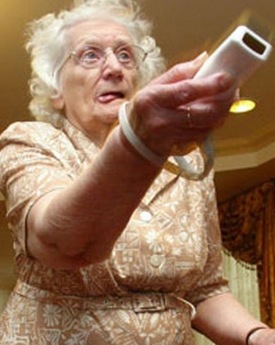 Holding the phallic Wiimote in your palm, it's hard not to imagine that if the Wii could revolutionize the videogame industry, it could surely turn its interactive design and nature to Porn. Already the Nordic Game Jam's Dark Room Sex Game, which is all audio and no visual, has taken the Wiimote into erotic territories.
Just think, you take those interactive scene- and positions-choosing DVDs alrady out there, throw in some creative variation on the Wii Fit, add
the upcoming pulsing Wii Vitality Sensor, and, well, you're Master of your Digital Domain.
And, to make a comparison, the success of that skin trade game will make sales of the bestselling Grand Theft Auto series look as DOA as Guns'n'Roses' "Chinese Democracy" album. Welcome to that Jiggle Jungle.
5. BAN IT
Look, it worked for booze in Prohibition — exclusivity and illegality created a tidal wave of demand far greater than before. And it seems to be the case that if you take a vice away from people, they seem to want it even more, no matter the price or even the quality. Just saying.
MORE TO READ:
5 Ways to Save Magazines
5 Ways to Save Newspapers
5 Ways to Save the Music Industry
5 Ways to Save the Grammys