She said she didn't plan for any of this to happen.
If she had, the operators of Michelle "Bombshell" McGee's newly posted website, michellebombshell.com, say, "we would have had our pay-site and merchandise store ready for public consumption."
As it stands, we have to wait until Monday for a full gallery of McGee photos to be posted to the site ($9.95 to look).
And as the 32-year-old San Diego stripper, tattoo model, mother of two and accused neo-Nazi home-wrecker proves, we don't get to choose when our potentially lucrative multi-platform adult media careers find us.
We just have to be ready when they do.
So as tabloid fame helps McGee segue beyond her visual-experiences service career at the Pure Platinum Gentleman's Club, here are six potential upcoming media opportunities TheWrap staff is pondering for her … as we wait for the photos to get uploaded.
1. Grab a guest spot on MTV's "Celebrity Rehab with Dr. Drew."
We're not exactly sure why Dr. Drew Pinsky needs the stethoscope while taking his customary 10 minutes to talk through the childhood traumas of Dennis Rodman and Heidi Fleiss. And we're not even sure if McGee has a treatable addiction. But with her former paramour, Jesse James, checking into a rehab facility himself on Wednesday for treatment of sex addiction, this might provide an opportunity for the entertainment-consuming public to get to know McGee bette r… while wearing flannel pajamas, sweatpants and nervously playing with her hair.
2. New Mark Burnett reality series for Discovery
From the folks who will soon render "Sarah Palin's Alaska" comes "Michelle McGee's Northern San Diego County and Airport-Adjacent Hotspots." Want to find a store that sells Courvoisier at 3 a.m.? Looking for a hotel with a hot tub, but want to pay cash? Need to post bond? This new lively, sexy informational niche-cable series will show you how.
3. Replace Amanda Seyfried on HBO's "Big Love"
Lacking its incendiary starlet, the pay cable series is coming off its most creatively convoluted campaign. Enter Bombshell. Fresh off his unsuccessful attempt to lock down wife No. 4, Bill Henrickson (Bill Paxton) will learn that living by the principle also means always having to say "yes, ma'am" before and after each sentence.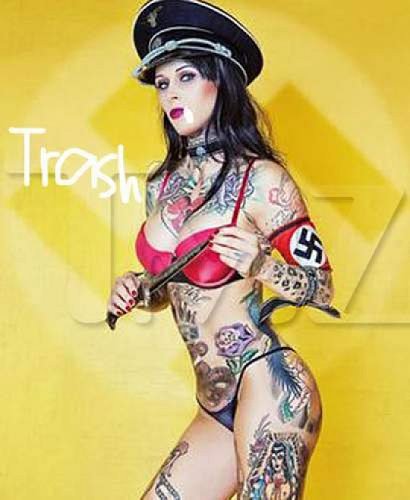 4. Try an R-Rated Comedy: "Das Boot Too: Exotic Ports o' Call"
In 1981, filmmaker Wolfgang Petersen's provocative "Das Boot" made us see the honor and horror of war from an entirely different perspective. But what if we could follow the brave, doomed crew members of the U-96 when they weren't manning the torpedoes? This boozy 1940s-era romp will show what happens when they're just looking to have a little fun with the girls of the National Socialists Workers Party.
5. Try an NC-17-Rated Remake: "Tattoo: The Removal"
Also in 1981, Bruce Dern pushed the boundaries of bondage and sexuality as Karl Kinsky, a creepy tattoo artist who would stop at nothing to ply his trade on Maud Adams. In an ironic twist, 29 years later, Kinsky's creepy laser-hair-removal-technician son becomes equally obsessed with tattoo model Maggie "Hot Fox" McGillicuddy … with sexy results.

6. The New Queen of Talk
With about 18 months before Oprah exits broadcast syndication, a real opportunity exists for an ambitious, media-savvy young woman who can really connect with women in daytime. What's not relatable about a hard-working Southern California sex worker who may have made few mistakes along the way?