Two days of Snooki and The Situation, family drama of both the old-fashioned ("The Waltons") and mobster ("The Sopranos") varieties, "Real Housewives" of every location, and every episode "The Walking Dead" are but a few of the 63 TV marathons awaiting you and your hangover, er, post-NYE celebration fatigue, this holiday weekend:
FRIDAY

"Jersey Shore," 12:01 a.m.- 11 p.m. Saturday, MTV. You can kill off brain cells by over-imbibing on New Year's Eve, but this 47-hour marathon should render you just as senseless.
"Dual Survival," 9 a.m.-4 p.m., Discovery. The next time you're stranded on a windy ranch in winter, you'll think back to this marathon and think, "Wow, I sure wish I was carrying my ax and bison hide like those 'Dual Survival' guys advised."
Also read: 'Jersey Shore's' Snooki Sued for Allegedly Cheating on Her Business Partner
"CSI," 9 a.m.-2 a.m. Saturday, USA. A marathon of season 11 episodes, i.e. the last season starring Laurence Fishburne.
"101 Chowdown Countdown," 9 a.m.-2 p.m., Travel Channel. Among the must-nosh-at eateries on the countdown: Roscoe's House of Chicken 'N Waffles in Los Angeles and Katz's Deli in New York (yes, the "When Harry Met Sally" place).
"It Only Hurts When I Laugh, 11 a.m.-5 p.m., truTV. A skateboarding grandpa, a kid caught in a vending machine and a man who drives his car through a mall are but a few of the delights in this collection of people's most humiliating home videos.
"The Millionaire Matchmaker," noon-9 p.m., Bravo. Patti Stanger provides insight into how to find the perfect mate. Or what not to do to find the perfect mate. Either way, useful information here.
"'The Waltons' Gone Wild," noon-3 a.m., GMC. Not sure anything the Waltons did ever classified as "wild," but there are definitely worse ways to spend a day than with John-Boy, Jim-Bob and Mary Ellen.
"$100,000 Pyramid," 7 p.m.-midnight, GSN. The network kicks it old school with this game show, which paired contestants with celebs like Markie Post and Adrienne Barbeau. Look 'em up.
"House Hunters International," 7 p.m.- 4 a.m., HGTV. Turkey, Colombia, Mexico, St. Thomas, Vanuatu and Kuala Lumpur are among the foreign locales Americans visit while looking for a new home.
"Biography," 8 p.m.-5 a.m., Bio Channel. The "Harry Potter" kids and Ashton Kutcher get the bio treatment.
Also read: 'Harry Potter' Attraction Coming to Universal Studios Hollywood
SATURDAY
"The Rachel Zoe Project," 6-11 a.m., Bravo. These episodes all feature Zoe's former assistant, Brad Goreski … is it a coinkydink that Goreski's own reality premieres on the network this week? Nope.
"Top Gear Top 40," 6 a.m.-6 a.m. Sunday, BBC America. Like the title says, counting down the 40 best challenges presented on "Top Gear."
"Hillbilly Handfishin'," 9 a.m.-2 p.m., Animal Planet. Yes, people jam their hands into holes in the water in the hopes of pulling out a fish. No, we don't get it either.
"The Twilight Zone," 9 a.m.-6 a.m. Monday, Syfy. All the classics, including "Time Enough at Last" (9 p.m. Sunday), in which bookworm Henry Bemis finally gets time to read as much as he wants. But then …
"Human Planet," 10 a.m.-4 p.m., Discovery. Delving into different cultures around the globe, from tundra to jungles to deserts.
"NCIS," 10am-2am Sunday, USA. All original "NCIS" eps, with an "NCIS": Los Angeles" installment randomly inserted at 11 p.m. Weird.
"Nightmare Next Door," 10 a.m.-6 a.m. Sunday, ID. One of ID's newest true crime series unfolds the stories of crime victims who knew the people who did them harm.
"The A-Team," 11a.m.-6 a.m. Monday, Centric. Pity the fool who misses out on a 43-hour "A-Team" marathon!
"America's Next Top Model," 11 a.m.-11 p.m., Style. The complete 15th cycle of Tyra Banks' model search series.
Also read: 'The Walking Dead' A to Z: From Andrew Lincoln to, Duh, Zombies
"The Walking Dead," 11 a.m.-1 a.m. Sunday, AMC. Every single episode of the series that has aired thus far. Set those DVRs.
"The Amanda Show," noon-8 p.m., TeenNick. Episodes of the "All That" teen sketch comedy spin-off, which starred Amanda Bynes and current "Saturday Night Live" cast member Taran Killam.
"Martin," 1 p.m.-6 a.m. Sunday, TV One. Martin, Gina, Pam, Tommy, Cole and the whole crew, even Sheneneh.
"Real Housewives," 1 p.m.-2 a.m. Sunday, Bravo. Because it just isn't a holiday weekend without some "Real Housewives" in the mix, including the Orange County, D.C., New Jersey, New York City and Atlanta gangs.
Also read: 'Real Housewives' Star Taylor Armstrong Penning Memoir
"Snapped," 1:30 p.m.-3 a.m. Sunday, Oxygen. It seems like an ID network show, but this series that chronicles crimes committed by females who have "snapped" is one of Oxygen's most addictive.
"Tanked," 2-8 p.m., Animal Planet. A reality series about a family-run custom aquarium business might not sound like it would make for compelling viewing, but it does.
"Braxton Family Values," 3 p.m.-1 a.m., WE. Toni Braxton and her musical sisters are not the Kardashians. We mean that in a good way.
"Girls Who Like Boys Who Like Boys," 3-7 p.m., Sundance. The complete, recently concluded, second season.
"100 Most Shocking Music Moments," 4-9 a.m., VH1. Several of these shocking moments, not so shockingly, involve Michael Jackson.
Also read: Michael Jackson's Fatal Bid for Normal Life Emerges at Trial
"iCarly," 5-8:30 p.m., Nickelodeon. Answering the question: Why shouldn't gummy bears be used to make a lamp?
"Family Feud," 6 p.m.-midnight, GSN. Survey says: J. Peterman — a.k.a. John O' Hurley — makes a fine "FF" host.
"Moonshiners," 6 p.m.-3 a.m. Sunday, Discovery. Boss Hogg and Uncle Jesse did it on "The Dukes of Hazzard," and now men named Popcorn and Tickle are running moonshine in the real(ity TV) world.
"The Three Stooges," 6 p.m.-6 a.m. Sunday, IFC. Nyuk, nyuk, nyuk.
"Too Cute!" 9 p.m.-1 a.m. Sunday, Animal Planet. We know an 11-year-old girl in Staten Island who's going to be using this marathon to convince her 'rents they need a puppy in the house.
"50 Documentaries to See Before You Die," 9 p.m.-2 a.m. Sunday, Current. "Super Size Me" filmmaker Morgan Spurlock hosts this five-part miniseries, which includes classic docs like "Roger & Me," "Hoop Dreams" and "Exit Through the Gift Shop."
"Batman," 11 p.m.-6 a.m. Sunday, The Hub. Selections from the 1966 live-action camp classic, featuring Catwoman (Eartha Kitt), The Penguin (Burgess Meredith), Mr. Freeze (Otto Preminger) and The Joker (Cesar Romero).
SUNDAY
"Law & Order," 4 a.m.- 2 p.m., TNT. Includes episodes with guest stars Julia Roberts (noon) and, in an episode "ripped from the headlines" about the Robert Blake murder trial, Gary Busey (6 a.m.).
Also read: 'Law & Order': A 104-Disc DVD Set & 10 Top 'Ripped From the Headlines' Eps
"How It's Made," 6 a.m.-midnight, Science Channel. The making of everything from giant tires and luxury chocolate to Stetson hats and deli meats. You may want to skip eating while watching that last one.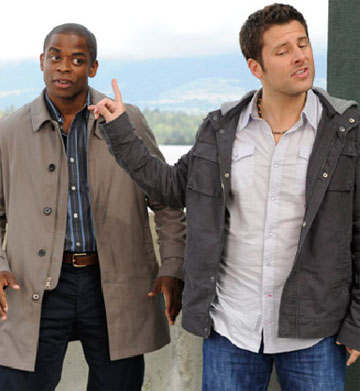 "Law & Order: SVU," 6 a.m.-midnight, USA. Includes the 12th season finale, "Smoked" (10 a.m.), which was the end of the line for original "SVU" star Christopher Meloni.
"Psych," 6 a.m.-6 a.m. Monday, Cloo. Twenty-four episodes, 24 chances to hear that infectious theme song.
Also read: 'Psych' Creator Steve Franks Talks Shatner, Guest Stars and TV Romance
"Tom and Jerry," 6 a.m.-6 a.m. Monday, Boomerang. Long before "Itchy & Scratchy," there was this rivalrous cat-and-mouse pair, which, of course, inspired "The Simpsons" cartoon-within-a-cartoon duo.
"The Sopranos," 7 a.m.-noon, A&E. Includes "Johnny Cakes," in which Vito sparks up a relationship after going on the lam when his homosexuality is exposed to his fellow mobsters.
"Absolutely Fabulous," 7:20 a.m.-6 a.m. Monday, BBC America. Kicks off with the 1992 pilot and continues with most episodes from the show's first four seasons.
Also read: New 'AbFab' Promo: They Don't Get the Kardashians, Either (Video)
"House," 8 a.m.-6 p.m., Oxygen. If you've never seen the show, jump in at the beginning in this marathon, which includes the first 10 episodes of the medical drama.
"Star Wars" Movie Marathon, 9 a.m.-6 p.m., Spike. Begins with "A New Hope," followed by "The Empire Strikes Back" and "Return of the Jedi."
"Samantha Who?" 11 a.m.-5 p.m., TV Guide Channel. Twelve episodes of the first season of the underrated 2007-2009 ABC comedy, which further highlighted the comedy skills of Christina Applegate and this year's comedy It Girl, Melissa McCarthy.
"Dog Whisperer," noon-midnight, Nat Geo Wild. Episodes include pooches whose bad behaviors are ruining their owners' marriages and the 100th episode celebration, in which Cesar Millan meets his childhood hero, Lassie.
"Locked Up Abroad," noon-7 p.m., NGC. Seven episodes that illustrate why you never want to run afoul of The Man in a foreign country.
"The Real Housewives of Atlanta," noon-10 p.m., Bravo. Catch the contentious season three reunion special, which leads right into a marathon of episodes from the current season.
"Storage Wars," noon-10 p.m., A&E. Barry. That guy rules.
"My Fair Wedding With David Tutera," 2-10 p.m., WE. A marathon of season five episodes leads into a new installment at 9 p.m., featuring a medieval-themed wedding. Anyone else picturing a Medieval Times/"The Cable Guy" affair?
"Hell on Wheels," 3-11 p.m., AMC. The post-Civil War drama is the network's second highest-rated series, which makes this marathon of every episode that's aired so far worth a look. "Derailed," the newest ep, premieres at 10 p.m.
Also read: AMC Renews 'Hell on Wheels' for Season 2
"Pawn Stars," 7 p.m.-midnight, History. There are many imitators in reality TV land, but "Pawn Stars" is still the best in the collectibles-themed reality genre.
"Lizard Lick Towing," 8-11 p.m., truTV. One minute you're trying to repo a fancy truck, the next minute you've got a flamethrower pointed at your head. This is the business the Lizard Lick dudes have chosen.
MONDAY
"Behind Mansion Walls," 7 a.m.-3 p.m., ID. A.k.a.: rich people crimes.
"Sister Wives," 7 a.m.-2:30 p.m., TLC. A.k.a.: people married to too many people crimes.
The "Perfect" Movie Marathon, 8 a.m.-midnight, Lifetime. A collection of fine (read: deliciously cheesy) made-for-TV chick flicks, including "The Perfect Bride," "The Perfect Nanny," "The Perfect Neighbor," "The Perfect Marriage," "The Perfect Assistant," "The Perfect Roommate" and "The Perfect Teacher," and ending with the 1998 Michael Douglas/Gwyneth Paltrow big-screen thriller "A Perfect Murder."
"Project Runway," 8 a.m.-10 p.m., Style. The complete second season.
Also read: 'Project Runway All Stars': Debra Messing, Kelly Osborne to Guest Judge
"Star Trek: The Next Generation," 8 a.m.-4 p.m., Syfy. Eight hours of season five "Trek"-ing.
"Pretty Little Liars," 11 a.m.-9 p.m., ABC Family. The marathon of season two episodes leads into a new installment — "Through Many Dangers, Toils and Snares" — at 8 p.m.
"American Greed," noon-2 a.m. Tuesday, CNBC. The show is subtitled "Scams, Scoundrels and Scandals," which is a big hint about the kinds of financial weasels it profiles.
"Call of the Wildman," 1-7 p.m., Animal Planet. Ernie "The Turtleman" Brown is a Southern animal relocation specialist — i.e. he removes pests from homes — who is given to shouting his catchphrase — "Live action!" — whilst removing turkeys from corn mazes and cow-snapping turtles from ponds.
"CSI: Miami," 5-11 p.m., AMC. AMC (randomly) bought the rights to the "CSI" spin-off and begins airing it (randomly) with season three episodes.
"The Golden Girls," 8 p.m.-1 a.m., WE. Includes the 1989 episode "You Gotta Have Hope," in which the "Girls" did indeed have Hope — Bob Hope, that is.