The future of television was the recurring theme through two days of intense conversation among top executives at our sixth annual TheGrill conference. Everyone from network leaders like Nancy Dubuc, the CEO of A&E Networks, to leading digital challengers such as Robert Kyncl, who heads content for YouTube, addressed the elephant in the room -- the unbundling of cable and what it means for the billions of dollars that support television programming.
The consensus is that cable television is headed for a correction. The companies getting ahead of the curve by investing in streaming alternatives, or finding solutions on digital and social platforms, are most likely to successfully make the pivot.
Media companies that don't have the ability to speak directly to their customers will face challenges that only increase with the rise of Netflix and Amazon -- companies that do speak directly to their consumers.
Here are my seven takeaways from the conference:
1. Nancy Dubuc, a relatively young CEO and only the third to lead A+E since it was created, clearly understands the challenges facing independent networks -- even those with $4 billion in revenue and, according to her, a wide margin of profit. But reality bites: When you operate a major group of television networks, you can't just drop it all to focus on streaming strategy. Dubuc said she is not considering launching a streaming option at the moment.
"Cable is not dead," she declared during our interview. "Some portfolio groups are doing a better job of looking to the future. But what has to be acknowledged is that we have billions of dollars in revenue and billions of dollars of profit that has to be managed through this transition. So it's not going to be instant. It's not going to be overnight. But that's not to say that we aren't focused on the evolution of media."
2. Aaron Levie, CEO of Box, may be a techie but he's a content guy at heart. When asked the divide between northern and southern California, the entrepreneur launched into a heartfelt analysis. "What if this industry starts to look a little different once it's optimized for the fact that 3 billion people are on the Internet?" Levie said, painting a vivid picture of the future that is fast on its way. In that case, he said, any content company's customer base becomes "actually every single person in the world, and you can reach them instantly. What does that do to alter everyone's business model? That's what everyone is waking up to and recognizing." Simple, profound and true.
3. Chris Sacca is a badass. Not only did the guy manage to pick four of the biggest ideas that would impact our world and fast-scale them to become parts of daily life -- Twitter, Instagram, Uber and Kickstarter -- he readily admits to the ideas that he missed. "I was approached by Evan Spiegel with Snapchat," he said during our interview. "I thought, 'Dick pics? Pass.'" He also acknowledged that didn't get that Airbnb thing though he got an early offer on the site. Maybe there's still hope for the rest of us.
4. Unscripted television is a place where camaraderie and competition live in constant tension. The shared wisdom on the panel that included "American Idol" godfather Nigel Lythgoe, NBC chief turned megaproducer Ben Silverman, "Big Brother" producer Allison Grodner and Nat Geo veteran David Lyle was a thing of beauty. High notes were Silverman lamenting that there is "no opportunity today to be Carsey-Werner," Lyle calling out the networks for "lazy thinking" about reality formats and Lythgoe admitting that there have been "high-profile failures" that have hamstrung creativity.
5. Brian Grazer still has to work at it. Despite all his success, his Oscar and his Emmys, he spends significant time seeking out good ideas and bringing them to life. "It's never been easy," he said. "The [project] that I want to make, TV or movies, is usually the idea somebody doesn't want to do. I remember Robert Redford told Ron [Howard] and I that every movie he wants to make is the hardest movie -- like 'Ordinary People' -- those were the most difficult ones but those were the most rewarding," he said. Grazer learned this lesson early. After the unexpected success of "Splash," a movie he spent six years trying to get made, he figured life would get easier. Not so. "Right away, everyone said no to everything I wanted to make," Grazer said.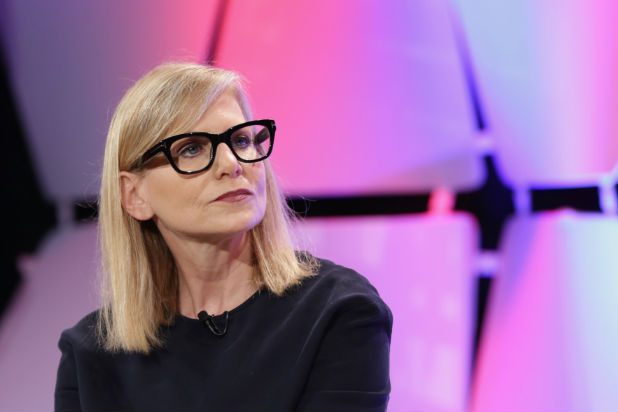 6. Dawn Ostroff, president of Conde Nast Entertainment, is wicked smart. Don't take it from me, about 10 people approached me after her keynote interview to confirm it. By 2019, she estimated, digital video advertising will be a $14.5 billion business. Expect Conde Nast, currently with 2.5 billion video views a month, to take a chunk of that.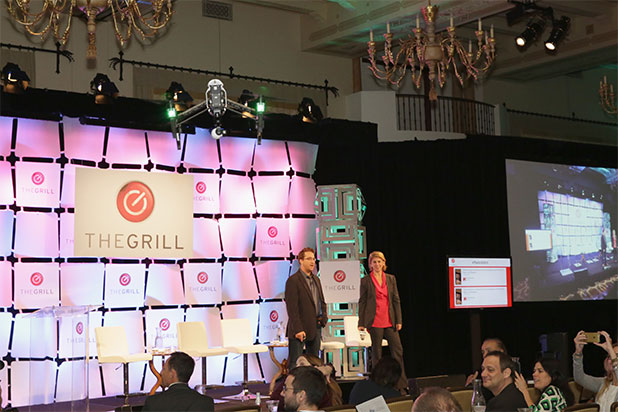 7. So about that drone... The folks from Contend Aerial had nerves of steel as their drone got temperamental at the crucial moment of the demonstration. Luckily, drone operator and licensed pilot Travis kept calm and got liftoff in the ballroom at Montage Beverly Hills, as folks raised their cellphone cameras in unison. A moment to remember!