These days, mature audiences play a role in the success or failure of the majority of movies released.
Even summer movies based on comic book superheroes like "Iron Man" and the "Avengers" couldn't achieve their blockbuster status without the help of Baby Boomer fans.
But a look at this list of films that made a difference to mature moviegoers — either by making major box-office waves or creatively striking a chord — and you'll see they don't have a lot of similarities. There are action films, war movies, romantic comedies and dramas. Other than the fact that they're good movies, there's no common thread.
Also Read: Hollywood's Love Affair With Mature Audiences Is Heating Up
"I think that's something that often gets overlooked when people talk about movies 'for mature audiences,'" said Jason Cassidy, marketing president at Open Road Films, which on Friday is opening the older-skewing, faith-based "Little Boy."
"Older audiences want to be entertained as much as any other moviegoers want to," he said.
Here are nine movies that entertained mature audiences, and did a lot more as well.
"The Best Exotic Marigold Hotel"
The gentle 2012 comedy was ground-breaking because, with an "Avengers"-like assembly of older stars and a first-rate writer (Ol Parker) and director (John Madden), it made no bones about being about and aimed at older folks — and was a box-office smash for Fox Searchlight. Made for $10 million, it brought in $137 million.
"My Big Fat Greek Wedding"
The raucous 2002 comedy from Nia Vardalos is the all-time champ of mature movies at the box office. It never made it to No. 1, even though it was in theaters for a year, but it did take in a staggering $369 million — on a $5 million budget — for IFC Films.
"Enough Said"
The romantic comedy about two empty nesters, played by Julia Louis-Dreyfus and the late James Gandolfini, stumbling their way toward each other was a critical fave and a commercial hit for Fox Searchlight two years ago. Writer-director Nicole Holofcener perfectly captured the wistful and wary world of 40-plus relationships, a subject rarely taken on by Hollywood.
"Taken" and its sequels
Known for hits like "Schindler's List" and "Love Actually," 62-year-old Liam Neeson recreated himself as an action movie badass and showed that seniors can still pack a punch at the box office. The three vengeance sagas have taken in nearly $930 million for Fox.
"Amour"
Michael Haneke's achingly crafted, French-language tale of an elderly couple adjusting to life, and their daughter's disaffection, after the wife suffers a stroke was wrenching and unforgettable. It earned Emmanuelle Riva a Best Actress Oscar nomination at the age of 85, and won the Best Foreign Language Academy Award in 2012.
"The Expendables"
Sly Stallone's kick-butt oldies whacked baddies and delivered one-liners amid explosions just like younger action stars. And they generated grosses just like they do, too. Three movies, $786 million at box office for Millennium and Lionsgate.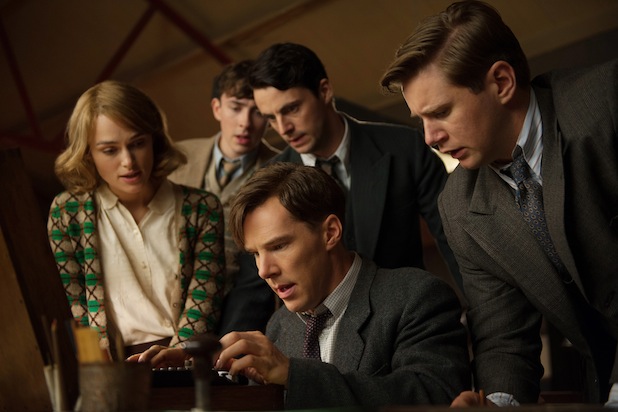 "The Imitation Game"
The Weinstein Company's tale of British cryptographer Alan Turing starring Benedict Cumberbatch was last year's highest-grossing independent movie, taking in $218 million on a $14 million budget. With "The Theory of Everything," "Boyhood" and "Birdman," it was one of four 2014 Oscar Best Picture nominees that seniors made box-office hits.
"American Sniper"
He drew fire for not talking more about its moral perspective, but 79-year-old director Clint Eastwood turned out a gripping film that struck a chord with war-weary Americans for Warner Bros. and made box-office history with a record-breaking January blitz.
"Iron Man" and "The Avengers"
Thanks to the mid-life crisis that drove billionaire Tony Stark (Robert Downey Jr.) and Iron Man, superheroes weren't just for fan boys. Nostalgia-loving Baby Boomers who grew up on the Marvel comics were a big part of their blockbuster success.