2015 continued the trend of young people moving away from expensive cable bundles and toward streaming services like Netflix, Amazon, and Hulu.
Each streaming service offered up a wide range of new shows that made the move away from traditional broadcasters all the more appealing.
TheWrap breaks down some of the best streaming shows of the year that made us want to finally cut the cord.
"Daredevil" (Netflix)
"Daredevil" proved that the Marvel Universe works just as well on the small screen as it does on the big. Charlie Cox brought The Man Without Fear to life, while Vincent D'Onofrio took the show to a new level as "Kingpin" Wilson Fisk.
"Transparent" (Amazon)
This Amazon series has earned widespread critical acclaim, including multiple Emmy and Golden Globe wins for its freshman season. Jeffrey Tambor stars as a man who admits to his family that he is transgender.
Also Read: Jeffrey Tambor Dedicates Emmy to Transgender Community
"Unbreakable Kimmy Schmidt" (Netflix)
This Tina Fey-created series brought "30 Rock's" wit and Ellie Kemper's irrepressible smile to Netflix. Kemper stars as the titular character who tries to make her way in New York after spending most of her life locked in a bunker by a crazy preacher.
"Grace and Frankie" (Netflix)
Jane Fonda and Lily Tomlin proved that streaming shows are not solely the domain of young actors and actresses. The two legendary actresses play lifelong "frienemies" who bond after learning that their husbands have been secretly in love for years.
Also Read: Netflix Renews 'Grace and Frankie' for Third Season
"Narcos" (Netflix)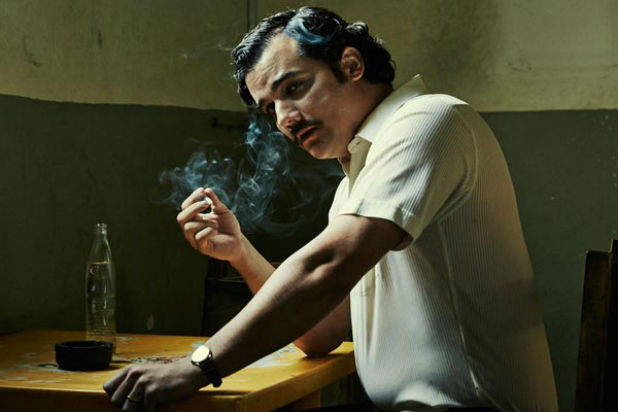 Smuggling cocaine has never looked so cool. Wagner Moura stars as Pablo Escobar, the drug kingpin who ruled Colombia through money and fear. Boyd Holbrook and Pedro Pascal play the cops looking to take him down.
"Casual" (Hulu)
"Casual" follows the story of a dysfunctional family with a bachelor brother and his newly divorced sister. Together, they coach each other through the crazy world of dating (on-line and off), while living under one roof again and raising a teenager.
"Man in the High Castle" (Amazon)
This ambitious series is based on the Phillip K. Dick novel of the same name. It explores an alternate reality in which the Axis powers won World War II and America is now part of the Third Reich.
Also Read: Why 'The Man in the High Castle' Is Amazon Studios' Biggest Gamble Yet
"Master of None" (Netflix)
Aziz Ansari stars as a fictionalized version of himself, an actor living in New York. The series explores the problems he encounters on a daily basis, and features Ansari's real life parents in a guest role.
"Jessica Jones" (Netflix)
This second Marvel-Netflix series featured a hard-fighting, hard-drinking super heroine. Krysten Ritter brings the comic character to life in excellent fashion and battles with the villainous Kilgrave (David Tennant), who has the ability to control minds.