Anyone familiar with classic holiday programming knows that the Grinch stole Christmas — but now ABC is being accused of stealing an idea for a Christmas movie, and the case has landed in court in the form of a new lawsuit.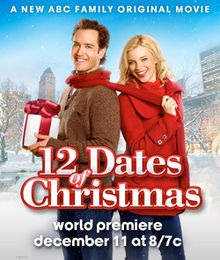 In a complaint filed in Los Angeles Superior Court on Monday, producers Beth Grossbard and Barri Rosenblum say that the 2011 ABC Family movie "12 Dates of Christmas" was ripped off from their idea for a project called "I Hate Christmas."
Also read: ABC News Hit With $1.2B Lawsuit Over "Pink Slime" Reports
According to the suit, Grossbard and Rosenblum — described in the complaint as an "accomplished movie of the week producer" who goes by the professional name Barri Evins — pitched the idea for "I Hate Christmas" to ABC Family vice president of original programming Donna Ebbs and then-director of development Beth Miller during a December 2005 meeting.
The project, described as "a girl's version of the film 'Groundhog Day'" in the suit, revolved around a young woman who's about to be proposed to by her boyfriend in a restaurant on Christmas Eve, but is repeatedly transported back to past Christmases with former boyfriends by a "shpritz device" welded by a ladies' room attendant. At the film's conclusion, the young woman breaks up with her would-be fiance, after realizing that he's not the right man for her.
Ebbs passed on the idea, but the suit claims that the subsequent film "12 Dates of Christmas" — which starred Amy Smart and Mark-Paul Gosselaar — has "a considerable number of similarities" with "I Hate Christmas," right down to the use of "a shpritz of perfume" to transport the young woman to Christmases past.
Also read: "Big Brother" vs. "Glass House" Legal Saga Continues With New Lawsuit
"Indeed, the ABC television movie, 'The 12 Dates of Christmas,' is nothing more than a hijacking of the idea which was originally pitched by Plaintiffs to Defendants and the treatment which was given to ANC executives by the Plaintiffs, cloned and rewritten in a crude attempt to conceal the brazen theft of the Idea," the lawsuit reads.
In addition to ABC Family, the suit also names the Walt Disney Company, ABC and Miller, who is listed as an executive producer on "12 Dates of Christmas."
ABC Family has not yet responded to TheWrap's request for comment.
Alleging breach of implied-in-fact contract and breach of confidence, the suit is seeking unspecified general, exemplary and punitive damages, plus court costs, interest, and an accounting of costs and profits for "12 Dates of Christmas."
Pamela Chelin contributed to this report.