"Country Music's Part of the Year," the annual Academy of Country Music awards show, will air on CBS for the next decade, thanks to a new deal with the ACM, CBS and Dick Clark Productions.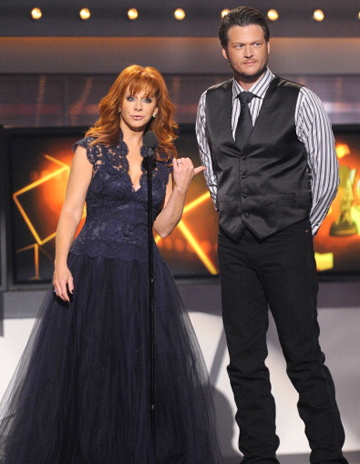 The awards show, which has aired on CBS since 1998, will next air on the network on April 1, hosted, for the second consecutive year, by Reba McEntire and singer/"The Voice" judge Blake Shelton.
"The Academy of Country Music represents a highly valued partnership for our company and the awards show is one of the marquee broadcasts on our network," CBS CEO Les Moonves said. "It is an entertainment event that continues to grow in scope and popularity, and we look forward to working with the ACM and Dick Clark Productions to build on this great momentum over the next decade."
Also read: Hee-Haw, It's the White House
Last year's 46th annual ACM awards telecast drew 13 million viewers, as Taylor Swift was named Entertainer of the Year.
Nominees for the 47th annual awards show — which will be broadcast live from the MGM Grand Garden Arena in Las Vegas — will be announced on Thursday.