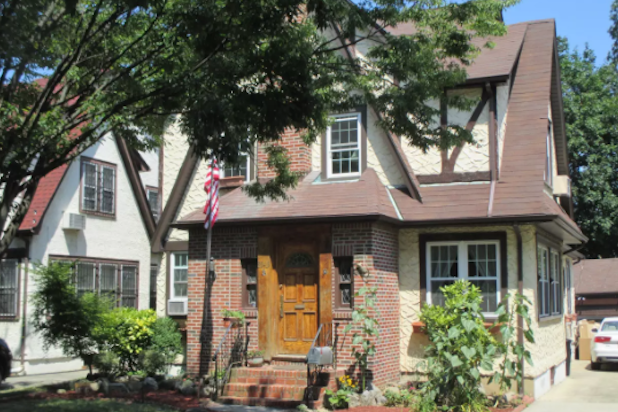 The childhood homes of John F. Kennedy, Ronald Reagan, and even Richard Nixon — the only president to quit the job — have all become landmarks dedicated to the former leaders of the free world. President Donald Trump's childhood home? That's available for $725 a night on Airbnb.
Yes, if you're on the "Trump Train" and visiting New York City soon, the home-rental site has the perfect spot for you. Located in Queens, the two-story yellow townhouse was home to Trump for the first four years of his life — and comes equipped with several "certificates" to fill you in on its rich history.
"In this bedroom, President Donald J. Trump was likely conceived, by his parents, Fred and Mary Trump," reads one of the plaques. "The world has never been the same."
Also Read: 'The Terms of My Surrender' Broadway Review: Michael Moore Visits Trump's Hometown
Built by Trump's father, Fred, the house has 5 bedrooms, 3.5 baths and a whopping 16 beds — so bring plenty of friends. The walls are covered with pictures of the 45th president and his family as a reminder to visitors they're staying in an "amazing," "huge," "fantastic" historic building. And don't be scared when you walk in — that's just a cardboard cutout of Trump in the living room, not the commander-in-chief taking a golf break.
As the listing puts it: "He is a great companion for watching Fox News late into the night."
Also Read: Jeffrey Lord's Silver Lining: No More 6-Hour Commutes to CNN
Nestled on a "quiet, tree-lined block" in Queens' Jamaican Estates neighborhood, the home was bought for $1.3 million back in December and quickly flipped earlier this year for a cool $2.14 million. It's now being hosted by "Ari," and doesn't have any reviews — yet. Ari did not immediately respond to TheWrap's request for comment.
Neighbors aren't thrilled with the newfound attention the listing has brought, however.
"It's already creating havoc and chaos… I thought maybe it was going to be a museum," Deborah Ayala-Braun told The Guardian. "I'm a bit upset. This is a residential neighborhood and it should have been bought or rented by a single family, it shouldn't be like a motel or a hotel."