New Al Jazeera America CEO Al Anstey issued a memo to staff this week vowing to unite his team and boost morale. Employees greeted the note with cautious optimism, but internal morale is the least of the newly installed executive's problems with bad press over claims of anti-Semitism and gender bias, as well as major cable distribution and online deficiencies.
"It's been a disaster zone," one insider told TheWrap about the network, which demoted CEO Ehab Al Shihabi last week. But another insider countered that, "ever since they announced Ehab was let go, there's a better vibe in the newsroom."
To say Anstey's new role is challenging is an understatement: He inherits Al Jazeera America which nearly two years since its launch is still plagued with low ratings — around 30,000 viewers a night.
Also Read: Al Jazeera Accused of Anti-Semitism, Sexism in $15 Million Discrimination Lawsuit
"It does not have anything like enough clearance at the moment to build a national audience," Al Tompkins, Poynter Institute's senior faculty for broadcasting and online, told TheWrap of AJAM's distribution. The channel is currently only available in 60 million homes.
Although it's offered on Comcast, Time Warner Cable, Dish Network, DirecTV, and Verizon FiOS, the network is not available in high-definition on most of them, a major obstacle since the technology has long been the norm. It's also not available on Cablevision and RCN in the Tri-State Area around New York.
Channel position is also not working to the network's advantage. While it's offered on some big cable operators, Al Jazeera America is often not found amid the cluster of competitors like Fox News, MSNBC and CNN, discouraging sampling among channel changers.
Also Read: Al Jazeera America Senior Executive Marcy McGinnis Resigns -- Read Parting Note
And then there's the network's online dilemma. AJAM's agreement with cable operators limits the amount of broadcast content it can post on its website, which is a problem in the growing digital age, when its aforementioned competitors are posting hundreds of clips a week in addition to original programming.
"If you notice on the website, there's just much less content, as opposed to CNN or Fox News," an insider told TheWrap, posing a big challenge for the network to reach people online, especially cord cutters who consume their news there almost exclusively.
"[It's] totally hamstrung online by not being able to post coverage," Tompkins added, while being sure to compliment the network as well: "Their work has been, at times, inspired."
Also Read: Al Jazeera America Appoints New CEO Amid Network's Chaos
Industry veteran and University of Maryland professor Mark Feldstein concurs, noting that, despite the challenges, the network has done some "superb journalism." The problem is, the masses aren't necessarily looking for that anymore.
"If solid, substantive, serious journalism was what the American people wanted, ABC, NBC and CBS would be doing it too — they're not. Not nearly like they used to. They're becoming more and more tabloid over the years," he said. "I think there is a lack of a public appetite for serious news."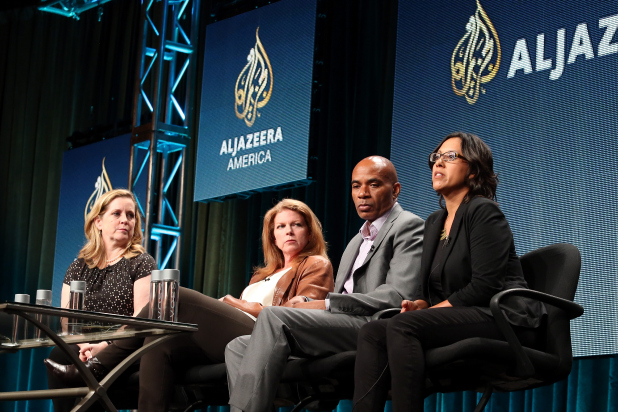 A bigger problem, however, may be the Al Jazeera brand, he said, which is "tainted" because of its association among many Americans with Islamist terrorism.
Also Read: Cable News Ratings: Fox News Only Network Up in April
"There's, frankly, too much public suspicion for a news network funded by an Arab country, in this country, for it to ever have a significant audience" irrespective of the quality of its journalism, Feldstein said.
Still, there's at least momentary cause for confidence. "People seem to be in better spirits, but are taking a wait-and-see approach," one insider said. Anstey, who previously served as an executive at Al Jazeera English, is well liked by executives.
"In the next couple of weeks I will hold a briefing and answer all the questions you may have openly, honestly, and with the aim of bringing the team together with a unified mission and spirit," Anstey wrote to staff Monday.
Also Read: Al Jazeera America Prez on Brand Challenges: We're Overcoming Them Quicker Than We Thought
But it might be getting the network wider distribution — and up to speed online — that poses the greatest challenge. Anstey certainly has his work cut out for him.
"Al Jazeera America will be looking to bring our award-winning content to more people, by making the channel accessible to more viewers," a network spokesperson told TheWrap. "Promoting AJAM and growing our audience are important priorities for us."