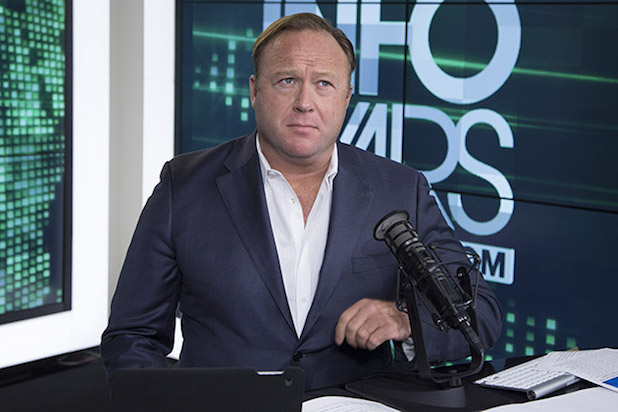 Alex Jones does inhale — but only occasionally, and only for a good reason.
Or at least, that was Jones' testimony on Thursday, during his ongoing child custody case.
"The Alex Jones Show" host and InfoWars boss Jones spent a portion of his 4/20 appropriately discussing his marijuana use. Or, at least discussing it as appropriately as Alex Jones could.
Also Read: Alex Jones Custody Case Shockers: Therapy Striptease, 'Drunk' Video and the Chili Defense
Austin American-Statesmen chief political writer Jonathan Tilove reported on Thursday that Jones smokes up annually, to monitor its potency, which he deemed to be too strong.
"That's what police do. They smoke it once a year too," Jones told the court, according to Tilove.
Somehow, Jones managed to drag billionaire and popular conservative bogeyman George Soros into the discussion of his pot use, according to BuzzFeed's Charlie Warzel, who tweeted Thursday, "Jones talks about marijuana use says he tests it yearly to "monitor its strength" says it's too strong now, blames George Soros for that."
Also Read: Trevor Noah: Trump and Alex Jones Are 'Basically Doing the Same Thing' (Video)
"Alex Jones gets slam at Soros in testimony, blaming him for campaign to legalize pot, which, based on Jones' annual testing, is too strong," Tilove noted.
Popular conspiracy theorist Jones, who's facing off with his ex-wife, Kelly, also testified that "George Soros has brain damaged a lot of people," according to Texas Monthly's Dan Solomon.
Well, it has been suggested that paranoia is a side-effect of marijuana use…
Also Read: Infowars' Alex Jones Claims He's a Fake 'Character' on Air - to Win Custody of Kids
Read on for more reporting on Jones' day in court.
Alex Jones smokes pot annually to test strength. "That's what police do. They smoke it once a year too." 2 strong to legalize, just decrimnz

– jonathantilove (@JTiloveTX) April 20, 2017
Alex Jones gets slam at Soros in testimony, blaming him for campaign to legalize pot, which, based on Jones' annual testing, is too strong.

– jonathantilove (@JTiloveTX) April 20, 2017
.@RealAlexJones @StephenAtHome @glennbeck Jones talks about marijuana use says he tests it yearly to "monitor its strength" says it's too strong now, blames George Soros for that.

– Charlie Warzel (@cwarzel) April 20, 2017
.@RealAlexJones @StephenAtHome @glennbeck Testifies about smoking and drinking on @joerogan's podcast: "it's a man cave show where you do man cave things"

– Charlie Warzel (@cwarzel) April 20, 2017
Alex Jones gets slam at Soros in testimony, blaming him for campaign to legalize pot, which, based on Jones' annual testing, is too strong.

– jonathantilove (@JTiloveTX) April 20, 2017
Today Alex Jones testified in court that "George Soros has brain damaged a lot of people"

– dan solo (@dansolomon) April 20, 2017
That was in regards to marijuana, which Jones says he smokes once a year to test potency. When questioned, says police do it the same way

– dan solo (@dansolomon) April 20, 2017
When questioned if he needs to do it that way rather than just letting police do it, said it was legal in California when he smoked it last

– dan solo (@dansolomon) April 20, 2017
In cross examination, ex-wife's attorney: "You didn't have chili this morning?" Jones: "is that a serious question?"

– dan solo (@dansolomon) April 20, 2017