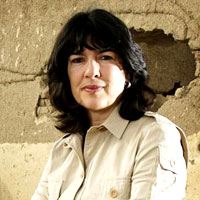 In what amounts to her first major "get" at ABC, "This Week" anchor Christiane Amanpour got a "Sunday show exclusive" with Iranian President Mahmoud Ahmadinejad.
The full sit-down — which ABC says will cover "Iran's nuclear program, the possibility of a resumption of talks concerning that program and the fate of the two remaining detained U.S. hikers" — is slated to air on Sunday, September 19.
NBC's Andrea Mitchell, however, managed to get a network television exclusive with Ahmadinejad. Mitchell's interview aired on Wednesday's "Nightly News," and covered most of what CNN has planned.
Amanpour left CNN for ABC earlier this summer, promising to give an international twist to its Sunday morning programming.
And she's largely delivered on that point, scoring interviews with Tony Blair and Afghan president Hamid Karzai, among others.
Last week's "This Week" drew 2.3 million total viewers – putting it in third among the Sunday talk shows behind NBC's "Meet The Press" (3 million) and CBS' "Face The Nation" (2.6 million), according to Nielsen figures. But its 770,000 25-to-54-year-old viewers was second behind "Meet The Press" in the demographic coveted by most advertisers.
And "This Week" has beaten "Face The Nation" in the demo in the seven weeks since Amanpour took over for interim host Jake Tapper.