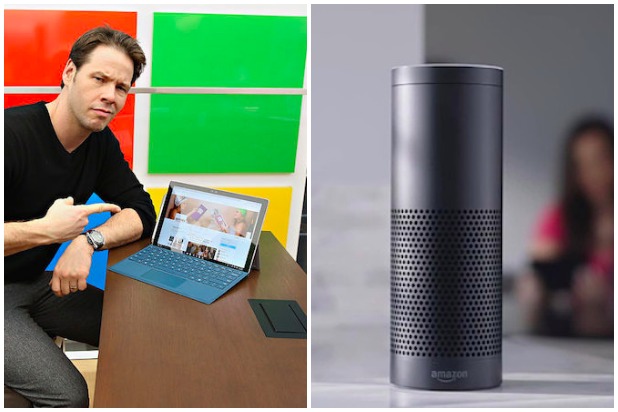 Did Amazon and Microsoft just become best friends? Yep — at least when it comes to their digital assistants.
The two Seattle-based tech giants announced on Wednesday that Microsoft's Cortana and Amazon's Alexa will now be able to communicate with each other. Alexa users will be able to use Cortana's features, like coordinating meetings and checking work calendars, while Cortana users can harness Alexa to use their smart home devices and shop on Amazon.com — all with voice activation.
"The world is big and so multifaceted. There are going to be multiple successful intelligent agents, each with access to different sets of data and with different specialized skill areas," said Amazon CEO Jeff Bezos in a statement accompanying the partnership Wednesday. "Together, their strengths will complement each other and provide customers with a richer and even more helpful experience."
Also Read: Amazon Will Order More Shows Straight-to-Series, Roy Price Says
It's unusual for juggernauts the size of Microsoft and Amazon to partner on emerging technologies like this. Bezos first approached Microsoft CEO Satya Nadella with the idea in May 2016, who was receptive to it. With stiff competition from Apple and Google in the artificial intelligence sphere, the two execs agreed it was in the best interest of their companies to make their digital assistants compatible.
"Ensuring Cortana is available for our customers everywhere and across any device is a key priority for us," said Nadella. "Bringing Cortana's knowledge, Office 365 integration, commitments, and reminders to Alexa is a great step toward that goal."
The arrangement might not be seamless at first. Alexa users will have to say "Alexa, open Cortana," and vice versa, to fire up the other assistant's attributes. But it's a pairing that should pay off for both juggernauts, with Alexa featured on about 70 percent of all smart speakers, and Cortana having nearly 150 million monthly users on PC.
Also Read: 'Whole Paycheck' No More? Amazon to Slash Prices at Whole Foods
Alexa and Cortana will officially start talking to each other later this year.