AMC announced Thursday that the second season of its hit zombie series "The Walking Dead" will begin with an expanded, 90-minute premiere that adds another half-hour of flesh-eating action.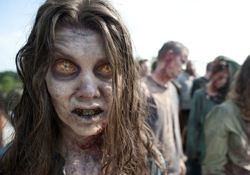 The network also announced that it has given the greenlight to two new reality series — "JJK Security," about a small, family-owned security company, and the reality series "Secret Stash," executive-produced by Kevin Smith.
The jumbo-sized "Walking Dead" season premiere will debut at 9 p.m. ET on Sunday, Oct. 16, with six hour-long episodes to air in the following weeks. The remaining six episodes or the season will begin airing on Sunday, Feb. 12 at 9 p.m. ET.
The hit series has experienced some tumult of late, with Frank Darabont abruptly departing as showrunner in July.
"JJK Security," which is scheduled to premiere in the thrid quarter of 2012, has an initial eight-episode season and will attempt to apply the Coen Brothers' penchant for "capturing quirky, larger than life characters" to the unscripted realm, according to AMC. The series will chronicle a family-run security firm located in rural Georgia.
According to AMC's Senior Vice President of Original Programming, Joel Stillerman, the new series is "unlike anything we have ever seen before — a true original. The characters are incredibly rich and compelling."
"JJK Security" will be executive-produced by Ken Druckerman and Banks Tarver from Left/Right, which is also responsible for "This American Life," "Boomtown" and "Mob Wives."
"Secret Stash," meanwhile, will take place in "Clerks" director Kevin Smith's New Jersey comic-book store Jay and Silent Bob's Secret Stash and captures "the world of the neighborhood comic book store and fanboy culture," according to AMC. The series, which has been greenlit for six, one-hour episodes, will be co-executive produced by Smith, along with Charlie Corwin's Original Media (the company behind "LA Ink" and "Miami Ink") and Elyse Seiden,who executive-produced Smith's film "Red State."
Smith said of the teaming between himself and AMC, "Draper. Meth. Zombies. This show couldn't be on a better network. AMC is to television what Miramax was to cinema back when I first got in the game: they're the premier destination for any story-teller looking to spin an offbeat yarn that no other outlet has the stones to touch … I'm ecstatic, proud, and extremely lucky to be in bed with a network I watch religiously anyway."