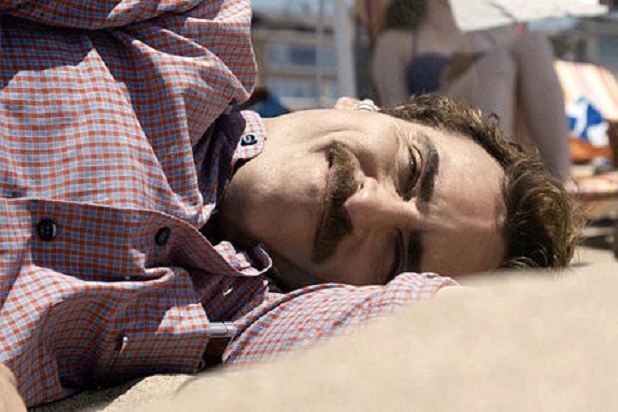 The plantations and slave shacks of the pre-Civil War South, the flapper dresses and Jazz Age excesses of the 1920s, the glitter of Hollywood in the Kennedy era, the Greenwich Village folk scene of the 1960s and the bad hair and bellbottoms of the 1970s will be honored by the Art Directors Guild this year.
Or, at least, five films set in against those historical backdrops — "12 Years a Slave," "The Great Gatsby," "Saving Mr. Banks," "Inside Llewyn Davis" and "American Hustle" — are among the period films nominated for their production design at the union's 1418th annual awards.  The guild separates films into period and contemporary setting, honoring such pictures as "August: Osage County," "Captain Phillips" and "Wolf of Wall Street" for their depictions of the more recent past or the present. It also recognizes achievement in science fiction, singling out productions such as "Elysium" and "Star Trek Into Darkness" for their visions of space and distant worlds.
Typically, Oscar nominations in the Best Production Design category would be drawn largely from the ADG's period and fantasy categories.
Also read: Golden Globes: 5 Reasons It's Better Than the Oscars
In addition, the guild recognizes excellence in television,  — singling out shows such as "Boardwalk Empire," "Veep" "Game of Thrones" and "Parks & Recreation" — for their production design.
In total, the guild's nominations span 10 categories of production design, including commercials and music videos. The awards will be handed out during a black tie ceremony at the Beverly Hilton Hotel on Saturday, February 8, 2014. Comedian Owen Benjamin will be the evening's emcee. 
As previously announced, the recipient of the Guild's Cinematic Imagery Award will be "Wolf of Wall Street" director Martin Scorsese, while Production Designer Rick Carter will be awarded the Guild's Lifetime Achievement Award.
NOMINEES FOR EXCELLENCE IN PRODUCTION DESIGN FOR A FEATURE FILM IN 2013:
Period Film
AMERICAN HUSTLE – Production Designer: Judy Becker
THE GREAT GATSBY - Production Designer: Catherine Martin
INSIDE LLEWYN DAVIS – Production Designer: Jess Gonchor
SAVING MR. BANKS – Production Designer: Michael Corenblith
12 YEARS A SLAVE – Production Designer: Adam Stockhausen
Fantasy Film
ELYSIUM – Production Designer: Philip Ivey
GRAVITY – Production Designer: Andy Nicholson
THE HOBBIT: THE DESOLATION OF SMAUG – Production Designer: Dan Hennah 
OBLIVION - Production Designer: Darren Gilford
STAR TREK INTO DARKNESS - Production Designer: Scott Chambliss

Contemporary Film
AUGUST: OSAGE COUNTY – Production Designer: David Gropman
BLUE JASMINE - Production Designer: Santo Loquasto
CAPTAIN PHILLIPS – Production Designer: Paul Kirby
HER - Production Designer: K.K. Barrett 
THE WOLF OF WALL STREET - Production Designer: Bob Shaw

NOMINEES FOR EXCELLENCE IN PRODUCTION DESIGN IN TELEVISION FOR 2013:
One-Hour Single Camera Television Series
BOARDWALK EMPIRE
Production Designer: Bill Groom
Episode: Old Ship of Zion
BREAKING BAD
Production Designer: Mark Freeborn
Episode: Felina
DOWNTON ABBEY
Production Designer: Donal Woods
Episode: 7
GAME OF THRONES
Production Designer: Gemma Jackson
Episode: Valar Dohaeris

MAD MEN
Production Designer: Dan Bishop
Episode: The Better Half
Television Movie or Mini-Series
AMERICAN HORROR STORY: COVEN
Production Designer: Mark Worthington
Episode: Bitchcraft
BEHIND THE CANDELABRA
Production Designer: Howard Cummings
BONNIE & CLYDE
Production Designer: Derek R. Hill
Episode: Night 1 & Night 2
MOB CITY
Production Designer: Gregory Melton
Episode: A Guy Walks Into A Bar, Reason To Kill A Man

PHIL SPECTOR
Production Designer: Patrizia von Brandenstein

Half Hour Single-Camera Television Series
ARRESTED DEVELOPMENT
Production Designer: Dan Butts
Episode: The B. Team
CALIFORNICATION
Production Designer: Ray Yamagata
Episode: The Unforgiven
MODERN FAMILY
Production Designer: Richard Berg
Episode: The Wow Factor
PARKS AND RECREATION
Production Designer: Ian Phillips
Episode: London

VEEP
Production Designer: Jim Gloster
Episode: Helsinki
Short Format, Live Action Series
10,000 DAYS
Production Designer: Mimi Gramatky
Episode: Salvation or Destruction
BATTLESTAR GALACTICA:
BLOOD AND CHROME
Production Designer: Brian Kane
Episode: Pilot
BLUE
Production Designer: Rachel Myers
Episode: The Truth Hurts
DAYBREAK
Production Designer: Stuart Blatt
Episode: 5

H+: THE DIGITAL SERIES
Production Designer: Andres Cubillan
Episode: Visions Of Whats To Come

Multi-Camera, Variety, or Unscripted Series
THE BIG BANG THEORY
Production Designer: John Shaffner
Episode: The Bakersfield Expedition
HOW I MET YOUR MOTHER
Production Designer: Steve Olson
Episode: The Light House
PORTLANDIA
Production Designer: Tyler Robinson
Episode: Missionaries
SATURDAY NIGHT LIVE
Production Designers:
Akira Yoshimura
Eugene Lee
Keith Ian Raywood
N. Joseph Detullio
Episode: Justin Timberlake/Justin Timberlake
THE VOICE
Production Designers:
Anton Goss
James Pearse Connelly
Episode: Live Playoffs, Part 1

Awards, Music, or Game Shows
THE AMERICAN MUSIC AWARDS 2013
Production Designer: Joe Stewart
2013 BILLBOARD MUSIC AWARDS
Production Designer: Brian Stonestreet
THE 65th PRIMETIME EMMY AWARDS
Production Designer: Brian Stonestreet
THE 67th ANNUAL TONY AWARDS
Production Designer: Steve Bass
SUPERBOWL XLVII HALFTIME SHOW
STARRING BEYONCE
Production Designer: Bruce Rodgers
Commercial, PSA, Promo, and Music Video
ARCADE FIRE
Production Designer: Anastasia Masaro
Episode: Reflektor
CALL OF DUTY: GHOSTS
Production Designer: Todd Cherniawsky
Episode: Epic Night Out

DIEHARD
Production Designer: Tom Wilkins
Episode: The Getaway
INFINITI
Production Designer: Christopher Glass
Episode: Factory of Life
JUSTIN TIMBERLAKE FT. JAY Z
Production Designer: Richard Bridgland
Episode: Suit & Tie