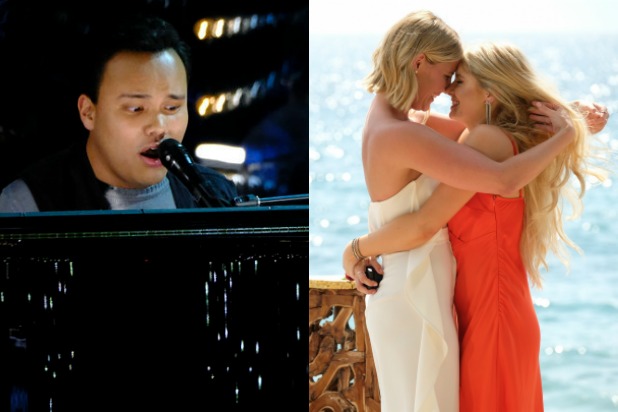 NBC's "America's Got Talent" performance finale was Tuesday's top show. Unfortunately, the same network's "Bring the Funny" season finale was not No. 2, and NBC ended up in a first-place ratings tie with ABC, which only aired its "Bachelor in Paradise" season finale.
In terms of total viewers, last night's primetime Nielsen averages weren't all that close — and ABC wasn't even runner-up by that metric.
NBC and ABC tied first in ratings, both with a 1.3 rating/7 share in the advertiser-coveted 18-49 demographic, according to preliminary numbers. NBC was first in total viewers with 7.7 million, ABC was third with 4.4 million.
Also Read: NBC Captures Sixth Straight 52-Week Ratings Win, CBS Reclaims Total Viewers
For NBC, the first of the two-night "AGT" finale from 8 p.m. 10 p.m. scored a 1.6/8 and 9.7 million viewers. At 10, "Bring the Funny" finished its first season with a 0.7/4 and 3.6 million viewers.
As ABC aired "Bachelor in Paradise" over all three of its primetime hours, that 1.3 rating/7 share and 4.4 million total viewers can all be credited to the reality dating show.
CBS and Univision tied for third in ratings, both with a 0.5/3. CBS was second in total viewers with 4.8 million, Univision was fifth with 1.4 million.
Also Read: 'The Bachelorette' Is the Only Show Up in TV Ratings This Summer vs Last
Fox and Telemundo tied for fifth in ratings, both with a 0.3/2. Fox was fourth in total viewers with 1.5 million, Telemundo was sixth with 1 million.
CBS and Fox both aired all reruns last night. Wise.
The CW was seventh in ratings with a 0.2/1 and in viewers with 685,000. "Pandora" at 8 had a 0.1/1 and 689,000 viewers. At 9, "Mysteries Decoded" got a 0.2/1 and 681,000 viewers.