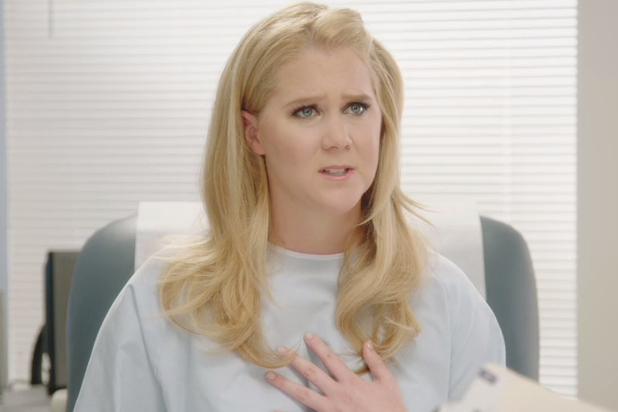 Amy Schumer opened up about being violated by a former boyfriend on "The Howard Stern Show" on Tuesday, telling the radio host, "I didn't have a perfect rape."
On the show, Schumer and Stern discussed a passage in her new book, "The Girl With the Lower Back Tattoo," in which she revealed how her boyfriend violated her while she was sleeping.
Schumer told Stern that she included the story in the book not just to encourage fellow sexual assault victims to speak up, but also to educate male readers.
Also Read: Why Comedy Central Couldn't Afford to Lose Amy Schumer
"It's important, I think, to write about that. I was in an abusive relationship, and I think it's good for men to read too, and be like, 'Oh, it's not cool if I do that,'" Schumer said.
The comedian also said that the incident — which occurred while she was "in and out of sleep" — might not be considered rape by some, which is another reason she included it in the book.
"People want you to have been raped perfectly, and they want you to be the perfect victim," Schumer told Stern. "We're so critical and it makes victims really not want to speak up. So I think it's me saying, 'Look, I didn't have a perfect rape, but the way my virginity was taken from me … and it was not in a cool way."
Also Read: Kurt Metzger Defends Himself and Amy Schumer Following Social Media Firestorm
During the Stern interview, Schumer also discussed the hiatus of her Comedy Central series "Inside Amy Schumer." CliffsNotes version: Don't hold your breath for another season.
"We're scheduled for another season, but I just, I can't see doing it anytime soon," Schumer said. "I'm just very tired. I'm tired, and it's a lot of energy, and I can't do that right now."
Schumer denied that she was holding out for a pay bump, noting, "It's never been about the money on that show."
"So that's the end of the show? This season is the last season — it's not a negotiating tactic," Stern asked.
Also Read: Amy Schumer: Comedy Central Show Is Not Over
"It's not a negotiating tactic," Schumer replied, though she quickly added that it's a "Larry David thing," referring to the long lapses that David has sometimes taken between seasons of his HBO comedy "Curb Your Enthusiasm."
Listen to the interview below.