"True Blood" babe Anna Paquin and "Veronica Mars" star Kristen Bell will make cameos in Wes Craven's "Scream 4," Dimension Films has announced.
It's possible that one of these two attractive actresses (or both) could be featured as the opening scene victim, which has become a fun staple of the "Scream" series.
Drew Barrymore & Kevin Patrick Walls, Omar Epps & Jada Pinkett Smith, and Liev Schreiber & Kelly Rutherford had the honor of being killed early on in "Scream" and its two sequels, respectively.
Neve Campbell, Courteney Cox Arquette, David Arquette and Roger Jackson (the voice of Ghostface) are returning to the successful slasher franchise, and joining them in blood-soaked Woodsboro will be Emma Roberts, Hayden Panettiere, Adam Brody, Rory Culkin, Anthony Anderson, Marley Shelton, Alison Brie, Marielle Jaffe, Nico Tortorella, Erik Knudsen and Mary McDonnell.
Screenwriter Kevin Williamson, the genius behind the first film, wrote the original screenplay for "Scream 4," while Ehren Kruger ("Scream 3") was brought in recently to punch up the script, which reportedly resulted in Lauren Graham leaving the project.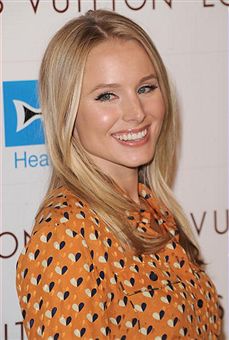 Since the original "Scream" took Hollywood by surprise in 1996, the series has grossed nearly $300 million at the domestic box office.
"Scream 4" is set to open on April 15, 2011, a day on which I will be calling in sick to work.
Paquin next stars opposite Katie Holmes in the indie drama "The Romantics." She is represented by WME.
Bell recently made a cameo in Universal's "Get Him to the Greek," a spin-off of Bell's "Forgetting Sarah Marshall." She next stars in the Disney comedy "You Again" and Sony's "Burlesque." The actress is attached to the John Krasinski-Drew Barrymore movie "Everybody Loves Whales," as well as "Dance of the Mirlitons." She is represented by CAA.
Paquin and Bell's "Scream 4" cameos were first reported by USA Today.