Owing taxes isn't a rare thing for regular people or giant corporations, but Apple's new tax bill from the European Union is a whopper: $14.5 billion (€13 billion).
The bill is a result of the findings of a two-year investigation into whether Ireland's tax breaks for the Cupertino tech giant were legal under EU rules about state aid. The verdict? Nope.
Said EU Commissioner Margrethe Vestager: "Member States cannot give tax benefits to selected companies — this is illegal under EU state aid rules. The Commission's investigation concluded that Ireland granted illegal tax benefits to Apple, which enabled it to pay substantially less tax than other businesses over many years. In fact, this selective treatment allowed Apple to pay an effective corporate tax rate of 1 percent on its European profits in 2003 down to 0.005 percent in 2014."
Also Read: Apple Latest to Impersonate Snapchat With New Software Push (Report)
Apple started a factory in Cork, Ireland, in October of 1980, the company's first European expansion. The Cork operation now employs about 6,000 Irish workers.
Although most of Apple's international business was being conducted through Apple subsidiaries named Apple Sales International and Apple Operations Europe that were based in Ireland, the main bone of contention with the EU is that most of the companies' profits weren't being recorded as profit made in Ireland, meaning they weren't subject to Irish taxes.
Here's the EU's handy chart explaining where all that money went: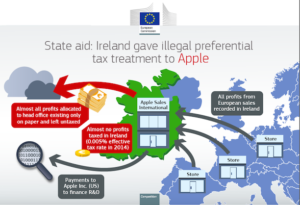 Apple CEO Tim Cook took to Apple's website to write an open letter decrying the EU's decision. Here's part of it:
"The European Commission has launched an effort to rewrite Apple's history in Europe, ignore Ireland's tax laws and upend the international tax system in the process. The opinion issued on August 30th alleges that Ireland gave Apple a special deal on our taxes. This claim has no basis in fact or in law. We never asked for, nor did we receive, any special deals. We now find ourselves in the unusual position of being ordered to retroactively pay additional taxes to a government that says we don't owe them any more than we've already paid."
Whether Apple will in fact have to pay out the full $14.5 billion remains to be seen.