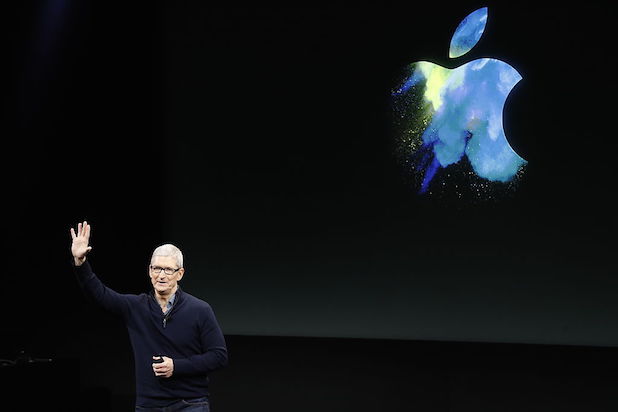 Apple might be pushing towards becoming the first company worth $1 trillion — but the tech behemoth still dropped one spot on this year's Fortune 500 list of top U.S. companies.
The 64th edition of the list, released on Monday morning, pegs Apple as the top tech company in its rankings, good enough for fourth overall. But the Cupertino, California-based company still fell one spot from last year, despite pulling in $229 billion in revenue. Walmart, Exxon Mobil, and Warren Buffett's Berkshire Hathaway were the top three in that order.
Amazon, with about $179 billion in revenue last year, cracked the top 10 for the first time, taking the eighth spot. With Whole Foods now integrated, expect to see the company climbing the list in the years ahead.
Also Read: Amazon Orders Jordan Peele's Nazi-Hunting Show to Series
If it seems a little odd the richest company in the world isn't atop Fortune's rankings, it's because Fortune rates companies based on their yearly sales, not market cap. Apple was worth about $928 billion on Monday, and the company has more than $250 billion in cash on hand, so don't feel too bad for CEO Tim Cook.
Walmart easily grabbed the top spot for the sixth straight year, more than doubling the next closest company, Exxon Mobil, with $500 billion in sales.
On the tech front, the next highest company was Alphabet, aka Google, at number 22, followed by Microsoft coming in at 30. Facebook, which closed 2017 with its best sales ever in Q4, came in at number 76 on the list with about $40 billion in annual revenue.
Also Read: Amazon Prime Is About to Get More Expensive
Netflix had a strong year in 2017, increasing its sales 32.4 percent year-over-year, leading to a 53 spot jump to number 261 on the list. Tesla, Elon Musk's electric car company, was one spot higher at number 260 and made the biggest jump of any company on the list — moving up 123 spots from last year based on strong sales for its Model S sedan.
You can view the entire Fortune 500 list here.