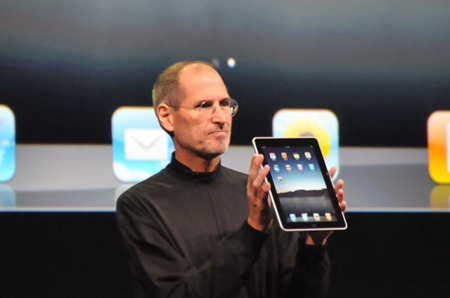 App-building publishing companies hoping that the public would quickly adopt the iPad got some more good news: Apple announced that it has sold more than a million iPads, less than a month after the device's debut in stores.
Apple said it hit the million mark on Friday – the same day it released the 3G version of the iPad.
Steve Jobs said the 28 days it took to reach a million is "less than half of the 74 days it took to achieve this milestone with iPhone." He added: "Demand continues to exceed supply and we're working hard to get this magical product into the hands of even more customers."
The Cupertino, California, company also said iPad users have downloaded more than 12 million apps and more than 1.5 million e-books from its iBookstore.
The company has yet to release sales figures for the iPad 3G. But one analyst — Piper Jaffray's Gene Munster — estimates Apple sold more than 300,000 over the weekend, or roughly the same number of original iPads sold during its first three days on sale.

More to read: