AOL isn't close to shuttering Patch, and don't look for it to merge with Yahoo anytime soon. TechCrunch editor Michael Arrington had to go, and the acquisition of Huffington Post by AOL will be a long-term success, said Arianna Huffington on Tuesday.
The president and editor in chief of the AOL Huffington Post Media Group dismissed questions over AOL's quarterly losses and traffic decline since the merger with HuffPo seven months ago. She said the site was working successfully to grow as a media company. And the merger hasn't hurt, she said.
"The merger has actually had the opposite effect," she said, at TheWrap's media-leadership conference, TheGrill, at Beverly Hills' SLS Hotel. She pointed to HuffPo's rise in traffic and expansion in editorial categories.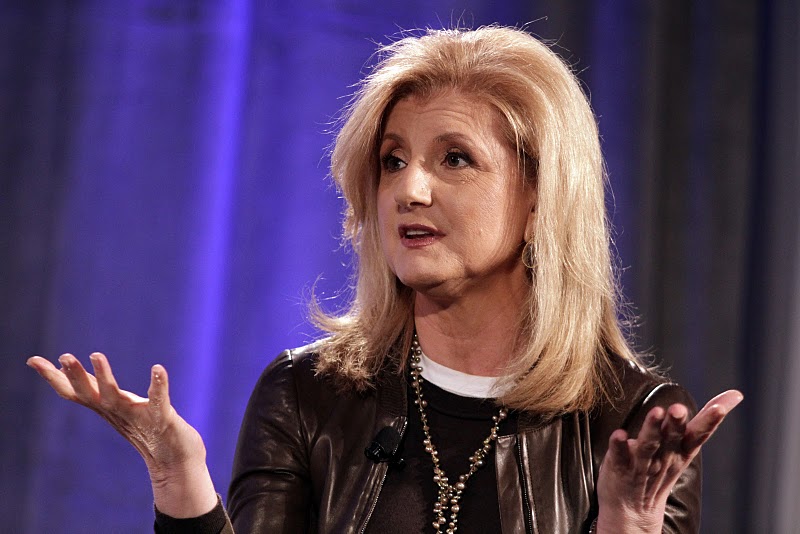 "Since the integration, the Huffington Post has grown 49 percent and added 24 sections … My dream was to grow in multiple ways at the same time, but we didn't have the resources available to do that before. All of these new launches we wanted to do would have taken years," she said.
(Photographs by Jonathan Alcorn)
Huffington Post Media was purchased for $315 million by AOL in February.
(In the video below, Huffington discusses the hazards of running one's business using stock price as a guide. View the full video here.)
Huffington Post traffic has grown to about 35 million monthly unique users since the acquisition by AOL, largely because of the portal's support. But the portal itself has seen steady declines from March all the way through to August, when it had a slight uptick of 10 percent.
Answering questions from moderator Sharon Waxman, Huffington said the uptick was because she replaced two senior editors at AOL. The portal currently has of 109 million uniques per month, having bottomed out in July at 105 million uniques. Yahoo has vastly more traffic than AOL.
Also read: Facebook's Jacobson to Studios: Use Us to Track, Promote Movies
As for the recent international expansion — which has included the launches of HuffPost Canada and HuffPost UK — she added, "I don't know when we would have been able to do that."
Waxman also grilled Huffington on Patch, the labor-intensive local news initiative launched by AOL before the merger. With Patch employing over 1,000 journalists and costing its parent company around $160 million a year to run, will the newly formed AOL Huffington Post Media keep it around?
Huffington said AOL/HuffPo is just scratching the surface as to how the local-oriented Patch can be melded into the nationally minded Huffington Post. She pointed to a recent story about New Jersey Gov. Chris Christie, who used a police helicopter – at a cost of $2,500 in public funds – to get to his son's baseball game in June.
"That story would have probably died at the local Patch, but by moving it to the HuffPost homepage, it was everywhere in a couple of hours. That is one of the lessons that we are discovering," Huffington said.
Despite such successes, AOL is under severe pressure from Wall Street, reporting another loss last quarter as ad revenue has struggled and subscriptions from legacy dial-up continue to decline. The share price has slid consistently in recent years, and now hovers at $14 a share, down from about $25 a year ago.
Huffington said she was focusing on her job and lamented that companies with long-term vision were hostage to short-term profits. She deflected questions about the prospect of breaking up AOL .
"I'm not dealing with that," she told Waxman. "I have a big job, and I love it. My job and my commitment is to keep building an amazing media company and keep improving what we're doing."
Huffington also naysayed rumors that AOL is looking to merge with Yahoo.
"I almost feel like there's a reverse correlation between rumors and reality," she explained. "There wasn't a single rumor about AOL and the Huffington Post merging before that was about to happen. When people want something to happen and they care, they're careful about leaks."
As for Arrington, the controversial founder of AOL's tech blog, TechCrunch, Huffington dismissed the controversy as the "balloon boy" of media gossip.
She said there was never a question that he had to step down once he decided to establish a venture capital fund that would provide money to companies covered by his blog.
Also read: MTV's Herzog at TheGrill: Ratings Are a Lot More Important to Us Than Tweets
"Michael is somebody who built and amazing site, and I have no doubt that he'll be a great head of a VC fund, but he just can't be both at once," Huffington said. "It's one of those black-and-white issues."
Huffington insisted that with her newfound media moguldom, she's "out of the political game." But she didn't demur when Waxman asked her about President Barack Obama's recent struggles and re-elections prospects.
Her suggestion to the President: "I think he should acknowledge that he's changing his tone, otherwise it will be seen as campaigning in advance of the election. And I would have him admit that [his administration] underestimated the jobs crises."
Huffington also expressed her take on the overall economy, drawing laughs from the auditorium audience of nearly 200 when she noted that the U.S. has fallen behind France in recent measurements of upward mobility.
"Being behind France in upward mobility is a little like France being behind us in croissants and afternoon sex," she quipped.
Also drawing a laugh at the beginning of the Q&A: Waxman recalled a local L.A.-area hike she took with Huffington several years ago. Waxman, a former New York Times reporter, asked Huffington, a well-known socialite, if she'd throw a party for her just-published book.
"I'd love to, baby," Huffington responded, "but I'm starting this little internet thing."