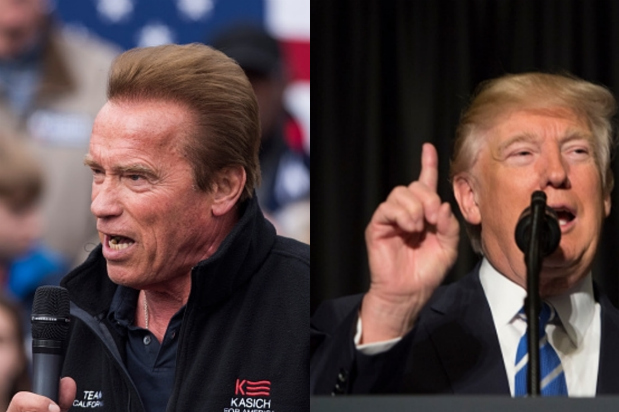 Arnold Schwarzenegger continued his public feud with President Trump on Tuesday, mocking his approval rating and offering to take him on a field trip in a video on Twitter.
"The ratings are in, and you got swamped," Schwarzenegger said. "Wow, now you're in the 30s? But what did you expect? I mean, when you take away after-school programs for children and Meals on Wheels for the poor people. That's not what you call making America great again… Who is advising you?"
The former California governor then offered President Trump some free advice.
Also Read: Arnold Schwarzenegger on Donald Trump: 'I Think He's In Love With Me' (Audio)
"Go to a middle school. The Hart Middle School right in Washington, six blocks away from the White House. I'll take you there so you can see the fantastic work that they're doing for the children."
Hey, @realDonaldTrump, I have some advice. See you at Hart Middle School? Here's more info about #afterschool: https://t.co/NOgdhBHyyp pic.twitter.com/NQI2OdVqtF

— Arnold (@Schwarzenegger) March 21, 2017
Trump and Schwarzenegger have been engaging in an ongoing feud since the former Governator took over "Celebrity Apprentice," which wound up earning low ratings.  Schwarzenegger announced that he "would decline" to return for another season "even if asked," and blamed the show's poor showing on Trump — who starred in 14 seasons of the show and retained an executive producer credit even after winning the presidential election.
Trump tweeted at one point that Schwarzenegger "was fired by his bad (pathetic) ratings, not by me."
The two have taken repeated jabs at each other, and Schwarzenegger recently tweeted that Trump "should think about hiring a new joke writer and a fact checker."