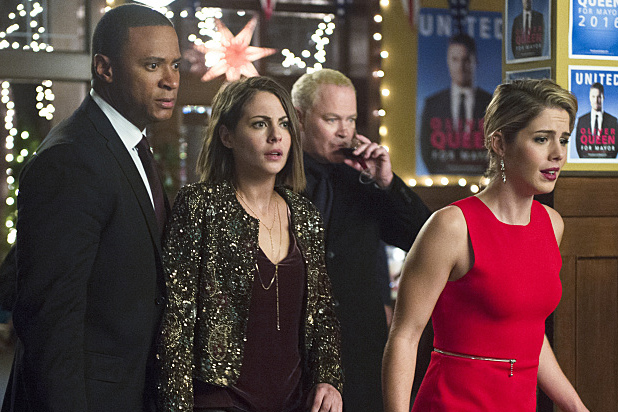 (Spoiler alert: Please do not read if you've not watched Wednesday's episode of "Arrow").
Happy holidays and a long-awaited happy engagement were cut short by Damien Darhk on the midseason finale of The CW's "Arrow."
The episode brought big revelations to Oliver Queen (Stephen Amell), Team Arrow and even the big bad himself,  Darhk (Neal McDonough).
After a drone-delivered terrorist attack at a volunteer event, Oliver makes the gamble to out Darhk as the leader of the bad guys that had been wreaking havoc on the city in front of all of Star City's TV news cameras.
Also Read: 'DC's Legends of Tomorrow' Team Lines Up on New Poster (Photo)
As Darhk plotted his revenge, Felicity (Emily Bett Rickards) finally put two and two together and figured out that Oliver had been planning to propose back during their sojourn in the suburbs. Before the two lovebirds are able to talk it out, Darhk puts his plan into action by kidnapping Felicity and Thea (Willa Holland), Oliver's sister.
After a big battle between Team Arrow and Darhk's "ghosts," otherwise known as HIVE, Oliver finally gets his moment to propose, dropping to one knee in front of Felicity at the Star City Christmas tree lighting.
In the final seconds of the episode, titled "Dark Waters," the newly engaged couple's car is surrounded by masked gunmen and fired upon. Oliver is able to take control and drive them away from immediate danger, only for a bloodied and unconscious Felicity to fall into his arms.
Also Read: 'The Flash,' 'Arrow' Producers on Crossover Fallout: 'There's Always a Cost'
If that weren't bad enough, the teaser for "Arrow's" return in January focuses heavily on the mysterious body in a grave first teased in the season premiere, putting the fate of Felicity on decidedly shaky ground.
"Arrow" airs Wednesdays at 8 p.m. ET on The CW.