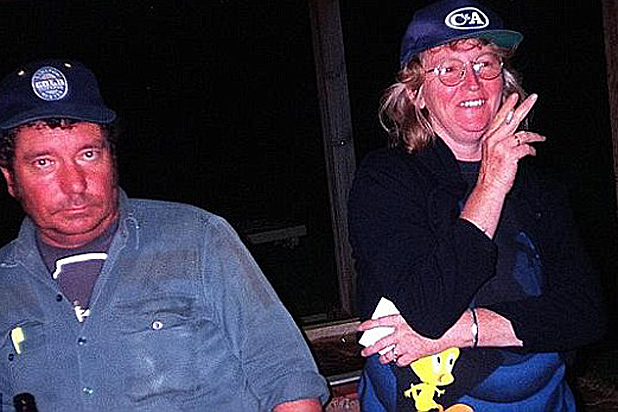 The grisly tale of Katherine Knight, Australia's most notorious female cannibal killer, is heading to the big screen.
In February 2000, the abattoir worker from Aberdeen in New South Wales's Hunter Valley, decapitated and skinned her de facto husband before trying to serve his flesh to his children — and her gruesome story is set to be told in a new film.
Australian screenwriters Dane Millerd and Ross Murray have been enlisted to find a global audience for the notorious story of the now 60-year-old woman, who was jailed for life for the killing of John Price, the Guardian reported.
Also Read: Joran van der Sloot Appears to Confess to Natalee Holloway Murder
The filmmakers are partnering with U.S. production company Shoreline Entertainment and no are currently on the hunt for a director and cast.
"It's one of those stories that lends itself to being told on film," Millerd said, after spending a decade securing the rights to journalist Peter Lalor's book, "Blood Stain."
"Even if you can't handle the subject matter, people will still feel compelled to look."
Following a violent and tumultuous relationship during which the father of three feared for his life, Price was stabbed 37 times and his "skin suit" was found by police hanging from a meat hook on the living room door.
Also Read: Uber Driver Charged With 6 Counts of Murder Sues Company for $10 Million
Knight then arranged his headless body with one arm draped over a drink bottle and left a note accusing him of being a rapist and a child molester, claims that were unfounded.
Meanwhile, Price's head was cooking in a stew on the stove and slices of his buttocks had been cooked and served alongside vegetables and gravy in a meal intended for his adult children.
Bloodstains showed the victim tried to escape the house, and had even been briefly successful, but was dragged back inside by Knight.
"The last minutes of his life must have been a time of abject terror for him, as they were a time of utter enjoyment for her," supreme court justice Barry O'Keefe said in 2001 when Knight was convicted.
Knight, who was diagnosed with a borderline personality disorder, became the first Australian woman to receive a life-without-parole sentence. She lost an appeal against the sentence in 2006 and is currently held at the Silverwater Women's Correctional Centre in New South Wales, Australia.
Also Read: 'Making a Murderer': 8 Alternate Theories on Who Killed Teresa Halbach (Photos)
"One misconception is that this is going to be straight-out horror and this couldn't be further from the truth," Millerd went on to explain, saying the film will follow both the book and the facts closely.
"We all know how it ends and I don't think it needs to be diluted by an overreliance on gratuitous violence."