Nicolas Chartier now has his Academy Award.
He received it not on the stage of the Kodak Theater, where the other three producers of "The Hurt Locker" picked up their statuettes on Sunday night, but in a seventh-floor office at Academy headquarters in Beverly Hills. And he didn't deliver an acceptance speech, but an apology.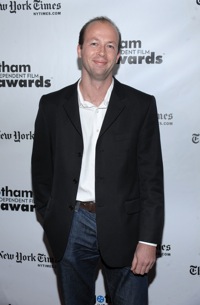 Chartier, the financier whose emails in support of "Hurt Locker" violated AMPAS campaign rules and caused him to be barred from the 82nd Academy Awards ceremony, was given his Best Picture Oscar by Academy president Tom Sherak on Wednesday.
"I invited him to come in, and we had a really good discussion," says Sherak. "You could see that he got choked up when I gave it to him, and we talked for about half an hour. It was kind of cathartic: he got it off his chest that he was sorry it all happened, and I was very satisfied with his apology."
Chartier, who raised the money for "The Hurt Locker" but was eventually barred from the set after disagreements with the film's other producers, sent emails to friends, friends of friends and Academy members (including some who worked on rival films) asking them to vote for "The Hurt Locker" instead of the "$500M film," a clear reference to "Avatar." AMPAS rules specifically forbid any disparaging reference to another film.
An Academy committee considered recommending that Chartier be stripped of his nomination, but in the end simply took away his tickets to the Oscar show. (Chartier photo by Dimitrios Kambouris/Getty Images)
"It was a fair response to what he did," says Sherak. "Nicolas made a mistake, and he knows that and admits it. I felt badly that he wasn't at the show, I really did, but something had to happen."
In the future, adds Sherak, the Academy will make sure that "everyone knows the rules we live by." Chartier is not a member, and thus probably did not have the campaign guidelines published by the Academy.
"I didn't ask him if he knew the rules or not," says Sherak. "But I thought that what he did in telling people that it was better to vote for this movie than this '$500 million movie,' … I don't think you need a rule to tell you that's wrong.
"There is a rule against that, by the way, but the way I look at it, some things are just morally right or wrong."
Chartier spent Oscar night at a party that was thrown for him in Malibu, and as the show ended he did give an acceptance speech of sorts. Part of it is on YouTube; he thanks fellow producer Greg Shapiro by name, and then zips through "everyone else who made the film, you've seen them all on TV: Kathryn, the cast, crew, agents, lawyers … "