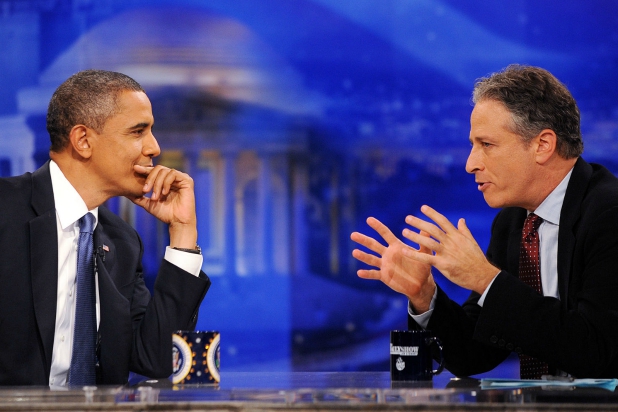 Set your DVRs for POTUS: Barack Obama will make his seventh and final appearance on Jon Stewart's version of "The Daily Show" this coming Tuesday, July 21.
Stewart's final episode will be Thursday, Aug. 6. Trevor Noah will officially take over on Sep. 28.
The show will mark his third guest spot since becoming President of the United States of America. Watch Obama's prior appearances by clicking on the show dates:
October 18, 2012
October 27, 2010
October 29, 2008
April 21, 2008
August 22, 2007
November 7, 2005
Also Read: Trevor Noah Talks 'Daily Show' Hosting Gig on Jerry Seinfeld's 'Comedians in Cars Getting Coffee'
Stewart, Steve Bodow, Jen Flanz, Tim Greenberg, Jill Katz and Adam Lowitt are the executive producers of "The Daily Show With Jon Stewart" with Hillary Kun as co-executive producer.
Pam DePace, Justin Melkmann and Stuart Miller are supervising producers. The series' head writer is Elliott Kalan and it is directed by Chuck O'Neil.
"The Daily Show" airs Monday-Thursday at 11 p.m. on Comedy Central.