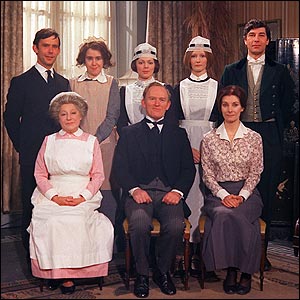 A new production of "Upstairs Downstairs," to air in the U.S. in 2011, will be part of the new co-production partnership announced Monday by Masterpiece on PBS and BBC Worldwide Sales and Distribution, Americas.
"Masterpiece" will mark its 40th anniversary on PBS with the 2010-11 season, which also will include "Sherlock," an updated take on Arthur Conan Doyle's classic Sherlock Holmes novels, and three Aurelio Zen mysteries, adapted from Michael Dibden's best-selling, Italy-set novels.
"Masterpiece" executive producer Rebecca Eaton said in a statement, "These three series say everything about what 'Masterpiece' aims to be: iconic, rich with wonderful actors, witty, literate, and timeless."
"These three co-productions offer a new spin on well-known, treasured stories and we're thrilled to be working with 'Masterpiece' to bring them to life," said Matt Forde, executive VP of sales and co-productions, BBC Worldwide, Americas.
The original "Upstairs Downstairs" won seven Emmys during its run on "Masterpiece Theater" in the mid-1970s, including a best actress Emmy for co-creator Jean Marsh, who will return as parlormaid Rose in the new three-part series. Eileen Atkins, her co-creator on the original program, also will star. Screenwriter Heidi Thomas ("Cranford") has set the new "Upstairs Downstairs" in the same house at 165 Eaton Place in 1936, during the period leading up to World War II. "Upstairs Downstairs" is a BBC/Masterpiece co-production.
Although the new "Sherlock" is set in present-day London, it maintains the iconic details from Conan Doyle's books. It stars Benedict Cumberbatch as Sherlock, Martin Freeman as Dr. Watson and Rupert Graves as Inspector Lestrade. The series is co-created by Steven Moffat ("Doctor Who," "Coupling") and Mark Gatiss ("The League of Gentlemen").
The Aurelio Zen mysteries will star Rufus Sewell as the titular Italian detective, and they will shoot on location in Italy. The producer is Left Bank Pictures, which brought to PBS the "Wallander" mysteries starring Kenneth Branagh.
The series is being shot on location in Italy by Left Bank Pictures, the production company behind the acclaimed Wallander television series. Italy's RTI (Mediaset), Masterpiece and Germany's ZDF are co-producing, with additional funding from BBC Worldwide, Ingenious and Lipsync.
"Masterpiece" is presented on PBS by WGBH Boston, with funding for the series provided by public television viewers.
BBC Worldwide Sales and Distribution is part of BBC Worldwide, the commercial arm and wholly owned subsidiary of the British public service broadcaster.