From "The Hunger Games" to "World War Z" to the upcoming "Divergent" and "Ender's Game," the thirst for turning novels into popcorn and prestige fare is showing no signs of slowing down.
So to help producers and studio insiders get a leg up on the competition — even as they are basking by the shore on Martha's Vineyard or the Côte d'Azur — we've picked 10 fantasy novels, detective yarns and incredible-true-stories that are just crying out to be made into movies.
Feel free to kick us over a finder's fee.
Also read: 16 of the Most Successful Book-to-Big Screen Adaptations
THE ORPHAN MASTER'S SON
Author: Adam Johnson
Bona Fides: 2012 Pulitzer Prize Winner, National Book Critics Circle Award Finalist
Why It Would Make a Killer Film: An inside look at North Korea, which in Johnson's hands is cloaked in mystery, misery and even a dash of black comedy. There's also plenty of adventure, as the titular orphan climbs his way up the political ranks to come face to face with the "Dear Leader" himself, Kim Jong Il.
Dream Cast & Crew: Ang Lee created an indelible portrait of repression and rebellion with 2007's "Lust, Caution," so he has the delicate, almost archeological touch needed to unearth the dark humor and pathos in Johnson's tale.

A CONFEDERACY OF DUNCES
Author: John Kennedy Toole
Bona Fides: 1981 Pulitzer Prize Winner; reputation as one of the greatest 20th Century novels
Why It Would Make a Killer Film: There have been few comic literary creations more endearing than the slobby, pretentious and oft-clueless Ignatius J. Reilly. It's no wonder that over the years the project has drawn interest from a diverse range of actors that includes John Candy, Will Ferrell and Divine and directors like Steven Soderbergh and David Gordon Green. Sadly, so far no one has been able to figure out how to adapt Toole's picaresque yarn for the screen.
Dream Cast & Crew: Zach Galifianakis has been linked at various points to fresh efforts to film the novel, and somehow that seems ideal. His performance in "The Hangover" showed that nobody suffers from delusions of grandeur to greater comic affect and a similar misplaced sense of self-importance would serve him well as Ignatius, a man who fancies himself a scholar of the Middle Ages, even as he lives at home with his mother.
Also read: Why Lionsgate Thinks 'Divergent' Can Replace 'Twilight'
THE ART OF FIELDING
Author: Chad Harbach
Bona Fides: Several 10 Best lists, shortlisted for Guardian First Book Award
Why It Would Make a Killer Film: This big-hearted coming-of-age story interweaves a May-December gay romance between a college president and a bright student with the story of a freak baseball accident that shakes the confidence of one of the school's top players. It is more arthouse than multiplex, but what a story it is — one that plays like a mix between "Brokeback Mountain," "Dead Poet's Society" and "Bull Durham." At one point an HBO adaptation was in the works, but we'd like to see it on the bigscreen.
Dream Cast & Crew: Cameron Crowe is a master of the awkward stumbling transition from youth to adulthood, so this would play to his sweet spot. As the star athlete, how about Zac Efron, who is constantly on the prowl for a role that plays to his aesthetic strengths while allowing him to stretch.

THE ORIENTALIST
Author: Tom Reiss
Bona Fides: Shortlisted for 2006 Samuel Johnson Prize
Why It Would Make a Killer Film: True stories don't get much more incredible than this one about a Jewish man who transforms himself into a Muslim prince and a popular author in Nazi Germany. It's a sprawling, cross-cultural tale with a flashy central character that reeks of awards bait.
Dream Cast & Crew: History has been good to Martin Scorsese and Leonardo DiCaprio, who rode the life of Howard Hughes and 19th century street gangs to multiple Oscar nominations. Sounds like the perfect subject matter for two gents with a taste for real-life eccentrics.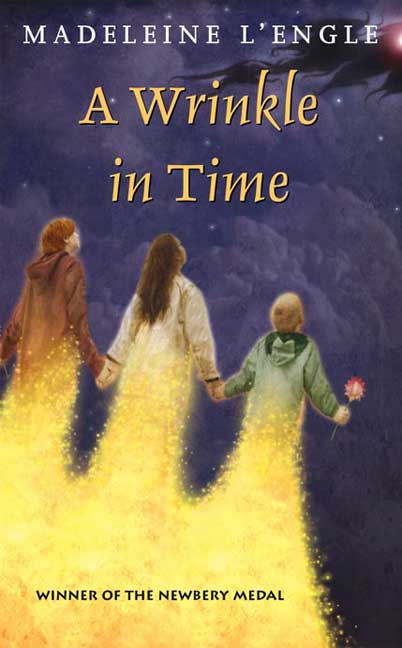 A WRINKLE IN TIME
Author: Madeleine L'Engle
Bona Fides: Generations of delighted teenage readers … oh, and a Newbery Medal
Why It Would Make a Killer Film: Like "Twilight" and "The Hunger Games," it comes equipped with a resourceful female protagonist, a legion of tween fans, a fantastical premise that is tailor-made for special effects and two sequels. Franchise possibilities? Check.
Dream Cast & Crew: Chloë Grace Moretz has a firey charisma that would make her an ideal choice for Meg, the time- and space-hopping protagonist searching for her father. As for directors, we'd go for "Beasts of the Southern Wild"s' Benh Zeitlin, who deftly combined whimsy and heartbreak in dramatizing the quest of another young woman with daddy issues.

PEOPLE WHO EAT DARKNESS
Author: Richard Lloyd Parry
Bona Fides: A boatload of glowing reviews and comparisons to "In Cold Blood" and "The Executioner's Song"
Why It Would Make a Killer Film: A 21-year-old blonde British woman goes missing in Japan in 2000. Her dismembered body is eventually discovered in a cave setting off a bungling police investigation into all manner of vice and corruption. Parry's story is alternately riveting and horrifying — a true chronicle of a law-enforcement service poorly equipped to handle a crime on this scale. Think "Zodiac" but with Tokyo as an atmospheric backdrop instead of San Francisco.
Dream Cast & Crew: South Korean wunderkind Joon-ho Bong mined similar true -rime terrain in the magnificent 2003 "Memories of a Murder." Bringing his mastery of storytelling to this investigatory tangle sounds like a perfect match.
Also read: 17 Actors Who Turned Down Career-Changing, Iconic Roles
APACHES
Author: Lorenzo Carcaterra
Bona Fides: Nothing in the way of glitzy prizes, but Carcaterra's "Sleepers" was made into a 1996 film with Brad Pitt and Robert De Niro.
Why It Would Make a Killer Film: A hard-boiled tale of renegade former cops who take on a brutal drug dealing pimp. It's violent, edgy and could explode across the screen. That's probably why Jerry Bruckheimer optioned the book over a decade ago. He's had his chance — now it's time to give someone else an opportunity to bring those mean streets to life.
Dream Cast & Crew: Bruce Willis has the heft to convince as an uncompromising vigilante, and Icelandic director Baltasar Kormákur ("2 Guns") has the panache to choreograph action sequences that linger after the credits roll. It's about time these two got together.

THE AMAZING ADVENTURES OF KAVALIER & CLAY
Author: Michael Chabon
Bona Fides: 2001 Pulitzer Prize, endorsement by "American Psycho" novelist Bret Easton Ellis as "one of the three great books of my generation"
Why It Would Make a Killer Film: A panoramic tale about two Jewish cousins making a name for themselves in the early days of comic books that is cribbed loosely from the lives of "Superman" creators Jerry Siegel and Joe Shuster. The World War II setting is dynamic, and the central story of love and friendship is gripping, but the scope of the project and its hard-to-pin-down genre has flummoxed filmmakers. At one point, director Stephen Daldry ("Billy Elliott") and producer Scott Rudin ("The Hours") were going to make a film version which drew interest from stars like Ryan Gosling and Natalie Portman. However, that's languishing in development hell. It's time for some brave executive to rescue it and give comic-book lovers a flesh-and-blood tale to stand alongside the myriad "Dark Knight"s and "Man of Steel"s.
Dream Cast & Crew: The Coen Brothers are best known for their original screenplays, but as their version of Cormac McCarthy's "No Country for Old Men" showed, they are deft interpreters of other people's work, too. Much of the film takes place in a New York City of yesteryear, something they are well acquainted with capturing thanks to their direction of the upcoming Greenwich Village musical drama "Inside Llewyn Davis."
THE BELGARIAD
Author: David Eddings
Bona Fides: Five bestselling books, a legion of fantasy fans
Why It Would Make a Killer Film: Producers desperate to find the next "Lord of the Rings," look no further. This densely realized magical tale follows a young farm boy who embarks on a quest to find a lost orb and prevent an evil force from taking over the world. There are enough battles and sorcery to keep Hollywood visual-effects shops working for a decade and it's the sort of property that could easily find itself inspiring everything from videogames to theme park rides.
Dream Cast & Crew: Guillermo del Toro was at one point tasked with bringing "The Hobbit" to life on screen only to depart during pre-production. That's a shame. In films like "Pan's Labyrinth" he's proven himself to be a master of capturing the darker side of fantasy. Eddings' series could be the perfect launching point for del Toro to create his own magical realm on a massive scale.

THE BOY DETECTIVE FAILS
Author: Joe Meno
Bona Fides: A musical of the same name written by Meno premiered in 2011 at the Signature Theatre in Arlington, Va.
Why It Would Make a Killer Film: Boy Wonder detectives, like the "Scooby Doo" gang, "Encyclopedia Brown" and "The Hardy Boys," have been a staple of American entertainment. But no one has tackled the subject quite like Meno in this wonderfully offbeat and tragic tale of a former teen sleuth who spends 10 years in a mental institution after his sister, and former sidekick, takes her own life. Although there are plenty of mysteries to be solved and villains to be thwarted when the heavily medicated former boy detective re-enters society at age 30, the real appeal of this unique coming-of-age tale is the sensitive character study demonstrating how childhood trauma can last a lifetime.
Dream Cast & Crew: Director Michel Gondry ("Eternal Sunshine of the Spotless Mind") possesses the creative mind needed to bring Meno's zany vision to the big screen, while Paul Dano ("Little Miss Sunshine," "Ruby Sparks") is a delicate enough actor to portray a mentally unstable boy detective haunted by his past.
Greg Gilman contributed to this report.